Making a Great Look | March 2017
Newsletter March 2017
Making a Great Look
Career Clothing Open House
A career fair can open doors to desirable employment opportunities, but "not all students have the ability to just go and buy a new outfit for an interview," shared Bernadette Lynch, Director of I'm First. "We've created a tradition, set an expectation, but we couldn't do it without the support of our volunteers and donors," said Lynch in gratitude.
It's been three years now that I'm First has hosted the Career Clothing Open House, strategically the Monday before the annual RIT Career Fair offering students much needed clothing items, generously donated by RIT staff, faculty and Greater Rochester community members.
Often students ask volunteers for a little advice to match their outfit or chat about how to match a jacket to the right slacks. "I count on this now," exclaimed Datoria Harvey, I'm First participant and a third year student studying at the B. Thomas Golisano College of Computing and Information Sciences. "I remember the first time, lots of students rushing to pick clothes, but now we take our time and they have a lot of variety," added Datoria.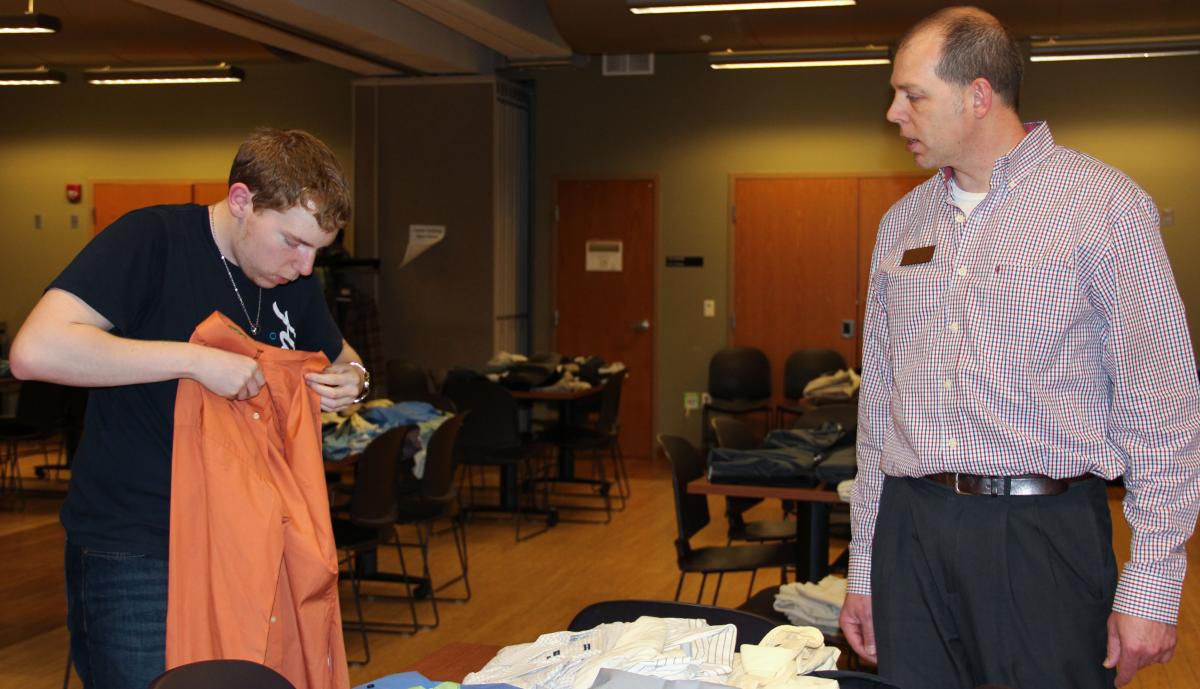 The goal is for students to leave with an entire outfit or items to spruce-up something they already own, at no cost. "Offering advice or answering their questions is important," said Dan Hickey, event volunteer and Assistant Director of the Academic Support Center. "I come to help them and they appreciate it ¾ I like to see students succeed, feel good and be confident¾ especially on the day of the Career Fair."
The New York State Pollution Prevention Institute (NYSP2I), headquartered on the RIT campus also took the opportunity to share facts on how recycling clothes, shoes and other household items impacts the environment and our economy. For more information or to find a collection and a list of acceptable materials: bit.ly/Re-ClotheNY
I'm First staff and volunteers are committed to offering all students on campus with a winning look, so they'll be collecting items for the next clothing open house in Fall 2017.