When Our Lives Suddenly Changed | March 2021
Newsletter March 2021
When Our Lives Suddenly Changed
It has been a year since we got the email.
It was sent Sunday, March 15th at 10:45 p.m.
Just a few days earlier, the World Health Organization declared the COVID-19 outbreak a global pandemic.
In that late night email, Dr. Keith Jenkins, vice president and associate provost for Diversity and Inclusion was sharing important information with the DDI team. The email contained the words "challenging" and "uncertain times." It included information on how to move forward.
This past year, COVID-19 has turned our lives upside down. It has forced us to move to alternative work arrangements and zoom meetings, sometimes scheduled back-to-back. Mask wearing is mandatory in our state. We saw RIT administrators and staff work tirelessly to adjust and adapt so that the educational process could continue. Nationally, we saw travel bans, passengers on cruise ships quarantined, schools closed and children learning on-line, and yes, that rush to stock up on bathroom tissue, paper towels and disinfectants.
Sadly, we have seen too many who have become ill. Too many who have died of COVID-19.
"Challenging" and "uncertain times." They certainly have been for many of us.
And now, here we are, one year later. How are we doing? How are we coping? What have we learned?
We reached out to some DDI colleagues who share some of their journey. May their words bring a sense of hope, a sense of peace, a sense of calm and now with vaccinations available and restrictions being eased, perhaps a sense that "all will be well" with us after all.
Luke Auburn, senior communications specialist, University Communications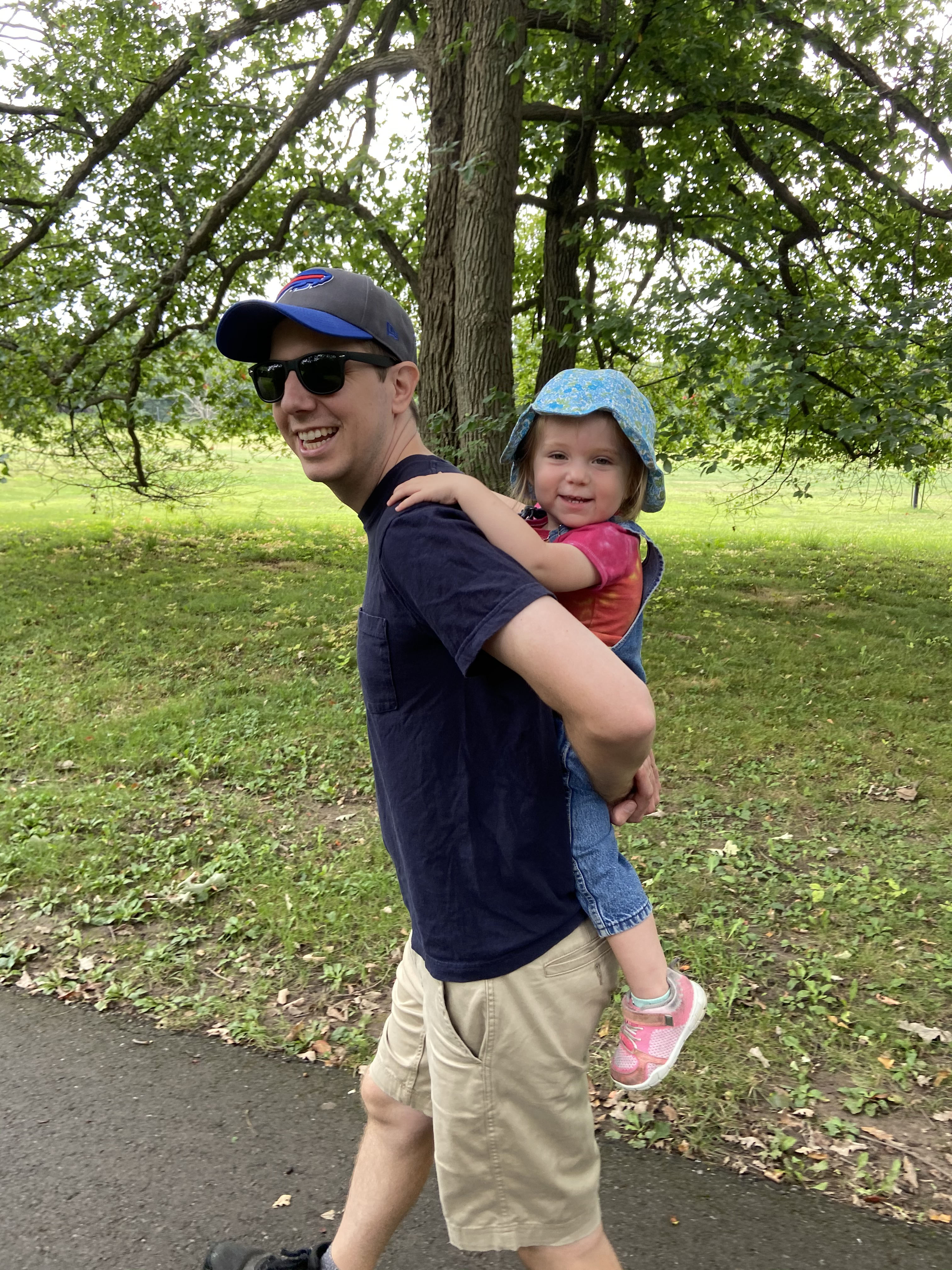 "More than anything, the pandemic has taught me to enjoy the simple things in life. I love to experience live music, travel, and eat out at new restaurants, so when those options were taken away in an effort to save lives and fight the pandemic, I was a little worried I might go stir crazy. But it allowed me to enjoy basic forms of entertainment. My wife, daughter, and I spent most of our free time exploring dozens of city, county, and state parks that I had never been to despite living in Rochester my whole life. This strange pandemic life allowed my wife and I to spend a lot more time than we would have with our daughter, watching her grow from a one to a two-year-old, find her voice, learn to run, jump, and skip, and achieve countless other milestones. I wouldn't trade that bonding time with her for anything. The picture is of my daughter and me at Genesee Valley Park, a place my dad used to take me when I was her age."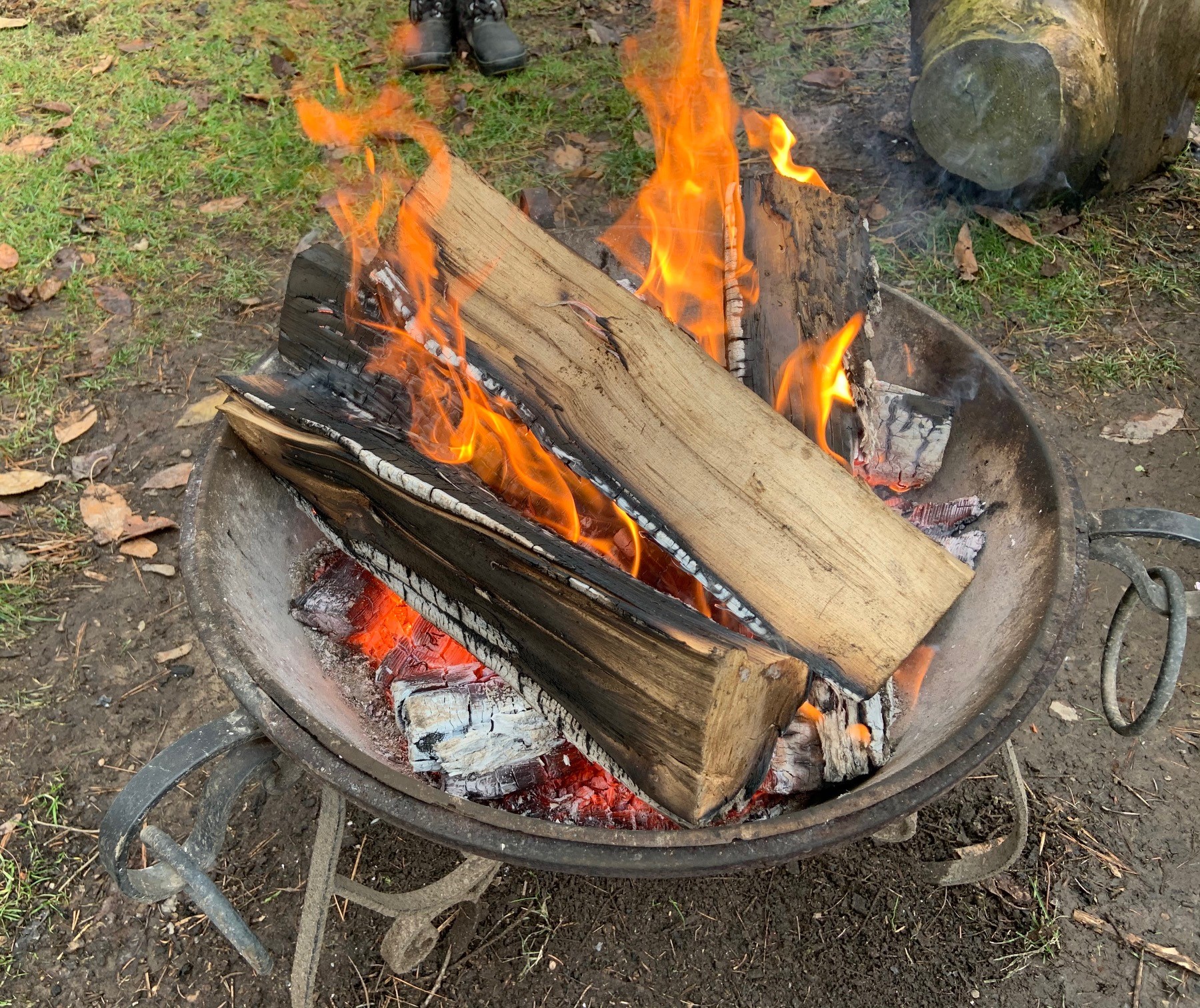 Belinda Bryce, program director, HEOP
"I have learned more deeply what is necessary and what is not necessary. I have learned how much fun Christmas can be on Zoom. Lastly, I have learned that socializing with good friends outdoors by a fire pit brings us even closer."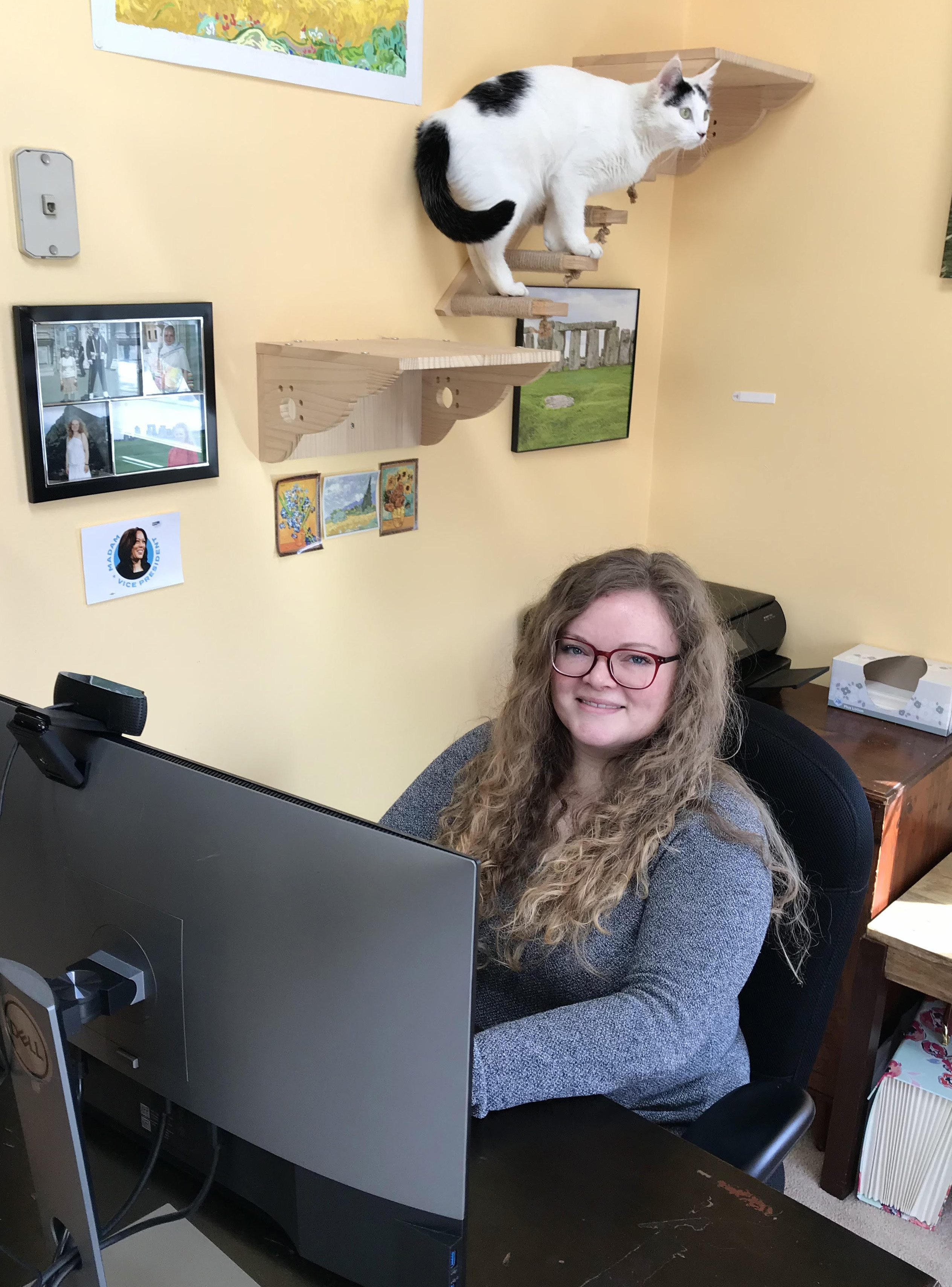 Christan Monin, senior staff assistant, NTID Office of Diversity & Inclusion
"You know you're an introvert when the world shuts down and your lifestyle changes very little! I have enjoyed working from my little makeshift office in the corner of my living room, learning new technologies, and meeting colleagues and friends (and pets!) through Zoom. While I have found myself very fortunate and happy, I know the same is not true for many, many people. My heart goes out to all those who have struggled and lost loved ones throughout this past year."
Taj Smith, director, Diversity Education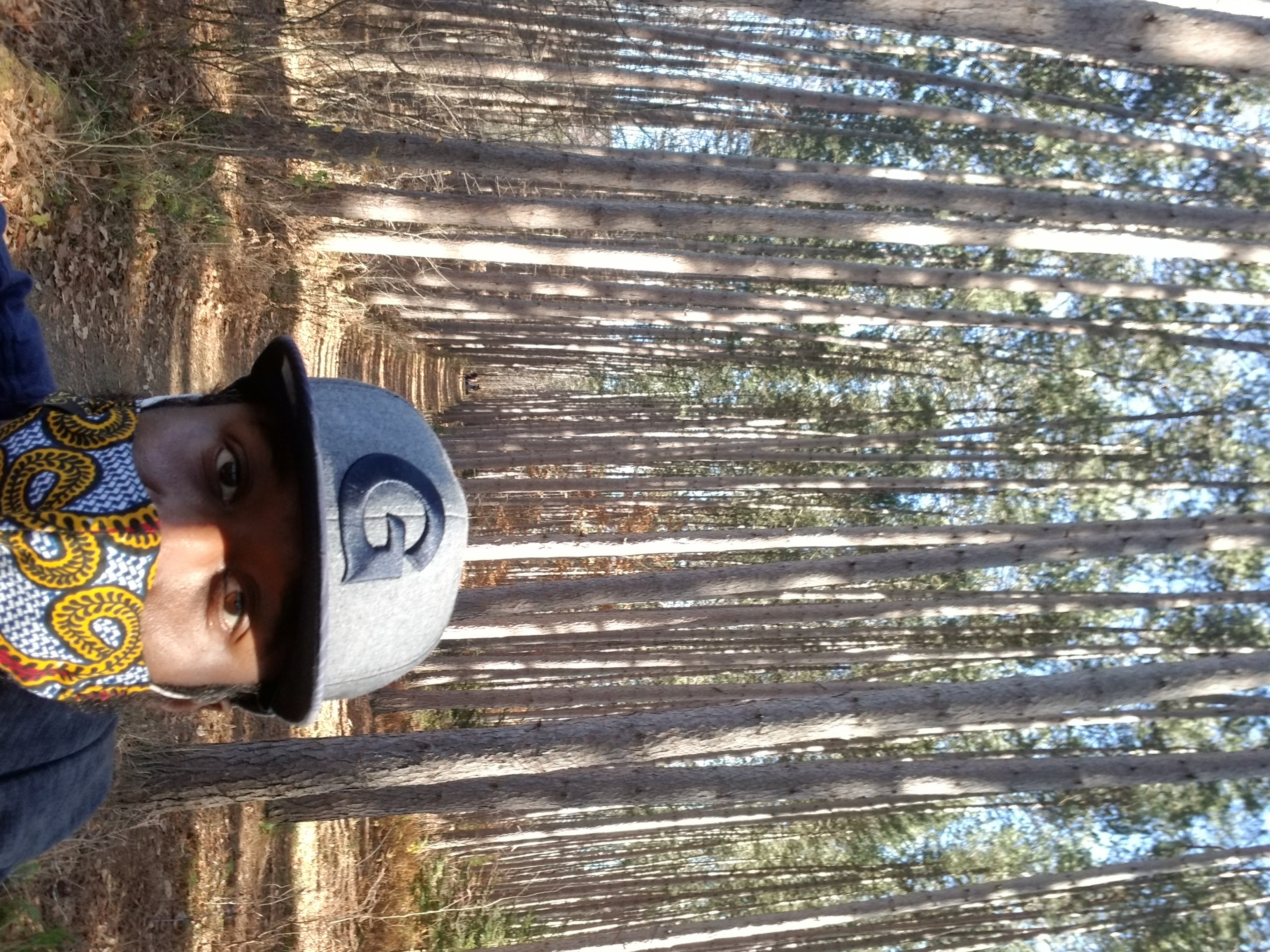 "I've been fortunate that the pandemic hasn't been too disruptive to my personal or professional life. Besides having to work remotely from home I haven't been inconvenienced professionally. Personally, I did have to cancel my wedding. My extended family's health hasn't been too impacted by the virus. I had one aunt (the oldest) in the hospital due to the virus, but she has recovered. I think early on I might have gotten the virus before we knew how to respond to it when visiting Washington, D.C. If I did have it, it was a strange ordeal with different symptoms each day. As for work, I've been impressed with how RIT employees have stayed engaged in their professional development and have adapted to the online format. Workshops that I lead have remained full despite the pandemic, which speaks to our communities commitment to diversity, inclusion and equity AND need for social connection." 
Work/life balance/are you home schooling?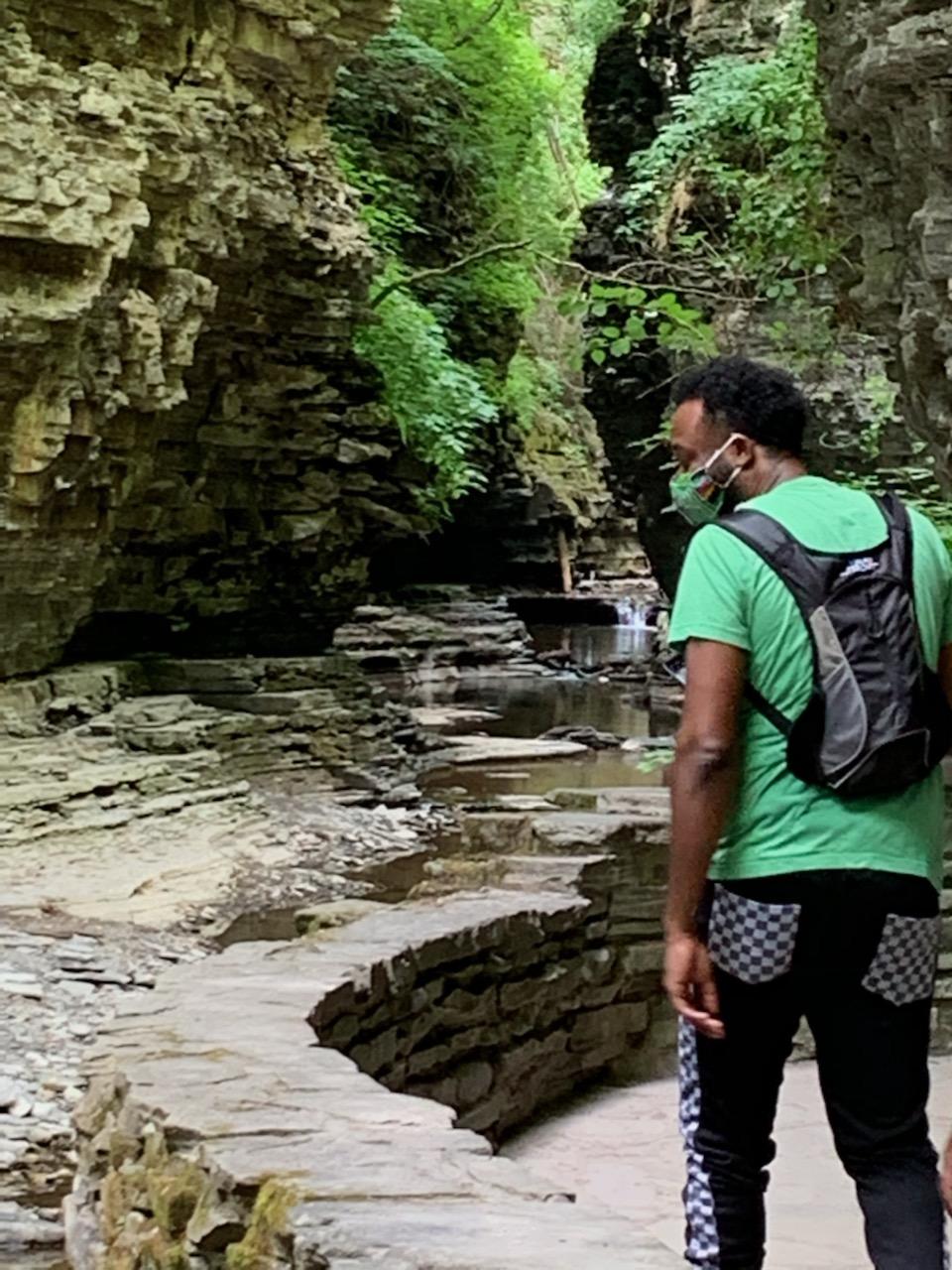 "I don't have kids so I only had to worry about disrupting my partner's home consulting business. I've found that after a few months we settled into new habits. As summer 2020 rolled around I was sad to not dine in restaurants, which is a favorite activity. That said, my partner and I had the opportunity to explore more of the outdoors in the region. I don't believe we would have done that as much if it wasn't for the pandemic. I know for a fact that if it weren't for the pandemic I wouldn't have had so many home-made and healthier lunch options. Having the time to cook lunch was definitely a treat and something I will need to monitor as we transition back to in-person work."
Personal realizations made during the last year?
"I think being a more introverted person helped me better navigate our global health situation. It's not a personal realization, but I continue to reflect on human being's resistance to change. And at same time amazed by our ability to innovate in the face of danger."
Devon Watters, communication and design specialist

"While this past year has been such a whirlwind, it has also brought many positives to the surface. I have been able to slow down and truly enjoy the time with my friends and family by choosing to be busy with only the things I truly enjoy. This year may have looked different, but now looking back, different was amazing. Whether it was going to my friend's outdoor dance fitness class three times a week, or happy hours at her house on the beach of Lake Ontario with my feet in the sand, my cup was filled. These are the positive memories I will cherish knowing that if it wasn't for slowing down, they probably wouldn't have happened. "

Sandy Whitmore, senior director of Operations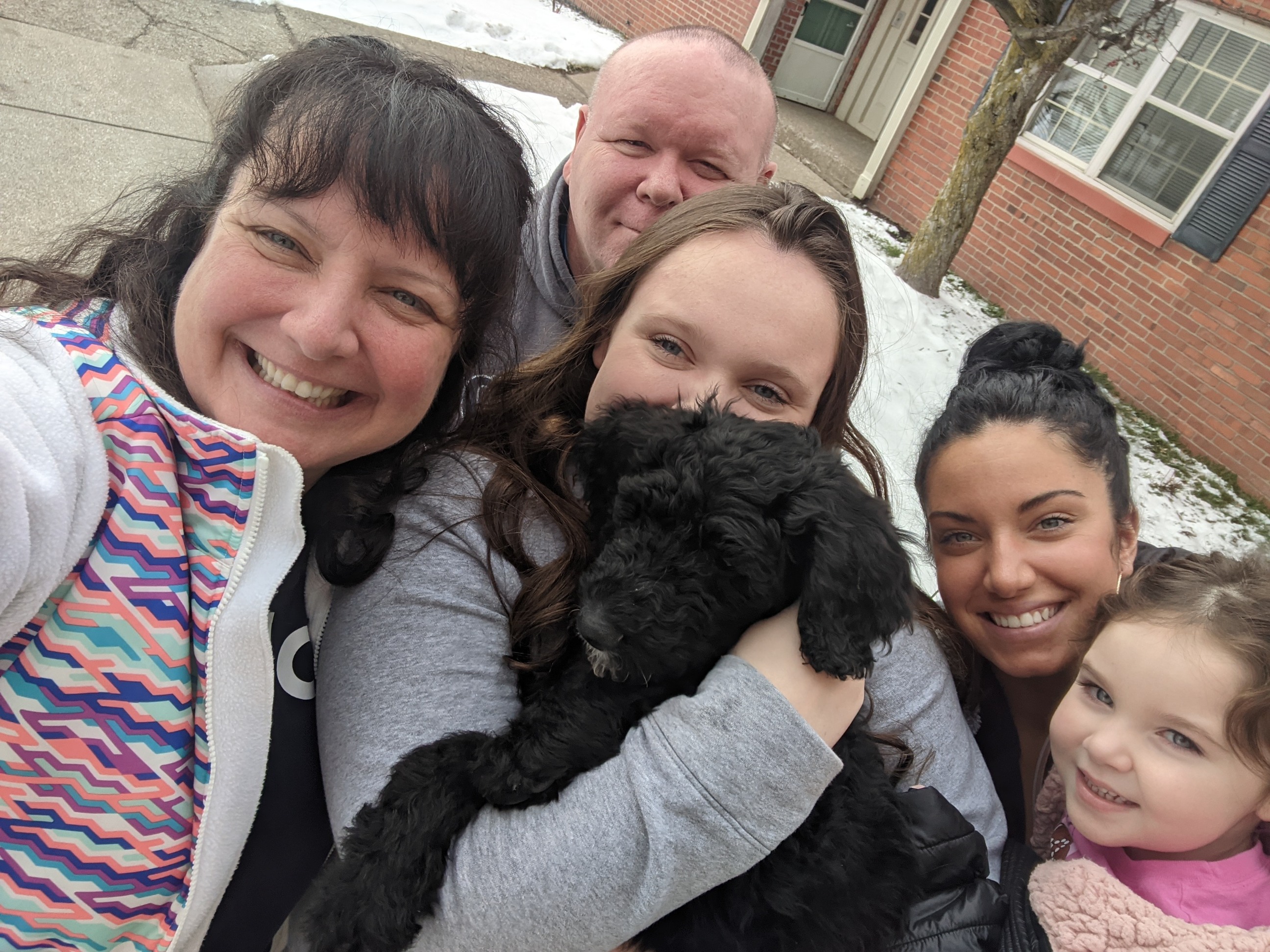 "Through this pandemic, there have been so many changes for me and my family – good, challenging, and sad.  Let's start with the good.  We watched Netflix and Hulu series that I didn't even know existed. Some of our favorites were Sons of Anarchy, The Handmaids' Tale, Outlander, and the Crown. As a family, we were able to spend more time with each other.  Taking a step back and enjoying time together by walking, talking, swimming, dancing and laughing. Just being together has truly been a blessing. Just recently we added a new family member, Nala. Nala (named after the Lion King movie) is a Bernadoodle who is 14 weeks old. We just love her!
The challenge has been how do we all exist in one house? Our college daughter, Skylar was home trying to attend her classes virtually, while my husband and I were both telecommuting. It took a bit, but we finally all called our own spaces and learned to support each other during exams, calls, and the many Zoom meeting/classes. Don't get me started on food – who knew how much food you can go through with everyone being home – wow! Especially since half of the items were sold out at the grocery store.
We had time to reflect on our own health and decided to move towards a whole food plant based lifestyle in August of 2020. It has been life changing for us. Besides having more energy, feeling better, we have also lost weight. Together, my husband and I are down 110 pounds to date. We found the love of cooking together again and enjoy the new spices, flavors and recipes.
In August, my mom passed away due to a stroke. I will forever cherish the time we had together during the pandemic. Working from home provided flexibility for her to be here during the day with me.  She loved hanging out with us, eating, swimming, being with my girls Taylor and Skylar. Especially with her great granddaughter Isabella. How they would play dolls and swim together brought her so much joy.  The pandemic provided this opportunity that I wouldn't have had otherwise. For that, I will be forever grateful."