Honors for Outstanding RIT Student Leaders | May 2022
Newsletter May 2022
Honors for Outstanding RIT Student Leaders
The RIT Center for Leadership and Civic Engagement 2022 Community Impact Award recipients have been announced. The awards honor RIT students who provide outstanding leadership to the RIT student body. 
The following students received the RIT Frederick Douglass Scholarship. In addition to being leaders, students must also demonstrate citizenship and community service and have a 2.5 cumulative GPA at the end of the fall semester. The scholarship assists qualified students in their educational journey and awards up to $10,000.
Mateo Alexander, 4th year Applied Arts & Sciences, School of Individualized Studies (SOIS). Active in MCAS, Men of Color, Honor and Ambition (MOCHA) McNair Scholars Program and is an MCAS Student Employee 
Aedan Frank, 4th year Dual Degree- Game Design & Development, Golisano College of Computing & Information Sciences (GCCIS), and Psychology, College of Liberal Arts (COLA). Active in MCAS, Men of Color, Honor and Ambition (MOCHA)
Andrew Le, 2nd year BS/MS Computer Science, Golisano College of Computing & Information Sciences (GCCIS). Active with ROTC-Air Force
Laylah Vital, 2nd year, Management Information Systems, Saunders College of Business. Active in MCAS and the DDI Summer Experience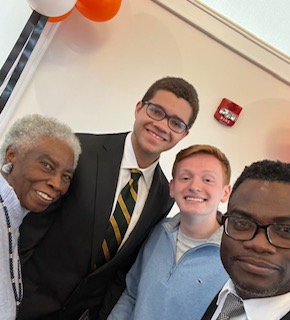 Congratulations are also in order to the 2022 student recipients of the Isaac L. Jordan Sr. Pluralism Scholarship Awards. Jordan was a visionary at RIT. He encouraged the celebration of diversity and inclusion among faculty, staff and students in particular inspiring them to become leaders and make a positive impact on the RIT community.
The recipient of the Isaac L. Jordan Sr. Upperclassman Scholarship is Aedan Frank. When Frank did some research on the legacy of Isaac L. Jordan Sr. he thought of his own grandfather. The two men share the same vision—that everyone can succeed. Frank says, "It is an honor to receive this award. It is an honor to exemplify and carry on the legacy of Mr. Isaac L. Jordan Sr. as well as have my hard work be recognized. This is especially meaningful to me. Much like Mr. Jordan, my grandfather always inspires me and my sister to achieve our fullest potential through hard work and education."
Cassandra Jordan, whose family provides the funds for the endowment, says it brings them much joy and the scholarships are important.
"Just as we recognize and honor the academic achievements of our students it is equally as fitting that we recognize and honor their commitments and contributions, as part of their educational learning, as productive citizens to their community and to the world. Accepting, respecting, valuing and including others who may be different than we are; or providing different perspectives than ours-are as important as the varied "academic" subjects we offer for students' achievement and successes in the world of work. This scholarship reminds and reinforces for us the value of this important part of having students achieve a well -rounded educational experience as they take their place in the world, as accepting, respectful, valuable contributors to all."
Frank describes himself as a serious student and a leader at RIT who works to balance school with a variety of other activities. As a resident advisor, he works to create a sense of community and inclusivity with students and loves to help connect them with initiatives they may not be aware of. He is involved as a graphic designer with the Google Developer Student Club (GDSC) and is proud to have helped get it back up and running after being shut down due to the pandemic. Frank also points to his involvement with MOCHA –Men of Color, Honor and Ambition which focuses on leadership and professional development. He says, "The best way to help others excel is to lead by example."
Another student leading by example is Drew Young, the recipient of the Isaac L. Jordan Sr. Freshman Scholarship. He is a computing security major and expects to graduate in 2025. Drew describes himself as a friendly person who can easily strike up a conversation with others. He decided before he even came to RIT that he would be "open to meeting people from all different backgrounds and regions." He only knew two people when he got here: a second year student from his hometown and his roommate. One day the two of them decided to go through their dorm, knock on doors, and introduce themselves. In one case, they met some photography majors.
"I took film classes throughout high school so this was very interesting to me. We had a long conversation about this and ended up showing each other our work that night. Later in the semester, we all took a trip to the abandoned Rochester subway system where they took pictures and I took videos. It was crazy to me that we met these people just a few weeks before and we found something to talk about and do instantly. This experience taught me that you don't always need a common interest to meet new people, but instead that you can meet new people, then find a common interest that you never knew existed. "
He is very active at RIT and easily takes on leadership roles. He works for the RIT Tech Crew and Student Life as a videographer. He is also a member of RITSEC, the Computing Security Club and most recently got a third campus job as a support materials developer for the RIT Cyber Range. During this first year on campus, he has achieved Dean's List his first semester, his math professor has asked him to work as a teaching assistant and he has been invited to  become a facilitator in the next  RIT 365 session in the fall.
Young says he has learned through his leadership experience "that I am able to interact with many different people of diverse backgrounds".
Again Mrs. Jordan says her family is proud of students like Young and Frank and the diversity work started decades ago by her husband.
"Having seen what began as "a one man operation" to design, promote and expand pluralistic concepts and actions for all within the RIT community-become a "multi contributing endeavor" is one of the greatest joys of the Isaac L. Jordan Sr. Family. The legacy of his work and dreams for a more inclusive community with acceptance and respect for and among the "many" with differences become a reality, bring us, his family much pride. It is so very gratifying to have students especially, with the assistance of staff and faculty, give so much of the needed leadership and follow through to make and maintain the realities of a true inclusive campus wide "community" which RIT has become.