Baja SAE Rochester 2022 welcomes international collegiate racing teams for June 2-5 event
Event opens Friday at RIT's Gordon Field House and then zooms to Palmyra Motocross Raceway for exciting course events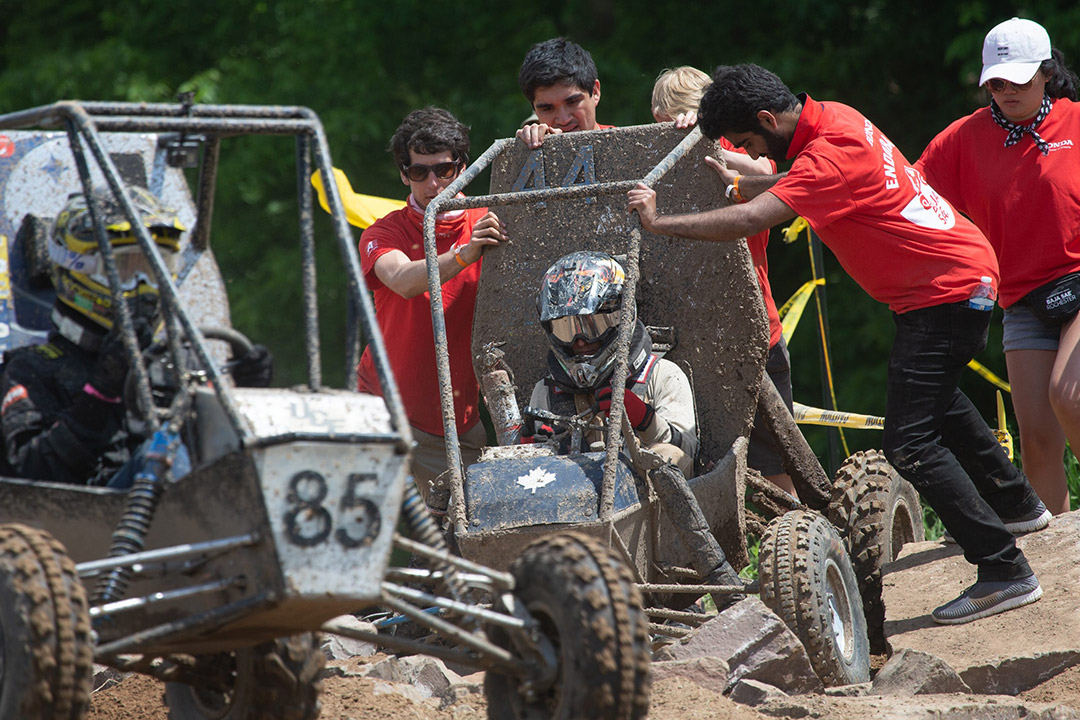 National and international collegiate Baja racecars started arriving at Rochester Institute of Technology for the Baja SAE Rochester event this weekend—a challenge that is as much about daring and nerve as it is about exceptional engineering design.
Event officials confirm that conditions for the off-road challenge taking place June 2-5 will be exceptional—with the roughest terrain to navigate, some mud thrown in for good measure, hills to climb, and obstacles to overcome. It remains a competition that is not for the faint of heart, but one that gives student-engineers a career edge.
Coming off a third-place overall finish at its opening event in Tennessee in April, RIT's Baja race team will be among 100 collegiate teams from universities in the United States, Canada, India, Brazil, Mexico and Venezuela.
This year's favorites are returning champions—the University of Michigan-Ann Arbor and Ecole de Technologie Superieure (Quebec) took top placements in Tennessee and will challenge race teams from Oregon, Arizona and Iowa State Universities, and Georgia Tech, as well as Canadian teams from the University of Laval and McMaster University.
"We hosted this event many times at RIT and in Rochester, and we've done well at the competitions, but we've never won here. We've set goals as a team this year to improve systems and know that it will take all of us, the entire team, coming together for a great competition," said Adam Seidman, a fifth-year computer engineering student and recent graduate. He is the team treasurer and also oversees some of the data systems used to assess car performance. Several of the systems are ones he helped build and are used to strategize how to handle the difficult motor cross course.
Baja SAE events are held across the country at different universities and motor cross venues. RIT is hosting the exciting international off-road event for the seventh time. Consisting of competitions that simulate real-world engineering design projects, engineering students design and build off-road vehicles that must survive the severe punishment of rough terrain and a four-hour endurance race.
What to see @RIT
Thursday, June 2—Team Arrival, Registration, and Business Presentation Finals
Participants register upon arrival at the RIT Gordon Field House and Activities Center. The finals of the Business Presentation take place at 1 p.m., in RIT's Ingle Auditorium.
Friday, June 3—Static Events: Technical Inspections, Design, and Cost Presentation Judging
Location: RIT Gordon Field House, 8 a.m.-5 p.m.
Teams undergo rigorous technical inspections of vehicles and automotive systems. [Visitors can observe teams from the walkway on the second floor of the Field House or the outside area near the residence side of campus. Access to the main floor will be limited to teams and design judges.]
What to see @Hogback Hill
Saturday, June 4—Dynamic Events: Acceleration, Hill Climb, Maneuverability, and Suspension
Teams continue technical and safety inspections of vehicles and systems at the field site and required dynamic events: Hogback Hill Motocross, 8 a.m.-6 p.m.
Sunday, June 5—4-Hour Endurance Race and Award Presentation
Teams complete the competition with a 4-hour race at the field site: Hogback Hill Motocross site. Endurance race begins at 9 a.m.
Video is available from the Baja SAE Rochester 2019.
Topics