RIT gets greener with elimination of plastic bags and straws
'Ditch the Disposables' is the latest campaign to help reduce waste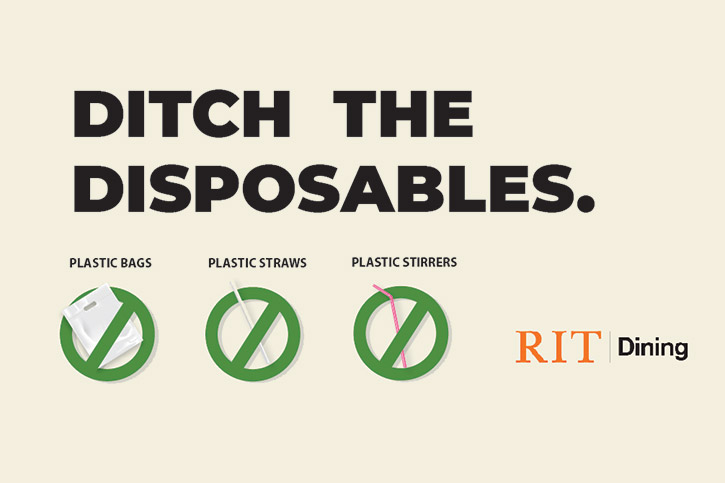 Plastic bags, straws and stirrers will be a thing of the past beginning Friday at Rochester Institute of Technology, as the university begins its "Ditch the Disposables" campaign to decrease plastic waste.
The initiative comes with student support, and in advance of a state ban on plastic bags that begins March 1.
About 14,700 meals are served on the RIT campus each weekday. As alternatives, paper bags, paper straws and wooden stirrers are being offered, with paper straws and bags being offered upon request at cash registers.
"This is something we're definitely excited about to make a bigger impact environmentally," said Kory Samuels, executive director of RIT Dining. "Ultimately, we hope to see other universities our size follow suit to make a greater impact."
He said approximately 413,500 plastic straws, 140,000 plastic stirrers and 324,000 plastic bags are expected to be diverted from landfills each year as a result.
It's the latest initiative on the RIT campus to help reduce food and plastic waste:
In 2012, Recover Rochester, a student organization, began collecting and donating unused food from RIT to area meal centers and shelters. They have helped other area universities establish similar programs and collectively donate 7,000 to 10,000 pounds each year.
Reusable food containers were first available at RIT in 2013. As a result, 94,000 disposable to-go containers a year have been eliminated.
RIT created a policy in 2013 to not use university dollars to buy bottled water.
Approximately 150 tons of food waste is diverted from landfills to anaerobic digesters annually.
"We've been excited to be able to work so closely with RIT Dining in advancing sustainability efforts and reducing disposable plastics," said Enid Cardinal, senior advisor to the president for strategic planning and sustainability. "It is a major environmental problem globally."
There are no immediate plans to replace plastic spoons, forks and knives on campus, but alternatives are being studied.
"RIT has been working to eliminate single use plastics where possible for several years," Cardinal said. Reusable utensil kits were even included in RIT care packages this year.
Samuels said Student Government has been instrumental in helping. "We've been looking for ways to become more sustainable overall as a university, but this is something pretty immediate we could do now. It's mostly student-driven, but it's something we were excited about, too."
Hannah Emminger, a fourth-year mechanical engineering technology major from Buffalo and RIT Student Government's sustainability chair, said students have been asking for alternatives to plastic bags on campus since 2015. And while she's heard some grumbling about the elimination of plastic straws, she is confident people will adapt.
"This change marks a monumental shift, not only for RIT but for our society as well," she said. "Reducing single-use plastic, in all forms, is the first step of many steps to a more sustainable future and campus here at RIT."
Anyone with questions about the initiative may contact Dining at help.rit.edu or 585-475-5000