July 26, 2022
by Luke Auburn
Associate Professor Jie Qiao to develop ultrafast laser material processing in Bordeaux, France
Qiao earns funding for international research collaboration through Fulbright U.S. Scholar Award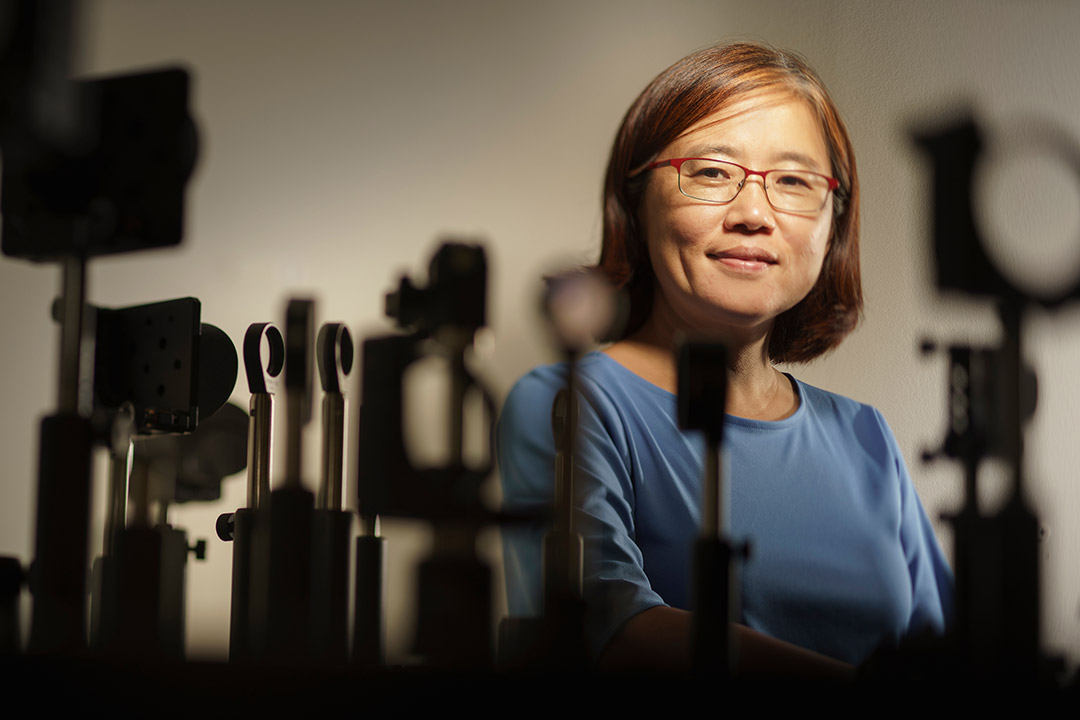 Associate Professor Jie Qiao received a prestigious Fulbright U.S. Scholar Award to advance ultrafast laser material processing technology in the coming academic year. The faculty member from RIT's Chester F. Carlson Center for Imaging Science will be a visiting professor at the University of Bordeaux, collaborating with her colleague Professor Inka Manek-Hönninger at the French university's Center for Intense Lasers and Applications.
Qiao develops ultrafast laser systems and methods that can be used to fabricate integrated photonic circuits and advanced optical components. While at Bordeaux, she will collaboratively research ultrafast lasers material processing in the gigahertz regime, which uses extremely short pulses of light for non-contact material removal. Qiao said this could be transformative for cutting, drilling, welding, polishing, and structuring materials for semiconductors, sensors, medical devices, and other technologies.
"With a laser emitting 1 billion pulses per second, you can fine-tune the material interaction process and get rid of the heating effect," said Qiao. "You could actually use a laser to cut a match without lighting it up. I'm excited to collaborate with my French colleagues at the forefront of this field."
While she will be primarily located at University of Bordeaux, Qiao said she is excited to visit and collaborate with other experts from throughout Southwestern France, which she said is one of the most advanced hubs for laser and laser material processing development in the world. She said she hopes the project will spark new international collaborations for RIT and lead to new international research exchange opportunities for undergraduate and graduate students. Qiao will continually work with her research group at RIT through remote meetings and periodic returns to RIT.
Additionally, Qiao hopes it can serve as a catalyst for improving gender representation in the fields of lasers, optics, and photonics. Qiao is the founder and chair of WiSTEE Connect, a global association to help advance the career of women in science, technology, and engineering and entrepreneurship. She hopes to engage more women faculty students in the Bordeaux region with the organization while on her Fulbright experience.
Topics