Schumer, Gillibrand and Morelle secure $2 million in Omnibus Bill for RIT to upgrade its Semiconductor Fabrication Lab
The funding advances growth in semiconductor research and supports workforce development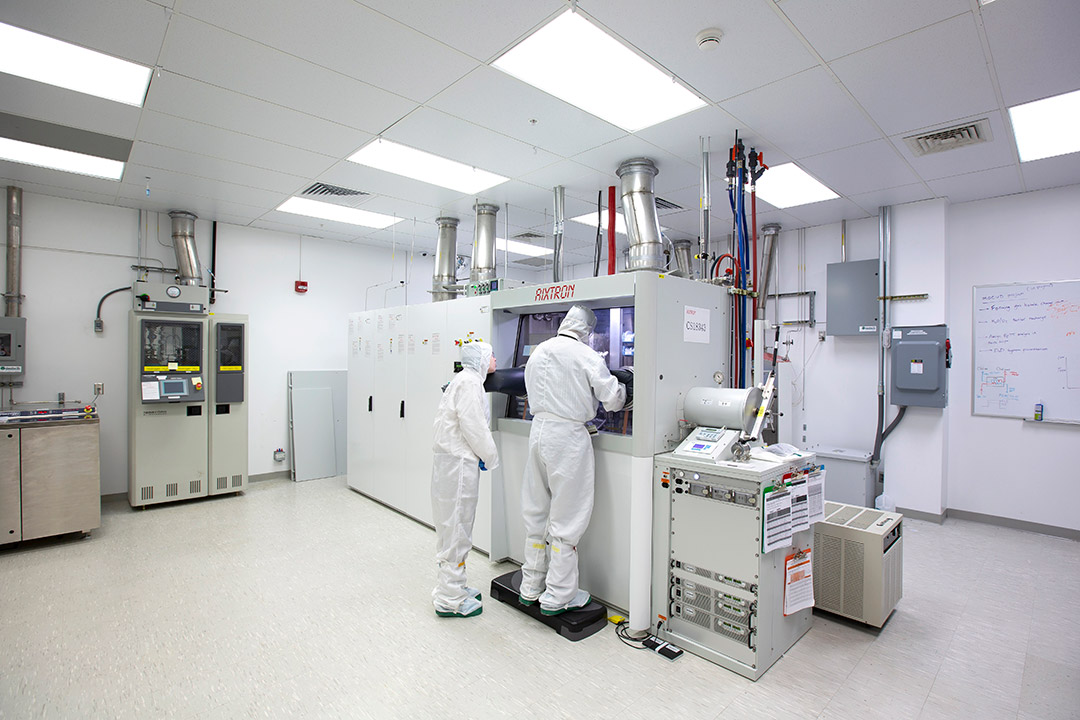 Rochester Institute of Technology will receive $2 million from the U.S. Department of Commerce to update and expand its Semiconductor Fabrication Lab to accommodate research in semiconductor technologies and prepare the workforce for the growing domestic microelectronics manufacturing industry. The funding was included as part of the fiscal year 2023 omnibus funding package, comprising the 12 annual appropriations bills, which will fund the government and its various agencies.
Semiconductor research and development underpins newer technologies such as artificial intelligence, quantum computing, biomedical sensors, and integrated photonics. These technologies will enable advances in smart systems for healthcare, transportation, manufacturing, defense and security, among others. New York state's Federal delegation, led by Majority Leader Chuck Schumer, hailed the funding as foundational to re-invigorate domestic microelectronics manufacturing and help drive the digital revolution.
"As Majority Leader, I have made it my priority to bolster U.S. semiconductor manufacturing to grow jobs Upstate, ensure our competitiveness worldwide, and protect our national security," said U.S. Senator Charles E. Schumer. "I'm proud to secure this funding for RIT so they can continue to contribute cutting-edge research to the industry, while also developing our nation's next generation of high-quality engineering talent right here in Rochester."
"With the demand for computer chips outpacing the supply in the U.S., we must have the laboratory facilities that will produce the skilled graduates needed to fuel this critical industry," said RIT President David C. Munson Jr. "Upgrading our teaching facility will further strengthen New York's position as a national leader in the semiconductor manufacturing industry."
"I was proud to fight for funding for new semiconductor research equipment and instrumentation for the Rochester Institute of Technology," said U.S. Senator Kirsten Gillibrand. "This $2 million investment will help expand the already-growing microchip economy in Upstate New York while training the next generation of leaders across our country and globe. I will keep fighting to help build this growing technology economy and for workers in New York and beyond."
"RIT has long been a leader in semiconductor fabrication and emerging microelectronics technologies. I'm proud to have worked alongside senators Schumer and Gillibrand to secure this significant funding to further expand RIT's capabilities, helping them lead globally in this critical sphere," said Congressman Joe Morelle. "This will create jobs and grow our economy here in Rochester, and strengthen American competitiveness on the world stage. I congratulate RIT on this award and look forward to our continued work together to further cement Rochester's place at the forefront of high-tech advancement."
"I want to thank Majority Leader Chuck Schumer, Senator Kirsten Gillibrand and Congressman Joe Morelle, who fought tirelessly for this Congressionally Directed Funding to be included in the final bill," said Vanessa J. Herman, vice president for Government and Community Relations at RIT. "Their unwavering support is critical to our success as a nation as we work collaboratively to boost domestic research and semiconductor manufacturing here in the United States."
RIT researchers use the facility for research in photonics, quantum chip development, microfluidic devices, LEDs, solar cells, and nanomembranes. The cleanroom will continue supporting coursework in fabrication techniques, such as CMOS processing—a chip fabrication process widely used in industry—and in preparing students for careers in the semiconductor industry. In addition, early-stage companies will use the facility to develop new products.
The current RIT cleanroom was built in the mid-1980s to support the microelectronic engineering degree program, which began in 1982. The first of its kind at the time, the microelectronic engineering program led the way to train engineers in what would become a powerful global industry.
Today, the cleanroom serves as a teaching and research lab, a testing facility for corporate partners, and a resource for multiple levels of workforce development training. In October, Micron Corp., an international computer chip manufacturing company, stated it would invest heavily in the state, building a new computer memory fab in Central New York.
Topics