2010
Innovation Hall of Fame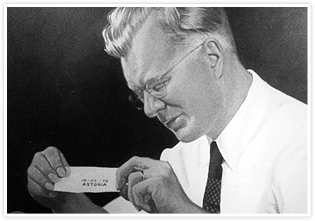 Chester Carlson, a physicist-inventor and patent attorney with a passion for imaging arts created electrophotography, which came be known as xerography and is today the foundation of the worldwide copying industry. Carlson's invention came to life in 1938 in a rented room above a bar, a far cry from the expansive facilities of what is now the Xerox Corporation.
His interest in printing goes back to his childhood, when he longed for a typewriter for Christmas, but his family's circumstances made such a wish nearly impossible. A beloved aunt game him what she could: a toy typewriter. His interest in the graphic arts, especially printing and duplicating, intensified in high school. "I worked for a printer in my spare time and he sold me an old printing press which he had discarded. I paid for it by working for him. Then I started out to set my own type and print this little chemistry paper. I don't think I printed more than two issues, and they weren't much. However, this experience impressed me with the difficulty of getting words into hard copy and in turn started me thinking of the duplicating processes."
The search that led to the invention of xerography began in earnest in 1935. He worked for years studying in the New York Public Library while pursuing a law degree and working in his rented laboratory in a small room in Astoria, New York where some of his improvised laboratory equipment consisted of a cigar box and a coffee can. He made the first successful image on October 22, 1938.
Armed with basic patents, Carlson marketed the idea to corporations. The reaction was what he called "an enthusiastic lack of interest." It took six years and more than 20 rejections before Battelle Memorial Institute agreed to collaborate on the process. Then, Joseph Wilson and his small Haloid Company came forward as a partner. In 1959, 21 years after Carlson's invention, the first copier using xerography was placed in offices, making copies on plain paper at the touch of a button.
Carlson's innovative spirit lives on at RIT through the Chester F. Carlson Center for Imaging Science, a highly interdisciplinary university research and education center, dedicated to pushing the frontiers of imaging in all its forms and uses.