2010
Innovation Hall of Fame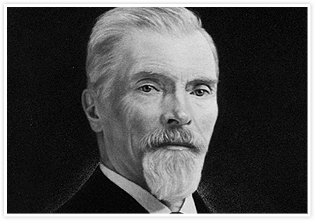 Henry Lomb was born in Burgham, Germany, on November 24, 1828. When he was twenty years old in 1849, he emigrated to the United States. Lomb worked as a carpenter before he joined John Jacob Bausch, the owner of a retail optical shop in Rochester. Lomb invested his personal savings in the business and became Bausch's partner.
On the outbreak of the Civil War, Lomb resigned as sales manager of Bausch & Lomb in 1861 in order to enlist. He was promoted to sergeant, lieutenant and then captain before leaving at the end of the war. Throughout the war, Lomb sent part of his Army pay to Bausch in Rochester to keep the business afloat. Upon Lomb's return to Rochester, Bausch made him a partner in the business and renamed it Bausch & Lomb.
The relationship between Bausch & Lomb and the Rochester Institute of Technology goes back to the early days of both organizations. In the early 1880s, some years after Lomb and business partner John Jacob Bausch founded their small optical shop, Lomb realized that the public schools of the day were not preparing workers to fill the new kinds of jobs being created by the industrial revolution. Seeing the need for skilled workers in local factories and a lack of formal training for such work, Lomb led the group that inspired 50 local industry leaders to push for a technical school in Rochester, the. Modeled on technical institutes in Europe, the Mechanics Institute provided free instruction to more than 1,000 students in its first year.
Lomb's social innovation and philanthropy left a lasting mark on the company, the community, and beyond. As a strong believer in the value of education, he anonymously paid the tuition for scores of employees to attend school. Lomb's personal donations kept the school operating during the early years and it survives today as the Rochester Institute of Technology.
Lomb valued the Bausch & Lomb employees and was concerned for their welfare. He started the factory lunchroom and pioneered the idea of a mutual benefit association to help those struck by illness. In addition, Lomb introduced kindergartens to the Rochester public school system, started a free dental clinic in the city and founded the Rochester Public Health Association.