2012
Innovation Hall of Fame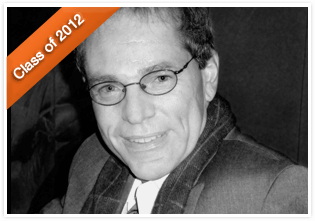 Kevin Surace has been innovating in a number of technology fields since graduating from RIT. For the last 9 years he has developed and patented a number of disruptive technologies that reduce energy usage in buildings, the worlds largest contributor of CO2. Kevin has brought high tech materials, products and services to 70,000 projects including iconic structures such as the Empire State Building and the New York Stock Exchange.
One of the best-known speakers in the country on sustainability, energy efficiency, jobs, disruptive innovation and entrepreneurship, Kevin delivers his vision for a sustainable future through smart engineering to hundreds of conferences, including the notable TED series, as well as keynote for the Democratic Caucus (House of Representatives). Recognized for his leadership and creative approach to engineering, Kevin has been featured in every major publication including BusinessWeek, Time, Fortune, Forbes etc. and he has been recognized by dozens of organizations for outstanding leadership including being named Entrepreneur of the Year by Inc. Magazine. He was also recognized as one of the top 15 innovators of this decade by CNBC and he was named a Tech Pioneer by the World Economic Forum.
With nearly three decades of engineering, manufacturing, and senior management experience. Kevin joined Serious Energy and served as its CEO for 9 years. Prior to Serious, Kevin served as CEO and president of Perfect Commerce, Inc and earlier executive vice president of Products and Network Services of General Magic, Inc. where he built the world's largest internet/telephony operations center, serving millions of users, including web and voice services for major clients including BellSouth, Qwest and General Motors OnStar. Kevin also served as chairman, the CEO and president of WebKnight, Inc. He co-founded Air Communications, Inc. in 1992 and served as its CEO and president. Kevin developed new packages and processes for plastic multi-chip semiconductor packaging at Hestia Technologies and he held management and engineering positions at Seiko-Epson, National Semiconductor and IBM.
Kevin shares the wisdom he has gained through his extensive applied engineering and leadership, serving as chairman of the board at Serious Energy, Zeta Communities and at ArrayPower, Inc. He is also on the board of Yap.tv and currently holds 17 patents in a wide range of fields, with another dozen pending. Notably, he serves as a trustee at his alma mater, Rochester Institute of Technology where he earned his B.S. in electrical engineering technology, where he now influences the academic and experiential development of young innovators who will one day follow his lead.