2010
Innovation Hall of Fame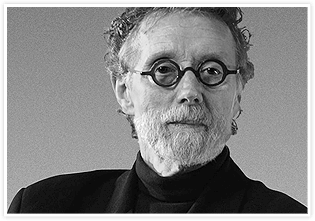 Had Wendell Castle shuttered his studio ten years ago, he could have done so knowing that his place in the pantheon of great designers was secure. Acknowledged as the leading light of the American Studio Furniture movement of the Sixties and Seventies, and admired for his tireless experimentation with sculptural volumes, Castle's work was at that point already in the permanent collections of scores of major museums. But of course, Castle had no intention of settling down. Driven by protean ingenuity, he has continued to develop and refine his sensibilities and craftsmanship in the intervening years. His newest pieces, on view in New York City and London, amount to an aesthetic gestalt; a mature synthesis of all Castle has learned on the journey of his career. Indeed, these designs are arguably his most creative work to date.
As the critic Joseph Giovannini noted, when Castle's furniture appeared in galleries it was seen as "radical in fundamental ways: the visual presence of a piece now outweighed its function, design outweighed technique, and form was more important than material." Writing as he was in 1991, Giovannini could scarcely have foreseen (one imagines) how Castle's work would have evolved, lending even more piquancy to the critic's words. In his latest body of designs, Castle establishes tensions within his pieces—between volume and materials; between various design elements—that he resolves with innovation, wit, and grace.
Castle developed a completely new way of constructing furniture. The process is now known as stack-lamination. This innovation allows unrestricted forms to be realized which would be impossible to create using traditional techniques, bringing furniture into the realm of sculpture. He has been a sculptor, designer and educator for over 4 decades and is known throughout the world for his innovative designs in wood, plastic and bronze.
Recently recognized as one of the top 10 designers in the world, the only American so recognized, Castle has been honored numerous times for his contributions to the design and art field in the United States, having received scores of awards, grants and honors for his accomplishments. These include three honorary doctoral degrees, several grants from the National Endowment for the Arts, the Gold Medal Award and being named a Fellow by the American Craft Council, listing in Who's Who in American Art, the Golden Plate award from the American Academy of Achievement, the Visionaries award from the American Craft Museum, the Distinguished Achievement Award from Wendell's alma mater the University of Kansas School of Fine Arts, The Award of Distinction which he accepted in 2001 from the Furniture Society, The Outstanding Achievement Award, which he accepted in 2003 from the National Association of Schools of Art and Design, and the Lifetime Achievement Award, which he was honored with by the Brooklyn Museum of Art in 2007.
Mr. Castle's work is represented in over 50 major museum and corporate collections throughout the United States, Europe, and the Far East. These include the Museum of Modern Art, New York; Metropolitan Museum of Art, New York; The Smithsonian, Washington, DC; The Chicago Art Institute, Illinois; The Philadelphia Museum of Art; The Museum of Fine Art, Houston; The Nelson Atkins Museum of Art, Kansas City; and The Victoria Albert Museum, London.
When asked about his relationship with RIT and its connection to his work, Mr. Castle replied:
"My relationship with RIT began in the spring of 1962, when out of the blue arrived a letter from Harold Brennan, the Dean of Fine Arts. I was living in New York City and had recently exhibited some of my pieces at what was then The Craft Museum. Mr. Brennan had admired my work and invited me to apply for a position at The School For American Crafts. I was offered the job and moved to Rochester in the summer of 1962.
"The time I spent at the downtown campus was wonderful and amazing. I believe that I learned as much, or more, those first few years, as the students did. The faculty whom I met during that time and became friendly with, I still count as some of my dearest friends today. I'm also still close with some of my students from those first years with RIT.
"In 1971 I left to teach sculpture at Brockport State College and later to have my own school. I then returned to RIT as an Artist in Residence. Again, it has proven to be a wonderful opportunity to maintain relationships with students and faculty and to continue developing my own body of work. With promising new opportunities on the horizon, I'm looking forward to working with students and faculty in keeping RIT on the cutting edge of design in the years ahead."