Men's hockey hosts Sacred Heart in Atlantic Hockey Series this weekend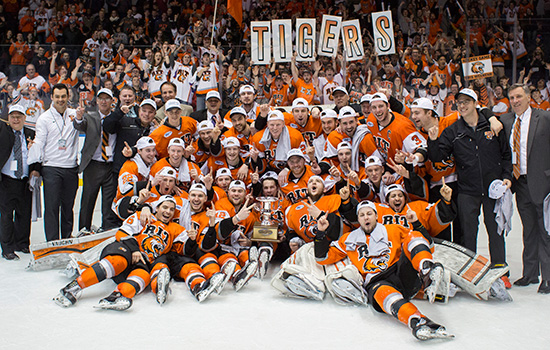 The RIT men's hockey team plays its first home game in 54 days, as the Tigers host the Sacred Heart Pioneers at 7:05 p.m. Friday and Saturday at Ritter Arena. It will be the only two regular season meetings between the two teams this season. Both teams are tied for second place in the Atlantic Hockey standings, just two points out of first place.
RIT (10-8-3, 8-5-3 Atlantic Hockey) comes into the weekend contests looking to jump into the Atlantic Hockey lead. The Tigers are just two points behind Air Force, which plays two non-conference games this weekend. Last weekend, the Tigers split two games against Air Force in Colorado Springs.
The Tigers, last at home on Nov. 25 against Army, went 6-3-1 on its 10-game road swing, moving from fourth in the Atlantic Hockey standings to second.
Sacred Heart (8-9-3, 8-3-3 Atlantic Hockey) is tied for second with RIT in Atlantic Hockey with 19 points. RIT won both meetings between the two clubs last season.
Friday's contest is sponsored by Park Point, while Saturday's game is sponsored by Park Point and RIT's Center for Residence Life. Fans will receive a free RIT Residence Life Tiger Spirit Towel, while Park Point will sponsor a T-shirt toss during intermission. Tickets are available at the Gordon Field House and Activities Center Box Office or by phone at (585) 475-4121. Tickets are $8 for adults, $6 for alumni, faculty and staff and $4 for students with ID.
For more information, visit the RIT Athletics Web site.
Topics