RIT students receive Kennedy Center awards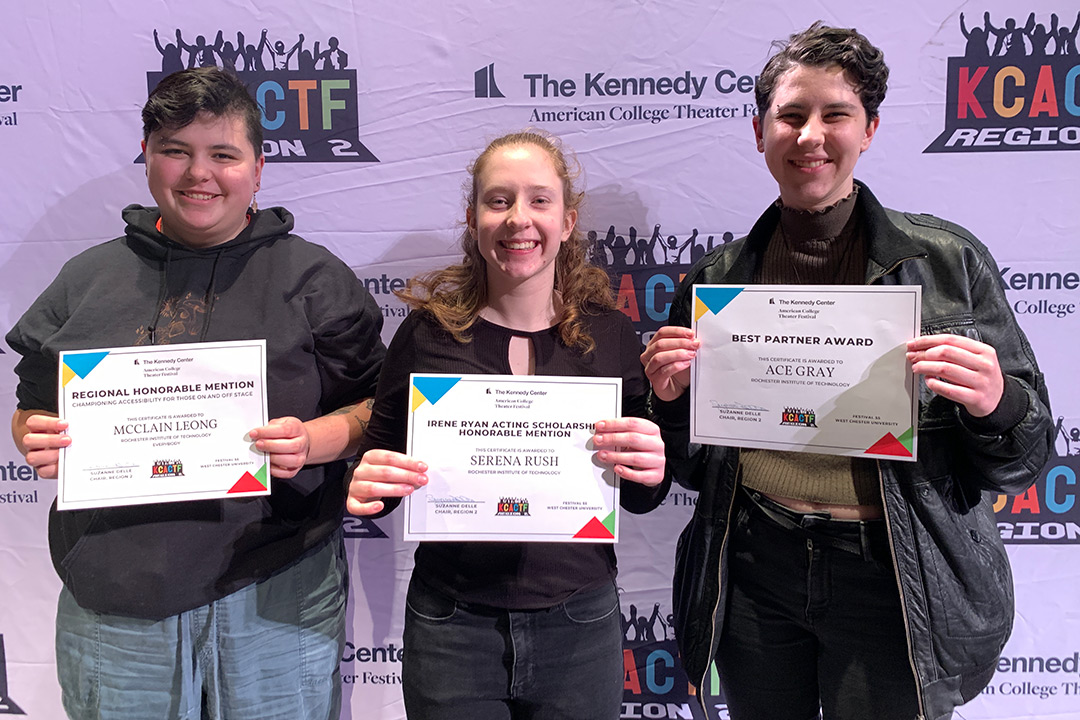 Three Rochester Institute of Technology students involved in last semester's production of Everybody brought home awards from the Region II Kennedy Center College Theatre Fest, held at West Chester (Pa.) University Jan. 17-22.
The play was a collaborative production between RIT's National Technical Institute for the Deaf Department of Performing Arts and the School of Performing Arts Theatre Arts Program.
Assistant Professor Andy Head, the play's director, brought eight RIT students to the annual festival. The winners were selected by university respondents who watched various productions on college campuses.
"Our students were some of the only non-theater majors at the festival, and were still recognized for their excellence in theater," Head said.
Four RIT students were among 150 who competed in the Irene Ryan Acting Scholarship Competition. Ryan was best known as Granny in The Beverly Hillbillies.
Serena Rush, a third-year psychology major from Silver Spring, Md., finished in third place.
Ace Gray, a third-year English major also from Silver Spring, won the Best Partner Award.
McClain "Mac" Leong, a third-year technical theatre major in RIT's School of Individualized Study, from Sterling, Va., won regional honorable mention for championing accessibility for those on and offstage.
Dolapo Atobiloye, a fifth-year computer science major from Nigeria; Esther Cho, a first-year accounting technology major from Los Angeles; Aslan Cronister, a fifth-year computing security major from Fall River, Mass.; Becca Lewis, a first-year medical illustration major from Colorado Springs, Colo.; and Freddy Rondon, a fifth-year software engineering major from the Dominican Republic, also participated in the festival.