Department of Performing Arts
COVID-19 Safety Protocols
We are excited to welcome you back to Panara Theatre for the live performances since the Fall of 2019! The safety and well-being of our students, faculty, staff, and patrons is our top priority. We appreciate your willingness to join us in keeping our community safe from COVID-19.
Department Overview

The NTID Department of Performing Arts was established in the fall of 1974, with the opening of the college's new permanent buildings, as an integral part of the curriculum following the success of the student drama club founded by Dr. Robert Panara in 1969.
Today, NTID Department of Performing Arts offers an array of theatre courses and produces several productions per season.
We are very proud of our students' accomplishments and our programs. Our success is demonstrated by the fact that, while we have no major in theatre, historically, the majority of Deaf theatre professionals have been NTID students or faculty. They have appeared, and continue to appear, in national and regional television commercials, network and cable television programs, major motion pictures and independent films, national and international theatre tours, Broadway, regional theatres, and international theatre festivals. Our programs and our students, faculty, staff and alumni have been honored with numerous awards from organizations ranging from theatres to government agencies to corporations and private foundations.
We also offer a professional traveling troupe, Sunshine 2.0, that provides performances and activities for deaf and hard-of-hearing children and adults that highlight the fields of Science, Technology, Engineering, Arts and Math (STEAM), as well as educational topics about the Deaf experience. For more information, visit their site.
In addition to all the accomplishments and programs described above, learn more about newly developing performing arts opportunities at RIT.
Upcoming Events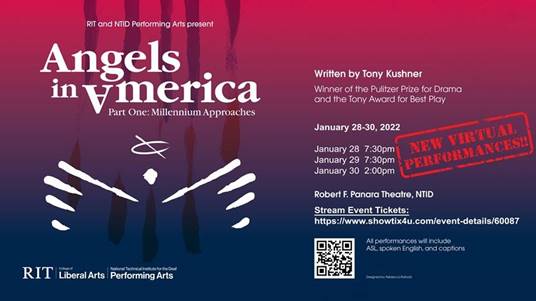 RIT and NTID Performing Arts present
Angels in America. Part One: Millennium Approaches.
Written by Tony Kushner. Winner of the Pulitzer Prize for Drama and the Tony Award for Best Play.
New Virtual Performances: January 28-30, 2022.
January 28 at 7:30pm
January 29 at 7:30pm
January 30 at 2:00pm
Stream Event Tickets: https://www.showtix4u.com/event-details/60087.
All performances will include ASL, spoken English, and captions.
Poster designed by Rebecca Kiahold.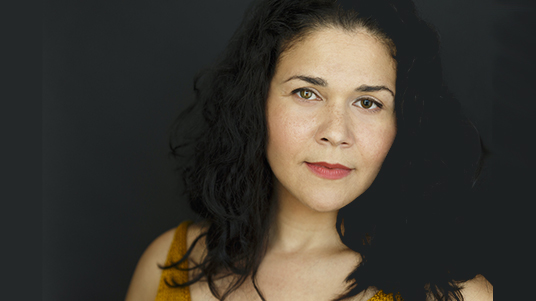 January 28-30, 2022
Zoom
Are you a Deaf theater maker or educator? Are you interested in supporting anti-racism in the deaf theater ecosystem? Sign up for this online convening!
Schedule of Events
Keynote Presentation, Alexandria Wailes
Fri. Jan 28, 7 pm EST
Open to the general public
Small Group Work
Sat. Jan. 29, 12-5:30 pm EST
Facilitated by Deaf BIPOC performing artists

Participants will discuss Principles for Building Anti-Racist Theatre Systems and Activating Design Action's Five Guiding Principles. They will share self and organizational assessments and develop an action plan.

Report Outs and Closing
Sun. Jan. 30, 12-2 pm EST

Participants will share their action plans and create accountability networks with each other.
Questions? Accessibility requests? Contact ntidperformingarts@rit.edu
Funded by the NTID Office of Diversity and Inclusion as part of the RIT/NTID Anti-Racism Plan.
Ignite: NTID Dance Performance
directed by Marc Holland
Dance at RIT, a program within the NTID Department of Performing Arts presents IGNITE, a dance and mixed-media performance presenting the debut of the newly formed RIT DanceCore Ensemble. DanceCore, directed by Professor Marc Ellis Holland is an ensemble of talented student dancers some of whose majors include engineering, business, science and digital design.

Dance program prof. Marc Ellis Holland and prof. Julia Nguyen collaborate with student choreographers to present modern dance, jazz, hip hop, and Irish step dance in an array of color and sound enhanced by visual projection, costumes and set design.

IGNITE also includes live music, monologues, and performances by RIT Performing Arts Scholars under prof. Andy Head and prof. Sungmin Shin, and student groups Vis Viva Dance Co., the RIT Drag Club, and Velocity Urban Dance Crew.
More Information including tickets and COVID-19 Safety Protocols >
When:
Friday, February 11, 2022 at 7:30pm
Saturday, February 12, 2022 at 2:00pm and 7:30pm
Sunday, February 13, 2022 at 2:00pm​
Productions and Auditions
Productions
Each season several productions are produced in the Panara Theatre and 1510 Lab Theatre. These productions are presented simultaneously by Deaf actors who sign the lines and hearing actors who speak the lines.
Every aspect of an NTID production is accessible to both Deaf and hearing people: back stage, onstage, or in the house.
Auditions
There are no current auditions.
Walkthrough and Facilities
Buy-A-Seat Program
Make a gift to Buy-A-Seat in the Robert F. Panara Theatre! This gift will make you a permanent supporter of the exciting performing arts program at NTID and a participant in some exciting renovations. We will mount a brass plaque with the inscription of your choice on your seat in the newly renovated theatre. It will be a permanent symbol of your generosity for thousands of theater goers to view each year. And, you will be helping to support the first major renovations to the Robert F. Panara Theatre in its thirty-year history.
Get News!
Sign up to receive information about NTID Performing Arts events, workshops, and other news.