Department of Performing Arts
Overview
Welcome to NTID Performing Arts! Fall 2022 brings many changes. First, we are proud to announce our new Theatre Design and Stagecraft Immersion and Minor programs. Second, all department spaces, including Panara Theatre, will be closed during Fall 2022 during our renovation. We anticipate Panara reopening in Spring 2023. Department offices will relocate to Peterson Hall tunnel rooms A121-A147 for the 2022-23 academic year. Finally, we are excited to announce our 2022-23 joint season with the College of Liberal Arts. Although our shows will happen in different venues than usual, we look forward to another year of outstanding theatre and dance. See you there!

The NTID Department of Performing Arts produces several shows per season. Faculty and staff collaborate extensively with the College of Liberal Arts' School of Performing Arts, while also maintaining NTID's long tradition of Deaf-centered theatre and dance. All of our productions are accessible to Deaf, hard of hearing, and hearing audiences, whether back stage, onstage, or in the house. We are also committed to offering accessible performances for audiences with visual and other disabilities.
The NTID Department of Performing Arts offers an array of courses in dance, Deaf performance, and technical theatre taught by our accomplished faculty and staff. The department offers a Certificate in Performing Arts for AOS and AAS level students; and a Minor and Immersion in Theatre Design and Stagecraft for bachelor level students. RIT DanceCore is also homed in the department. RIT students from any college are welcome to participate in our productions and classes.
Our Mission and Values
The NTID Department of Performing Arts immerses students in a creative environment where they can explore the intersections of the performing arts, technology, and deafness. Benefits from studying and participating in the performing arts include:
Fostering an appreciation of diverse art forms
Developing creativity and self-expression
Strengthening visual perspectives and sign language competencies
Developing interpersonal, artistic and expressionistic skills that can be used in many other aspects of life
We recognize each individual's background and experiences provide unique perspectives as we represent the world around us through the arts. We believe the performing arts should provide the foundational environment to embrace and reflect this diversity on stage, backstage and through the lens of the audience. Our work is guided by these principles:
Choose season programming that presents a range of voices and creates opportunities for diverse, inclusive casting.
Select directors and production leaders from a wide range of backgrounds.
Embrace diverse, inclusive casting for every role, while honoring a playwright's expressed intentions and adherence to licensing agreements.
Provide opportunities for students to grow as artists, rather than being solely defined by their ethnicity, race, gender, sexual orientation, age, hearing status, disability, or other identifying characteristic.
Actively engage with RIT, local, and national communities to recruit performers and production team members from diverse backgrounds.
Maintain and advance the long history and legacy of deaf-centered performance at NTID.
Regularly offer visual description, relaxed performances, and other accommodations to make our productions accessible to people with disabilities.
Experiment with new modes of performance that create new possibilities for artistic expression and inclusion.
Eliminate barriers that prevent people with disabilities from participating in design and production activities.
Recognize and work to dismantle systematic barriers to access and inclusion within the college and institute.
Ensure our teaching materials and practices are accessible, inclusive, and equitable.
Seek out opportunities to continue our individual journeys in creating an intersectional, inclusive, and culturally-respectful department environment.
Our History
Performing Arts at RIT originated with NTID. After the success of the student drama club founded by Dr. Robert Panara in 1969, drama became an integral part of NTID's curriculum. The Experimental Educational Theatre Program opened in 1974 and eventually became the Department of Performing Arts. Until the College of Liberal Arts opened in 1997, we were the only college on campus offering theater, dance, and even music classes. Deaf theatre faculty over the years have included Patrick Graybill, Phyllis Frelich, Susan Jackson, Aaron Kelstone, Shanny Mow, and Howie Seago. Performance group Sunshine Too was part of the department from 1980-1989, touring nationally and internationally to present programs about Deaf awareness, social issues and the environment. The company was relaunched in 2017 as Sunshine 2.0. Dance was added to the curriculum in the 1980s, under the leadership of Michael Thomas. The RIT/NTID Dance Company, a unique ensemble of deaf, hard-of-hearing, and hearing students, presented a diverse repertoire of student and faculty choreography from 1980-2010. In 2021, the dance company was relaunched as Dance Core under the direction of faculty Marc Holland.
Current and Upcoming Events
Follow these links for more information on current and upcoming events:
Productions and Auditions
Productions
Every aspect of an NTID production is accessible to Deaf, hard-of-hearing, and hearing people: back stage, onstage, or in the house. We also offer an audio described performance for each theatre production. To request other accommodations, please contact ntidperformingarts@rit.edu.
Upcoming Auditions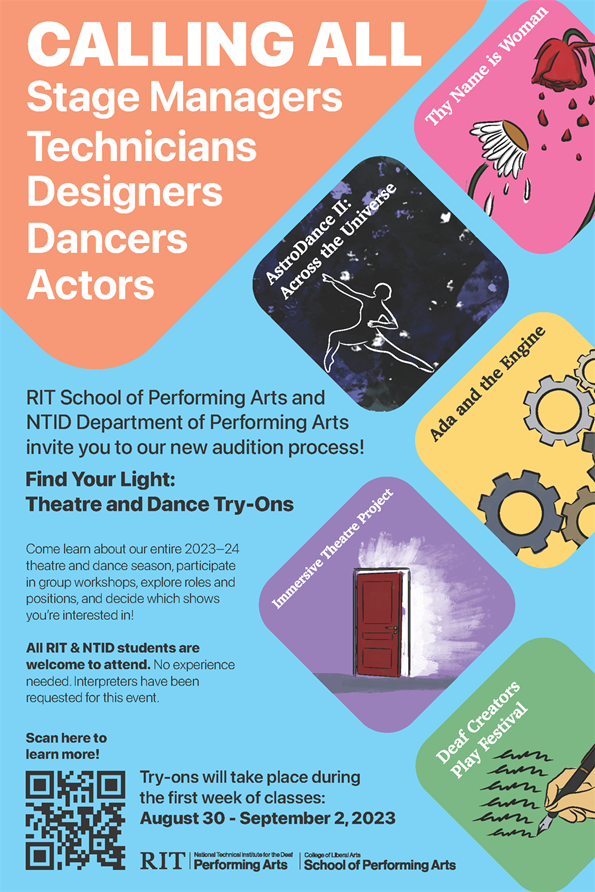 For dates and more information, go to Theatre Auditions and Casting.
[ID: AUDITION Find Your Light: Theatre and Dance Try-Ons. Calling All Stage Managers, Technicians, Designers, Dancers, and Actors flyer. Orange and blue background. Five images of each production: Thy Name is Woman, AstroDance II: Across the Universe, Ada and the Engine, Immersive Theatre Project, and Deaf creators Play Festival. RIT School of Performing Arts and NTID Department of Performing Arts invite you to our new audition process! Find Your Light: Theatre and Dance Try-Ons. Come learn about our entire 2023-24 theatre and dance season, participate in group workshops, explore roles and positions, and decide which shows you're interested in! All RIT and NTID students are welcome to attend. No experience needed. Interpreters have been requested for this event. Try-ons will take place during the first week of classes: August 30 – September 2, 2023. Two logos: RIT NTID Performing Arts and College of Liberal Arts School of Performing Arts.]
Walkthrough and Facilities
Please note that during renovations starting in August 2022, Panara Theatre and the Dance Lab will be unavailable until further notice.
Buy-A-Seat Program
Make a gift to Buy-A-Seat in the Robert F. Panara Theatre! This gift will make you a permanent supporter of the exciting performing arts program at NTID and a participant in some exciting renovations. We will mount a brass plaque with the inscription of your choice on your seat in the newly renovated theatre. It will be a permanent symbol of your generosity for thousands of theater goers to view each year. And, you will be helping to support the first major renovations to the Robert F. Panara Theatre in its thirty-year history.
Get News!
Sign up to receive information about NTID Performing Arts events, workshops, and other news.
Latest Performing Arts News & Articles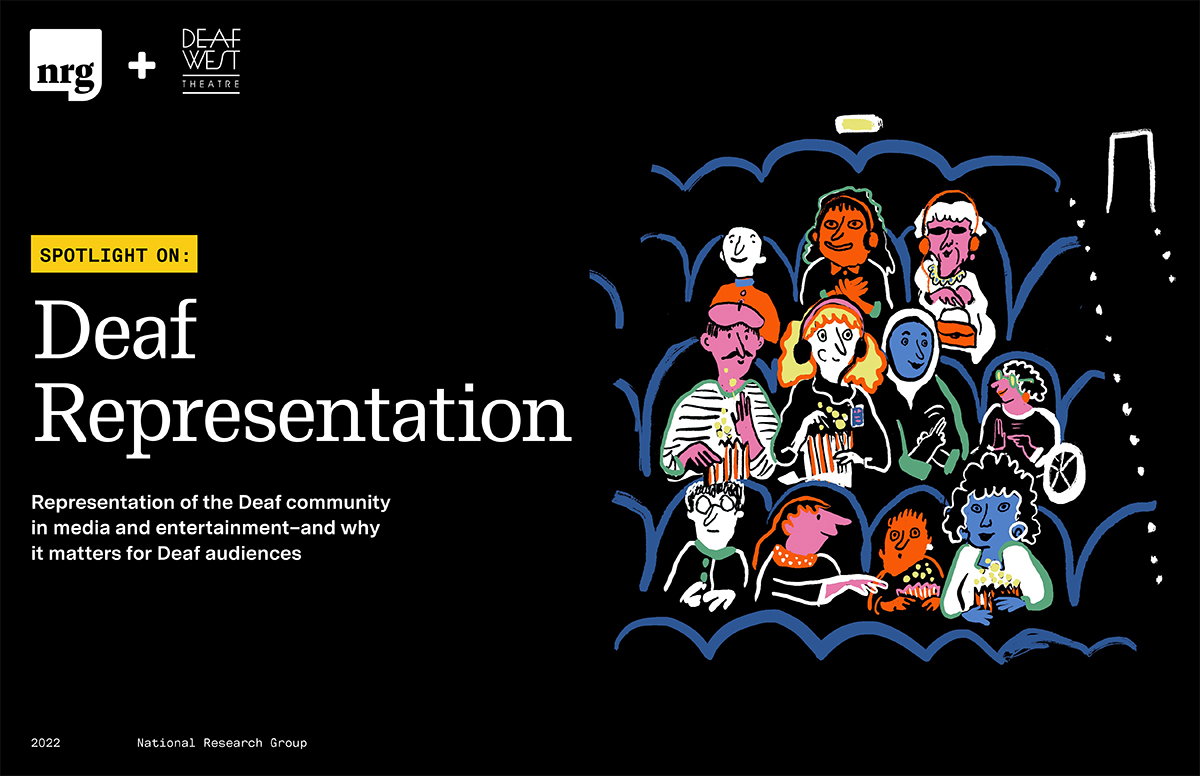 In February 2022, CODA made history by becoming the first movie featuring a predominantly Deaf cast to win the Academy Award for Best Picture. And Troy Kotsur, one of the film's stars, became only the second Deaf performer to be nominated for (and win) an Oscar. At the time, this moment was heralded as a landmark in the fight for greater representation for the Deaf community.
Read the full report (PDF).