Department of Performing Arts
Overview
Welcome to NTID Performing Arts! Fall 2022 brings many changes. First, we are proud to announce our new Theatre Design and Stagecraft Immersion and Minor programs. Second, all department spaces, including Panara Theatre, will be closed during Fall 2022 during our renovation. We anticipate Panara reopening in Spring 2023. Department offices will relocate to Peterson Hall tunnel rooms A121-A147 for the 2022-23 academic year. Finally, we are excited to announce our 2022-23 joint season with the College of Liberal Arts. Although our shows will happen in different venues than usual, we look forward to another year of outstanding theatre and dance. See you there!

The NTID Department of Performing Arts produces several shows per season. Faculty and staff collaborate extensively with the College of Liberal Arts' School of Performing Arts, while also maintaining NTID's long tradition of Deaf-centered theatre and dance. All of our productions are accessible to Deaf, hard of hearing, and hearing audiences, whether back stage, onstage, or in the house. We are also committed to offering accessible performances for audiences with visual and other disabilities.
The NTID Department of Performing Arts offers an array of courses in dance, Deaf performance, and technical theatre taught by our accomplished faculty and staff. The department offers a Certificate in Performing Arts for AOS and AAS level students; and a Minor and Immersion in Theatre Design and Stagecraft for bachelor level students. RIT DanceCore is also homed in the department. RIT students from any college are welcome to participate in our productions and classes.
Our History
Performing Arts at RIT originated with NTID. After the success of the student drama club founded by Dr. Robert Panara in 1969, drama became an integral part of NTID's curriculum. The Experimental Educational Theatre Program opened in 1974 and eventually became the Department of Performing Arts. Until the College of Liberal Arts opened in 1997, we were the only college on campus offering theater, dance, and even music classes. Deaf theatre faculty over the years have included Patrick Graybill, Phyllis Frelich, Susan Jackson, Aaron Kelstone, Shanny Mow, and Howie Seago. Performance group Sunshine Too was part of the department from 1980-1989, touring nationally and internationally to present programs about Deaf awareness, social issues and the environment. The company was relaunched in 2017 as Sunshine 2.0. Dance was added to the curriculum in the 1980s, under the leadership of Michael Thomas. The RIT/NTID Dance Company, a unique ensemble of deaf, hard-of-hearing, and hearing students, presented a diverse repertoire of student and faculty choreography from 1980-2010. In 2021, the dance company was relaunched as Dance Core under the direction of faculty Marc Holland.
Upcoming Events
Everybody
Written by Branden Jacobs-Jenkins
Directed by Andy Head
November 11-13, 2022
Ingle Auditorium
Student Alumni Union
A modern adaptation of the 15-Century play, Everyman. The play features the unique casting quirk of using a lottery system to define the roles of the play. This is meant to symbolize the randomness of death. The story is kept largely the same as Everyman with a few exceptions. The story follows the character of Everybody as they journey through life's greatest mystery—the meaning of life.
Productions and Auditions
Productions
Every aspect of an NTID production is accessible to Deaf, hard-of-hearing, and hearing people: back stage, onstage, or in the house. We also offer an audio described performance for each theatre production. To request other accommodations, please contact ntidperformingarts@rit.edu.
Auditions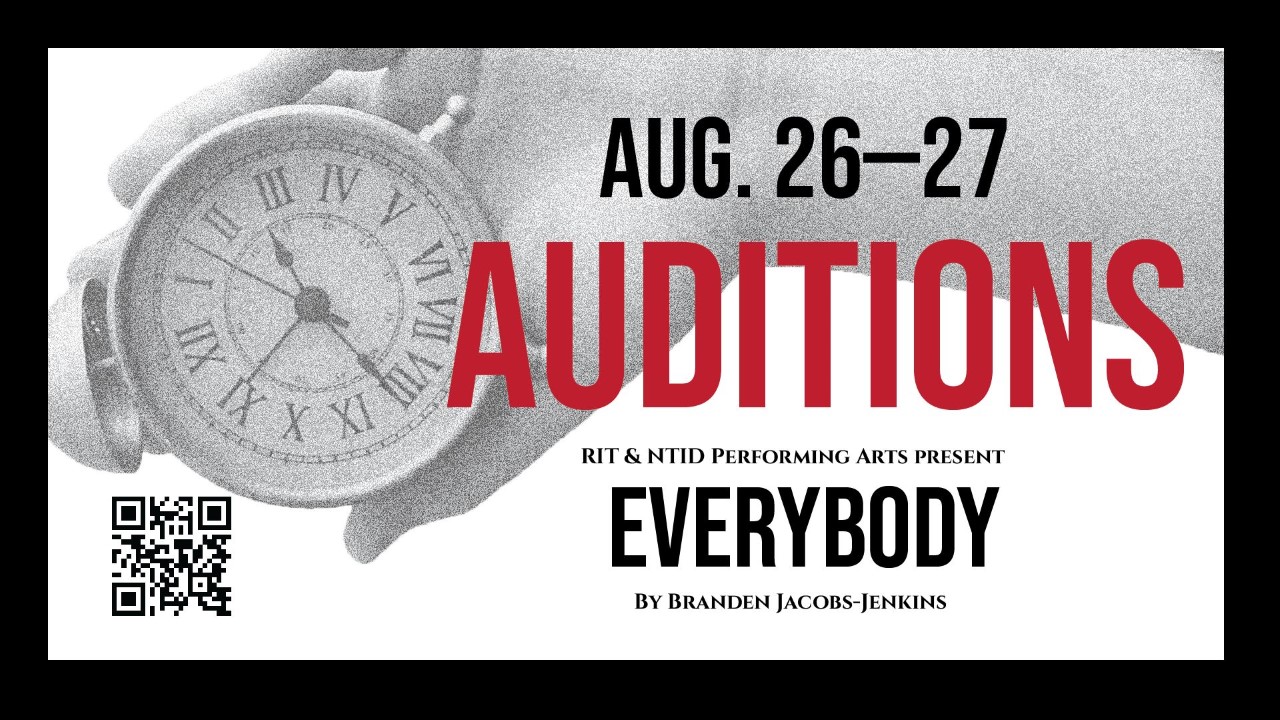 Auditions will be August 26 from 6-10pm, with callbacks the next day. Auditions are open to all RIT students, staff, and faculty, as well as community members unaffiliated with RIT. Scan the QR code to learn more and send questions to awhgla@rit.edu.
Walkthrough and Facilities
Please note that during renovations starting in August 2022, Panara Theatre, the 1510 Lab, and Dance Lab will be unavailable until further notice.
Buy-A-Seat Program
Make a gift to Buy-A-Seat in the Robert F. Panara Theatre! This gift will make you a permanent supporter of the exciting performing arts program at NTID and a participant in some exciting renovations. We will mount a brass plaque with the inscription of your choice on your seat in the newly renovated theatre. It will be a permanent symbol of your generosity for thousands of theater goers to view each year. And, you will be helping to support the first major renovations to the Robert F. Panara Theatre in its thirty-year history.
Get News!
Sign up to receive information about NTID Performing Arts events, workshops, and other news.