Sunshine 2.0

Welcome
A Note from the Coordinator

Fred Beam
Coordinator,
Sunshine 2.0

Sunshine 2.0 is on the road! This free traveling road show offers performances for children, teenagers and the community at large. Workshops and performances provide educational opportunities for audience members to learn from each other, make discoveries in STEAM (science, technology, engineering, arts and math) fields, and gain new awareness. Our engaging shows provide valuable insights into the human condition and demonstrate how hearing and deaf people can interact and engage with one another.

We hope you come to see us in action when we are in your area or schedule your own visit today!
Overview
RIT/NTID's Theater on Tour
Sunshine 2.0 is a professional traveling theater troupe based at Rochester Institute of Technology's National Technical Institute for the Deaf in Rochester, New York. The troupe provides performances and activities for deaf and hard-of-hearing children and adults that highlight the fields of Science, Technology, Engineering, Arts and Math (STEAM), as well as educational topics pertaining to the Deaf experience. The theater troupe travels to schools and programs serving deaf and hard-of-hearing students, colleges, museums, conferences, civic groups, festivals and other venues.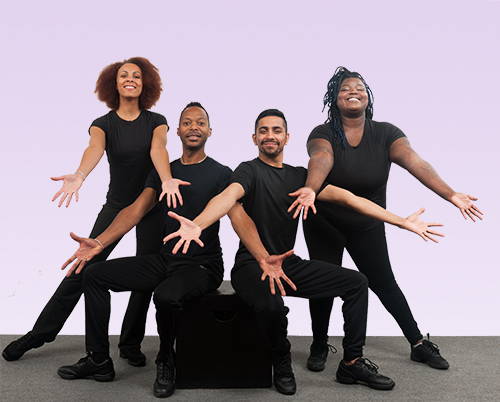 Performances are presented in voice and in American Sign Language, are accessible to all audience members and cover subjects for people of all ages. Currently, these performances can come to your school or organization on the east coast at no cost!
Using an array of performance techniques, Sunshine 2.0 offers a series of engaging programs and workshops. Sunshine 2.0 audiences have a rare opportunity to see exciting and entertaining performances that will create a lasting impression.
Meet the Company
The members of this traveling troupe come from Washington, D.C.: Portland, Oregon; San Francisco, California and New York State with performance credentials in drama, comedy, dance and children's theater, to name just a few.
Fred Michael Beam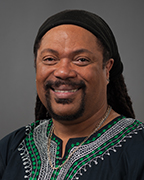 Fred Michael Beam is the outreach coordinator for Sunshine 2.0. He is an experienced performer with acting credits that include Nicholas in "By the Music of the Spheres" at the Goodman Theater, Harry in "Harry the Dirty Dog" at the Bethesda Academy of Performing Arts; Witness in "Miracle Workers" and Stranger in "Mad Dancer" at the Arena Stage in Washington, D.C.; "Fall Out Shelter," "The Dirt Maker" and "The Underachiever" at the Kennedy Center; the title character in "Othello" at Gallaudet University; and Steve in "A Streetcar Named Desire" at Sign­Rise Cultural Arts in Washington, D.C. He also performs in his one-man shows, "Fred Michael Beam: Sign Me a Story" and "Black, Deaf Male: Who Am I?," which toured nationwide. He was a member of "I Didn't Hear That Color," the first black deaf play ever produced. His television and film credits include "If You Could Hear My Own Tune," "The West Wing," "Secret Dream," "Little Lonely Monster," "Deaf Mosaic" and "The New Captain Kangaroo," for which he won the 2000 Media Access Award.
A dancer, director and choreographer, Beam has worked with the Gallaudet Dance Company, the National Deaf Dance Theatre, the DuPont Dance Company, the Penn Vision Dance Company and the Bethesda Academy of Performing Arts. He has performed around the globe, including in Africa, Australia, Egypt, England, France, Jamaica, Japan, Sweden, South America and the Virgin Islands. He also was choreographer for the production of "Jesus Christ Superstar" at the Open Circle Theater in Washington, D.C.
He is executive director of In­visible Hands, Inc., which promotes deaf awareness through performing arts and was a founding member of The Wild Zappers, an all deaf male dance company. He also established Theater Arts Leadership Training for Deaf People of Color at Gallaudet University. Beam established the Black Deaf Expo and has hosted it since 2003, providing the Deaf Black Community the opportunity to stand proud, displaying their culture.
Beam also was a board member of Quest for Arts, Inc., the Governor's Ad­visory Committee on Careers in the Arts for People with Disabilities in Maryland and a former president of District of Columbia Black Deaf Advocates. For his outstanding work with the deaf community, Beam was chosen one of "Essence Magazine's" Real Men of the Year, and has been "DEAF LIFE" magazine's Deaf Person of the Month.
Shiann Cook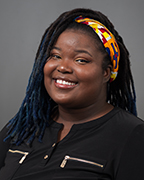 Shiann is a Cleveland native who recently relocated to Rochester to join the Sunshine 2.0 team. Shiann went to Cleveland School of the Arts where she studied dance under the instruction of former Dayton Contemporary Dance Company member, Terrance Greene. She has performed at the International Association of Black Dance conference in Denver, Colorado, and has traveled around the country performing professionally. Shiann also studied theater for two years under the leadership of Dr. Scott Miller and Nina Domingue- Glover where she was taught African American theater, classical theater and how to direct, write and produce her own plays. Shiann grew up in church praise dancing under the leadership of her mother Selena Pittman, who eventually gave Shiann the opportunity to teach and choreograph for the ministry. Shiann loves singing, dancing and acting but apart from that she enjoys watching movies and spending time with family and friends.
Tyler Fortson
Bio and photo coming soon...
Bianca Ware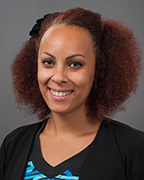 Bianca Ware is an artistic old soul hailing from the urban landscapes of Wisconsin. She has been dancing since she was four years old, trained in various styles such as ballet, jazz, tap, hip hop, modern, and African Dance. Bianca holds a BFA degree in Dance: African Dance and the Diaspora, with a professional background in Ko-Thi Dance Company as a dancer, musician, and research assistant in Milwaukee, WI. She draws inspiration from her years of travel nationally and abroad, gaining new experiences by immersing in different cultures, languages, and the people. Most notably is her long term stay in Gragnano, Campania, Italy where she taught English in various schools in the region.
Bianca has great hopes to inspire and ignite creativity within the Deaf community across the country, and ultimately the world. She enjoys exploring the art of dance, ASL song and poetry, acting with Sunshine 2.0, and teaching valuable material that enhances growth within the youth and adults alike. Her dream is to open a School of Dance for the Deaf one day, and she knows she's well on her way.
Zain Ahmed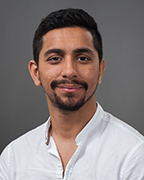 Zain was born and raised in Pakistan. He moved to Chicago when he was 8 years old. He has recently graduated in Marketing with a minor in Psychology at Rochester Institute of Technology. In high school, he was involved in many plays at a local theater at International Center on Deafness and the Arts (I.C.O.D.A) in Chicago, IL. Zain was cast in his first acting role as Dopey in Snow White. Eventually, he was cast in other roles in West Side Story, Into The Woods, and St. Paddy Day. He was also involved in a dancing group, Traveling Hands Troupe (T.H.T), for two years. In his senior year of high school Zain and his team went to Dubrovnik, Croatia in Europe for the International Conference for Deafness arts showcase.
At Gallaudet University Zain was involved in a special performance to share the story about domestic violence incidents through acting to honor Deaf Domestic Violence survivors. When he transferred to Rochester Institute of Technology, he was involved in the plays Hairspray and Almost, Maine. Also, he was the assistant director for a play, Into Act, that is based on ASL storytelling and poetry.
In his free time Zain loves to dance in Lollywood (Pakistan) and Bollywood (India) due to his cultural background. He also enjoys translating English into American Sign Language (ASL) songs from YouTube music videos. In addition, he enjoys traveling and loves to meet new people.
Performances & Workshops
Performances (45-90 minutes)
Sunshine 2.0 performances involve the amazing use of movement, juggling, magic and other entertaining physical elements. The shows not only entertain, they help educate audiences about the Deaf experience—information that is shared through a range of skits and short plays involving sign-mime, dance, gestures, ASL poetry, songs and storytelling. All performances are presented in sign language and spoken English to provide full audience access.
Workshops (30-60 minutes)
By incorporating the use of sign-mime, signing songs, body awareness and the use of theater games, participants gain an understanding of body, movement and basic theater techniques useful for everyday life. Workshops are normally designed for about 20 to 30 participants.
Sign Up!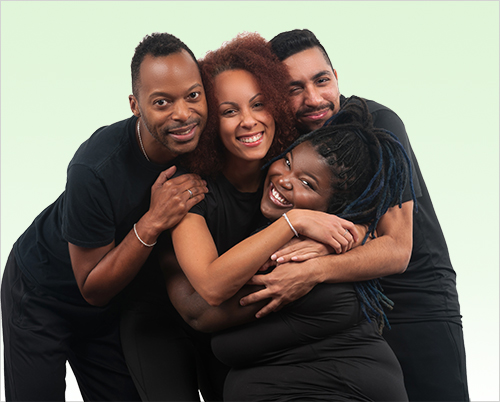 Yes, I want to receive my free gift and information about RIT/NTID competitions, summer camps and other programs for students who are deaf or hard of hearing.

If are requesting a Performance for your venue, please go to the Book Us form.
Our History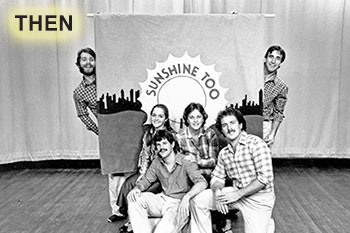 Sunshine 2.0 is a 21st century reboot of Sunshine Too, a similar on-the-road performing arts program that was established in 1980 and, during its 19-year history, visited 48 states, Canada, Denmark, England, Finland, Israel and Japan, presenting programs developed around the themes of deaf awareness, social issues and the environment.
The troupe provided more than 12,500 performances for more than 1.3 million people worldwide.