NTID Co-op and Career Center – Employers
NTID Co-op and Career Center (NCCC) was formerly known as the NTID Center on Employment (NCE).
We appreciate your patience as we work through name changes on the website and publication materials.
Hiring RIT/NTID deaf and hard-of-hearing co-op students and graduates can give your businesses a competitive advantage by bringing today's high-tech skills and diversity to the workplace.
NTID Employer Advisory Group
The NTID Employer Advisory Group's (EAG) mission is to help NTID stay current with relevant information that is critical to employment.
Academic Majors
Over 600 students from all over the U.S. and other countries specialize in programs that graduate highly skilled hands-on technicians who can hit the ground running in your organization. Select one of NTID's Associate Degree Programs below to download a program overview in PDF format. No matter where your business is located, NTID can help you find skilled people at the technician level.
To find qualified applicants to meet your hiring needs:
Career Fairs/Events
The NTID Career Fair 2023
The 2023 NTID Career Fair is taking place on Wednesday, October 4, 2023, from 12:30 to 4:00 p.m. on the first floor of LBJ.
For questions, contact Kari Campos-Hamilton at kccned@rit.edu.
Employers who are interested in more information about the NTID Career Fair may contact the NTID Co-op and Career Center (NCCC) at kccned@rit.edu. The NCCC team will evaluate employer interest and priority will be given to companies that hire both co-op/internships and full-time positions, and those that recruit from a variety of majors. We appreciate our employer partners for their dedication to our students' and graduates' success!
NCCC is on the road!
NCCC staff travel nationwide to network, make presentations and exhibit at venues where employers gather, in order to develop employment opportunities for co-ops for students and jobs for graduates.
We welcome information about conferences or exhibiting opportunities where NCCC staff could speak on behalf of well-qualified, highly trained deaf and hard-of-hearing students and graduates and the diversity they bring to the workplace. If you know of such opportunities, please contact NCCC.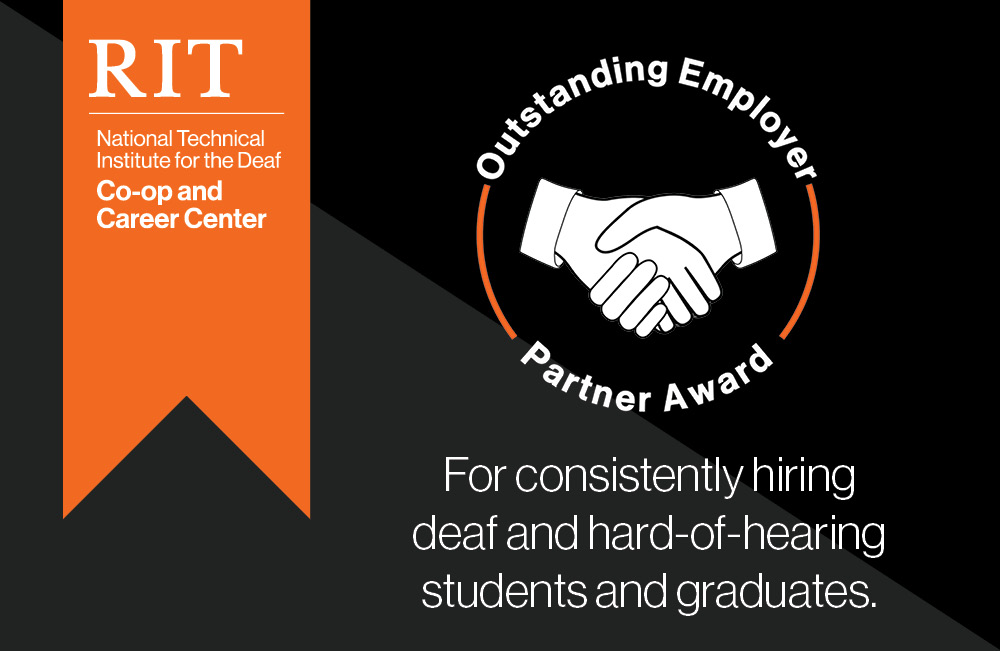 This annual award recognizes employers who have a sustained record of hiring RIT/NTID deaf and hard-of-hearing co-op students and graduates. The award is presented each fall during the NTID Career Fair.
Winners of Outstanding Employer Partner Award
2022:
PNC Financial Services and University of Tennessee – Knoxville
2019:
Rochester School for the Deaf
Tobyhanna Army Depot
2018:
Eastman Kodak
Prudential Financial
Route 66 Promotions
The Learning Center for the Deaf
2017:
GE Aviation
Tufts University
2016:
OhioHealth
Solar Turbines
2015:
The Gleason Works
University of California-San Diego (Moores Cancer Center)
Purple Communications
2014:
Federal Deposit Insurance Corporation
Aspen Camp of the Deaf and Hard-of-Hearing
2013:
Dow Chemical Company, Midland, Michigan
University of Michigan-Kresge Hearing Research Institute, Ann Arbor, Michigan
ZVRS, Clearwater, Florida
2012:
Sorenson Communications, Salt Lake City, Utah
City of Los Angeles, Los Angeles, California
Bender Consulting Services, Pittsburgh, Pennsylvania
2011:
American School for the Deaf, West Hartford, Connecticut
IBM, Austin, Texas
Crane Group of Companies, Columbus, Ohio
2010:
Defense Finance & Accounting Service, Rome, New York
BNY Mellon, Pittsburgh, Pennsylvania
For information about the employer award, the career fair and the benefits of hiring RIT/NTID students and graduates, learn more here.
Hiring a Student or Graduate
NTID co-op and graduate students are well trained, highly skilled candidates who are ready to work. To learn more about our co-op program and graduates, please expand the sections below.
Over 600 students specialize in programs to become hands-on technicians. No matter where you are located, you can look to NTID to fill a need for hard-to-find skilled people at this level.
Some 350 students pursue Bachelor's and Master's degrees to enter a variety of professions, and possess the skills to effectively do the job in high-demand technical fields.
You can join the ranks of top-performing employers who have found that their competitive advantage is advanced by the diversity of their organizations.
The NTID Co-op and Career Center is a resource for businesses and industries wishing to hire deaf and hard-of-hearing people. The center provides workshops to foster successful work relationships, access to a personnel pool that matches staffing needs, consultations and materials regarding accommodations, and visits to co-op employers.
Your organization can benefit from hiring an RIT/NTID graduate in the following ways:
Deaf and hard-of-hearing graduates are well-trained and have the skills to hit the ground running.
They possess skills in state-of-the-art processes on the latest equipment.
They have experience in the world of work through RIT's co-op program.
They understand the concepts of business bottomline, quality focus, teamwork, perseverance to get the job done.
They have learned strategies to facilitate communication and successful interactions between deaf and hearing people.
If you want a skilled and highly motivated employee, hire a deaf or hard-of-hearing graduate here.
Communications & Accommodations
Communicating with deaf or hard-of-hearing employees is easier than you might think.  When meeting deaf or hard-of-hearing individuals for the first time, it is acceptable to ask them how they prefer to communicate with you.  In this era of electronic devices, you could communicate via computer, iPad, iPhone, or other device where information can be entered and shared. For more information about communicating with an employee or interviewee who is deaf or hard of hearing, see Communication Strategies, and Group Situations and Meetings.
Sign Language Interpreters
Sign language interpreters facilitate communication between hearing people who don't know sign language and deaf or hard-of-hearing people who use sign language. Situations that may require an interpreter are: employment interviews, orientations, training and large meetings, as well as when meeting with a supervisor about work performance. To find sign language interpreters in your area, see the Registry of Interpreters for the Deaf.
Video Remote Interpreting
Video Remote Interpreting (VRI) uses an off-site interpreter to facilitate communication between deaf and hearing people who can either be all together in a meeting room or in a one-to-one situation. To find information about VRI services, visit the Job Accommodation Network.
Relay Services
There are various types of relay services. Telecommunications relay services provide telephone service that allows hearing and deaf and hard-of-hearing people to communicate with each other. Telecommunications relay services are available in all U.S. states and territories for local and/or long distance calls at no additional cost to the consumer.
Video relay services (VRS) enable deaf or hard-of-hearing people who use American Sign Language and some deaf people who use their voice to communicate through video equipment such as videophone, smartphone or computer.
A) Using Sign Language
| | |
| --- | --- |
| Videophone (VP): Using an internet connection, deaf or hard-of-hearing people can make or receive video relay calls.They sign directly to the video relay service (VRS) interpreter, who speaks what is signed to the hearing person. The interpreter signs the hearing person's responses to the deaf or hard-of-hearing caller. | |
| Smart Phone/Tablet: On a smart phone or a tablet, deaf and hard-of-hearing people can communicate with either a hearing or a deaf person. | |
| Computer: Whether a deaf person has a PC or a Mac, a desktop or a laptop computer, if it has a webcam, she or he can download free software from video relay service (VRS) providers of his or her choice. This enables them to make or receive video relay calls to or from hearing callers in the same manner as above. | |
NOTE: Deaf or hard-of-hearing people who use sign language can use these various technologies to call each other directly.
B) Using Voice
Videophone (VP) uses an internet connection with which a deaf individual can use his or her voice to speak directly to the person they are calling.  The interpreter signs the hearing person's responses which the deaf person can see on a videophone monitor.
Voice Carry Over is a technology that allows people to speak directly to the person they are calling, then read that person's response on a display on their phone, videophone, tablet or computer.
| | |
| --- | --- |
| Web-captioned telephone is a web-based service that allows the callers to phone someone and also read real-time, word-for-word transcriptions of their calls on a computer monitor or laptop. It is used by deaf or hard-of-hearing people who prefer using their own voice aided by technology to communicate by phone. | |
| Captioned Telephone, such as a Captel phone, has a built-in screen that displays in text everything being said by the other person. | |
C) Using Text
Online Relay (includes tablets, smart phone. etc.): The online relay service allows deaf or hard-of-hearing people to use a computer or other device to type a text message. When a hearing person is speaking, the operator is typing what he or she says so the deaf or hard-of-hearing person can read it. The relay operator also reads what the person types to the hearing person.
Notetaking
Notetaking is a common accommodation that can be used in a variety of situations such as everyday meetings or last minute meetings in the workplace when an interpreter is not available. Notes can be typed on a computer or laptop, and projected onto a screen, if that technology is available in the meeting room.
Visual Alerts
Visual alerting technology such as a doorbell, smoke alarm, telephone and weather alert signalers all can bring information about sounds that need to be brought to the deaf or hard-of-hearing individual's attention.
Employer Training
NCCC offers an award-winning workshop that teaches employers valuable information on how to create an accommodating and accessible workplace for deaf and hard-of-hearing employees. Learn about the workshop here and contact us for more information.
The Working Together: Deaf & Hearing People online course is designed to help employers develop the sensitivity and skills to communicate effectively with deaf and hard-of-hearing employees, enable deaf and hearing colleagues to work together more productively, and assist in fostering a workplace culture of diversity and inclusion. It is called Working Together because it is about working relationships. The five self-paced modules in the course will cover topics on Myths and Definitions, Hearing Loss, Deaf Culture, Communication, and Accommodation and Inclusion in the Workplace. This information can benefit employers, co-workers of deaf and hard-of-hearing people, HR business leaders, and other inclusion/diversity professionals.
You can access the "Working Together: Deaf & Hearing People" online course at http://deaftec.org/working-together-online-course.
To inquire about on-site workshops or tailoring training to your organization's needs, contact the NTID Co-op and Career Center at ntidcoe@rit.edu, by phone 585-286-4155 (V/VP), or by fax at 585-475-7570 or fill out the online form.