Theatre Arts at RIT

Setting the Stage
Whether you are under the lights on stage or you'd rather be working the lights as a force behind the scenes, getting involved in theatre at RIT is easy. With for-credit and extracurricular offerings, you'll be sure to find classes, productions, workshops and other programs that allow you to incorporate theatre experiences into your time at RIT. Expert faculty and instructors will help you grow in your understanding of theatre, and joint theatre seasons between RIT and NTID provide opportunities to perform in unique and inclusive ways.
Theatre Minor and Immersion
As part of their bachelor's degree requirements, RIT students must complete an immersion—a concentration of three courses in a particular area. Undergraduate students also have the option of completing a minor, which can complement their major or enable them to pursue an area of personal interest.
Performing Arts Certificate
NTID Department of Performing Arts offers a special certificate in performing arts that documents the academic training students receive while actively participating in Performance or Technical Theatre activities.
Theatre Courses
There's nothing like the thrill of a live performance. Whether you're a participant in the planning, a key player in the execution, or an enthralled member of the audience, you're a part of something special. At RIT, all aspects of what goes into planning and executing a performance are covered, ensuring that when it's time for the show to go on, you'll be ready.
"Acting makes me feel happy because it makes me feel calm. It makes me feel energetic. Acting fuels me."
Ndidi Chimah A hospitality and tourism management major from Owings Mills, Md., has been acting for about 10 years and plans to audition for a play in the spring.
Ndidi Chimah A hospitality and tourism management major from Owings Mills, Md., has been acting for about 10 years and plans to audition for a play in the spring.
Productions
Coming Up
Please check back later in the spring for our 23-24 season announcement!
April 2019
MAGIC Spell Studios, Sound Stage West

By David Munnell
Directed by Patricia Lewis Browne
A new sci-fi thriller inspired by Oedipus Rex.

Free admission. Limited seating.
*Not appropriate for children under 12.*
November-December 2018
Panara Theatre, NTID
Based on the play by John Van Druten and stories by Christopher Isherwood
Book by Joe Masteroff
Music by John Kander
Lyrics by Fred Ebb
Director: Andy Head
Willkommen to the Kit Kat Klub! In this secret haven of a club, the music is loud, the dances are flashy, and the party rages on. The club's newest headliner, Sally Bowles, meets American writer Cliff Bradshaw and their lives become entwined. But as the power of the Nazi Party spreads, and Germany grows more unstable, how will the club and its patrons fare? "Cabaret" is the well-loved musical sensation that opened on Broadway in 1966 and won 8 Tony Awards that year. So leave your troubles outside, because life is beautiful at the cabaret. Not appropriate for children under 12.

More information
March 2018
University Gallery
By Aaron Posner
Director: Andy Head
An aspiring young director rampages against the art created by his mother's generation. A nubile young actress wrestles with an aging Hollywood start for the affections of a renowned novelist. And everyone discovers just how disappointing love, art, and growing up can be in this irreverent, contemporary, and very funny remix of Chekhov's "The Seagull", Aaron Posner stages a timeless battle between young and old, past and present, in search of the true meaning of it all.
November 2017
CLA's Pop-Up Black Box Theatre Tent, Pocket Park by James E. Gleason Hall
By Katherine Royal
Director: David Munnell
Michelle and Jason, two undergraduates, must determine whether a sexual encounter they shared at a party can and should be considered a sexual assault. Uneasy and hungover the following day, Michelle puts it to the both of them to independently decide the nature of their experience over the course of the final week of school before she graduates. We follow Jason and Michelle throughout this process amidst flashbacks to the night in the question. Girls Can Tell seeks to shed light on the problematic nature of school policies regarding sexual assault and the dehumanization that can occur when submitting oneself to these systems.
This production contains adult themes of a sexual nature including simulated sexual activity. Not recommended for children under 17 years of age. Trigger Warning: The topic of this play concerns a non-consensual sexual encounter.

More information
April 2017
Panara Theatre, NTID
By Hillary DePiano
Director: Melanie Blood
The Love of Three Oranges is based on a commedia dell'arte scenario by Carlo Gozzi in the eighteenth century Italy. However, that history is misleading unless you know something about commedia; the actors improvised all lines based on a given plot and their stock characters, making up dialogue that incorporated local references and topical humor along with slapstick, verbal gags and audience interaction. Our adaptation takes Hillary DePiano's script and localizes it to RIT today, including local and topical references and performing in a local coffee shop created on the Panara stage. We hope you enjoy the sheer silliness of our presentation, but also find the power of communal laughter to distract and heal.
November 10-13, 2016
1510 Lab Theatre, NTID

Director: Andy Head
Seven plays inspired by seven Shakespearean sonnets
Workshops
Each semester, the RIT Theatre Arts Program offers a variety of theatrical events including guest artist workshops and informal play readings. We believe that students truly benefit from multiple artistic perspectives, so we invest in bringing working theatre professionals to campus for workshops that are both engaging and educational.
COLA Off-Stage Readings
For those who want to participate in a low-commitment theatre project, there is College of Liberal Arts OFF-Stage, an informal play reading series that provides RIT/NTID students, faculty, and staff opportunities to easily participate in or watch a one-night "performance" of popular pieces. The reading series is open to anyone and no prior experience is necessary. Contact Andy Head at awhgla@rit.edu for additional information.
Theatre Groups
RIT Players
RIT Players is a student-run theatre group. From the acting, directing, and choreography to the set construction, lighting, and sound, RIT students are the driving force behind our productions.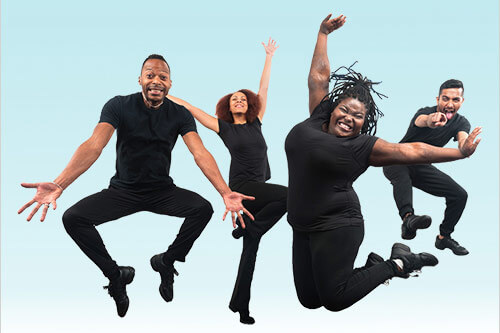 Sunshine 2.0
Sunshine 2.0 is a professional traveling theatre troupe based at RIT's National Technical Institute for the Deaf. The troupe provides performances and activities for deaf and hard-of-hearing children and adults that highlight the fields of Science, Technology, Engineering, Arts and Math (STEAM), as well as educational topics pertaining to the Deaf experience.