Saunders College women's leadership events draw hundreds to RIT campus
Power Your Potential and Women's Leadership Summit inspire and embolden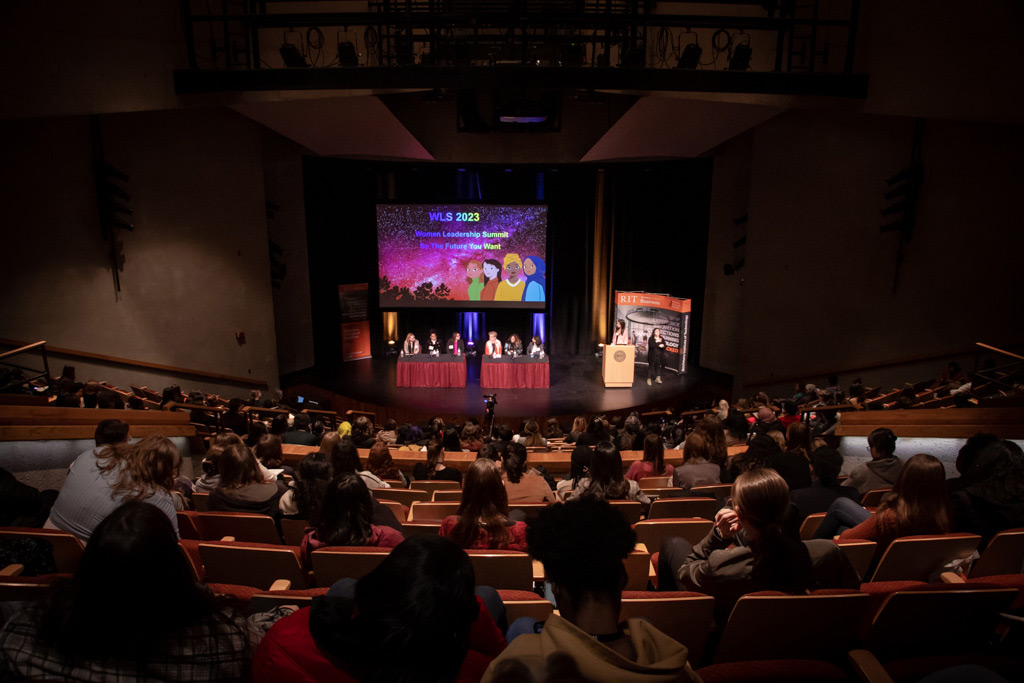 Saunders College of Business drew hundreds of attendees to the RIT campus Feb. 17 and 18 for the college's inaugural Women's Leadership Weekend, hosting the 13th annual Power Your Potential Women's Conference and 3rd annual Women's Leadership Summit on consecutive days for the first time ever.
A popular half-day women's leadership conference that also marked an early start to the celebration of Women's History Month in March, Power Your Potential invited working professionals to learn from peers and speakers, including award-winning author and alumna Elizabeth Kiehner '22 (EMBA), chief growth officer at Nortal, a digital transformation company founded in Estonia with a U.S. headquarters in Seattle.
"Some of our best learning begins when we get out of our comfort zones," said Jacqueline Mozrall, dean of Saunders College, in her welcoming remarks to attendees who filled University Gallery. "This conference provides a platform for emerging leaders—and experienced leaders—to develop insights on leading in an active and authentic way, and also to have the confidence to think about different opportunities that might be in front of you, even if it wasn't what you planned."
Interactive panels included topics such as negotiation skills, which included Joy Olabisi, associate professor in Saunders College's management department and director of the department's undergraduate programs. Another panel discussion highlighted local women-owned businesses, featuring marketing agency Butler/Till.
Saunders College alumna Victoria Griffith '93 (food marketing and distribution), president of the RIT Women's Council, served as mistress of ceremonies for the conference, which also included a wellness workshop. The conference's theme was "Own Your Path," and was sponsored by First American Equipment Finance and Consiliarium Group, LLC.
More than 350 people—including 75 high school students from Monroe County, Buffalo, Syracuse, Albany, and as far away as Pennsylvania—packed the Student Alumni Union and Campus Center for the Women's Leadership Summit the following day.
The all-day conference is geared toward inspiring high school and college-aged women to look to the future by learning from, and connecting with, successful business leaders and students from a wide range of backgrounds and industries. The summit welcomed more than 20 alumni as speakers and panelists, including JoAnne Ryan '04 (health systems administration), president and CEO of Ronald McDonald House Charities.
Focusing on the theme, "Be the Future YOU Want," the summit was student-driven and organized, chaired by Palak Wadhwa, a second-year School of Individualized Study student from Agra, India.
"It was a rollercoaster ride for me. This was my first time leading a team and doing something this big," said Wadhwa, who led a team of 10 students in organizing the successful event. "I have definitely grown as a leader."
The Leadership Academy at Saunders created the summit two years ago with the mission to inspire, connect, and educate women and allies to become future leaders. The organization focuses on driving leadership excellence in all industries, from arts to sciences and technology.
"This experience has definitely helped me to become a better leader by identifying my strengths and weaknesses," she said. "It has also given me the confidence that I can lead and organize events this significant."
Molly McGowan, a senior lecturer in the management department and director of the Leadership Academy at Saunders, said Wadhwa and her student peers exemplified the summit's mission through their stellar leadership.
"It was amazing and inspiring to see women students at RIT, of all years and majors, helping make this event happen," McGowan said.
McGowan also is advisor for RIT's Women in Business club, which took a lead role in managing the high school students who attended the summit, including running a special session where high school students could ask RIT students about college, majors, and career paths.
"I heard multiple students say it was inspiring to see all these different women leaders, from all different fields and careers, and then reflect on how they as students can learn from their stories and apply them to their own lives," she said.
Through events like Power Your Potential and the Women's Leadership Summit, both McGowan and Wadhwa are hopeful that they will give attendees the inspiration and drive to make a positive difference for others.
"I hope that they walked away from these events seeing that they are a part of a strong community of women leaders at RIT—they are part of the RIT story," McGowan concluded.
Topics