Student Projects - 2016
The Honors Program's Class of 2020
The Honors Program's Class of 2020 is made up of 140 students. Representing a variety of cultures, economic backgrounds, and geographic regions, the class of 2020 comes from a pool of over 750 student applicants. Members of the class come from almost half of the states across the country and the UAE. The class of 2020 is remarkably accomplished and full of potential. These students were selected based on their overall GPA; rank in class; entrance exam scores and the rigor and strength of their high school academic programs. In addition to their superior academic records, they have demonstrated leadership, community service, entrepreneurship, and extra-curricular involvement.

Class of 2020, Orientation, Camp Arrowhead

Class of 2020, Camp Arrowhead
Class of 2020, Meeting President Destler on the Scavenger Hunt!
Research & Creative Works
Honors Students participate in summer research at RIT!

Aimee Jackson (KGCOE) analysed the 3-D printing of orthopedics through the Biomedical Engineering Department.

Paul Galatic (GCCIS) worked with Dr. Zack Butler to create self-navigating robots
Awards & Recognition
Julai Provenzano (KGCOE) Awarded Gilman Scholarship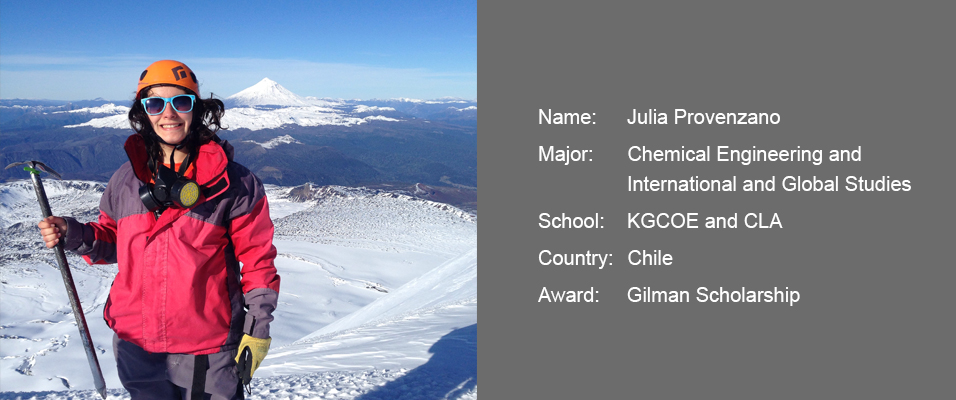 "In addition to a rigorous course load as a Chemical Engineering and International and Global Studies double major, I am also on the cross country and indoor and outdoor track teams at RIT, along with being a member of Spanish Club and Engineers for a Sustainable World. I decided to study abroad because having taken Spanish since middle school, becoming fluent in the language has been one of my long term goals. I also wanted to be immersed in a different culture.

While studying abroad, I learned something new every day. From hiking an active volcano to helping teach English in an elementary school, I definitely stepped out of my comfort zone. My advice for future scholarship applicants is to articulate your motivations for studying abroad as clearly as possible. Show through your application that you have put time and energy into finding the perfect study abroad program for you, and how you believe it will benefit you in the future."
Alumni Activity
Where are they now?
The National Collegiate Honors Council (NCHC) held its 51st annual conference in Seattle in October 2016. The RIT Honors Program was represented by Assistant Program Director Kerrie Bondi, Honors Council President Caroline Cameron, and Honors Council Vice President Adam Kaufman. While there, they met up with several of our alumni who now live in Seattle!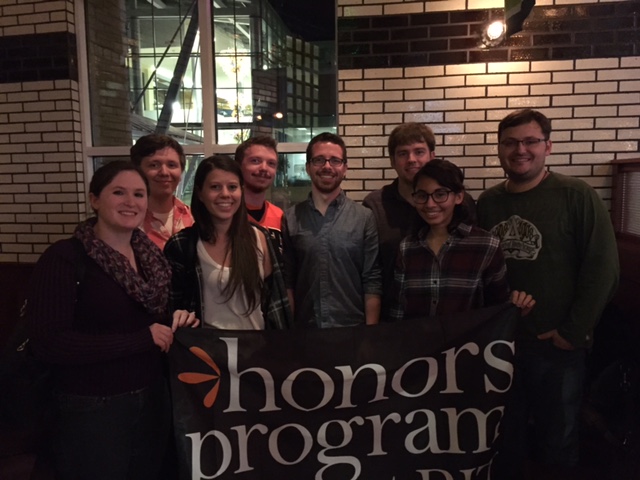 Seattle alumni are still proud to call themselves part of the RIT Honors Program Community! Pictured here are Mallory Rauch, Samantha Kenyon, Brandon Littell, Nicole Arroyo, Chris Cooper, Jason Lowden, Scott Thompson, and Zachary Sigmund. Go Tigers!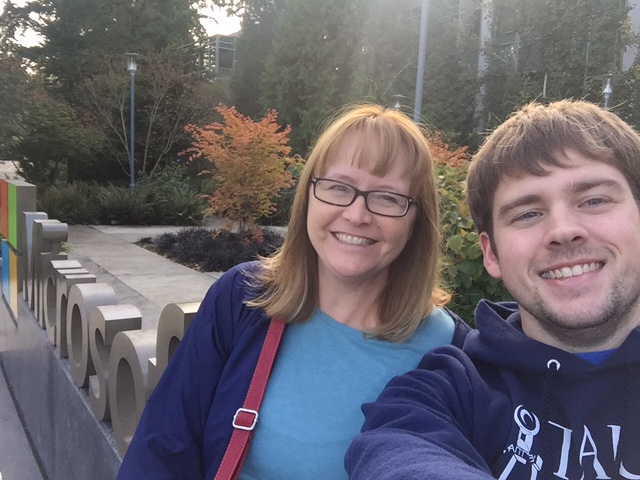 Assistant Program Director Kerrie Bondi meets up with Honors alum Jason Lowden at Microsoft in Seattle
International Experience
Rachel Tassoni (CHST) studies abroad in Copenhange, Denmark
During the summer of 2016, Rachel studied abroad with the Danish Institute for Study Abroad in Copenhagen. She completed two three-week courses, each in the field of psychology. Tassoni notes that "Studying in Copenhagen for an extended amount of time, I understand now why the Danes are happy, and why focusing on family and relationships is more important than focusing on material things. Additionally, my independence has only grown from studying abroad. Spending time by myself was important to me during my trip, as it allowed me to reflect on the different culture and my experiences. I also wasn't afraid to talk to people while I was away, which sometimes I have struggled with in the past. I realize know that you can learn so much from people, so I hope to continue that socialization moving forward."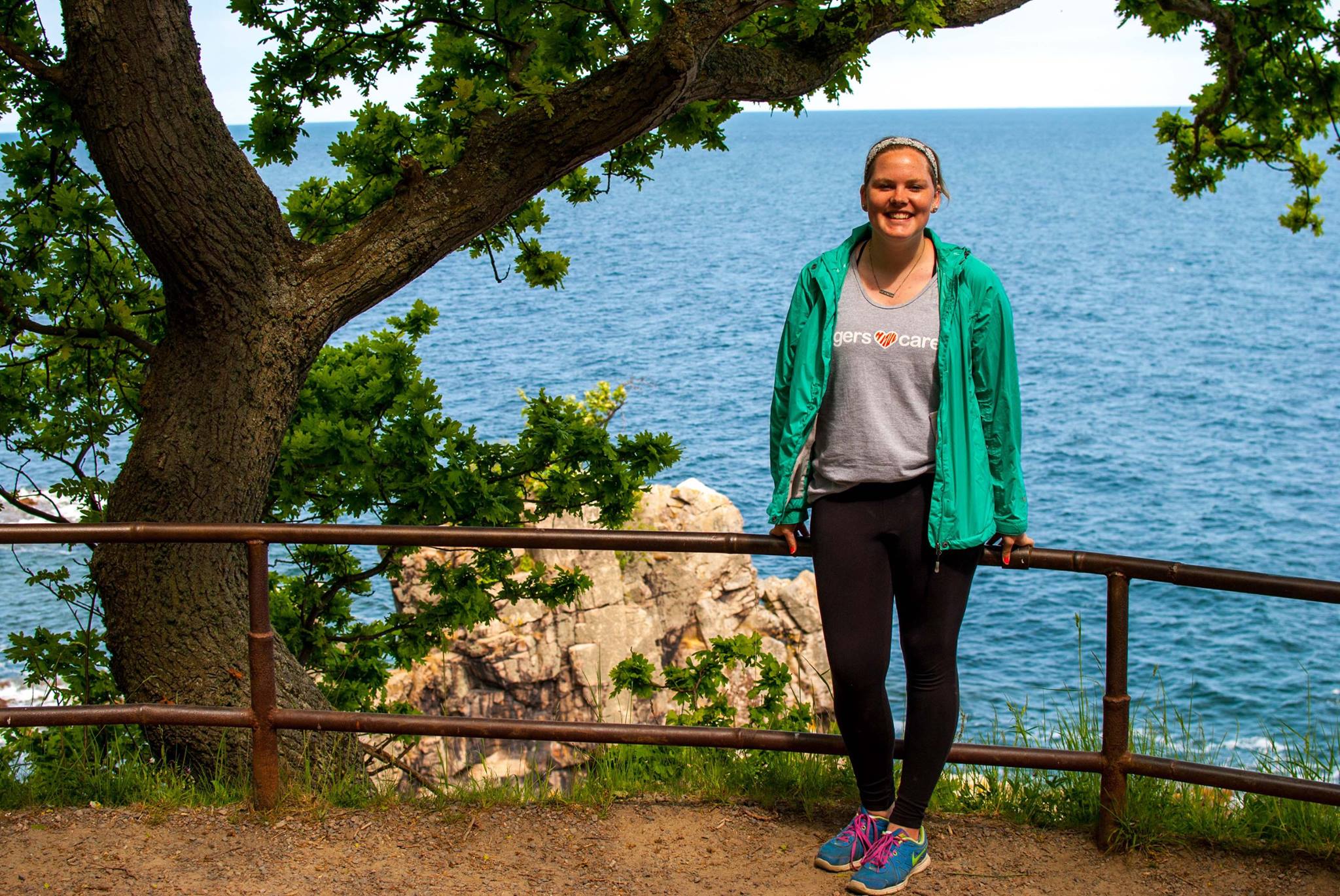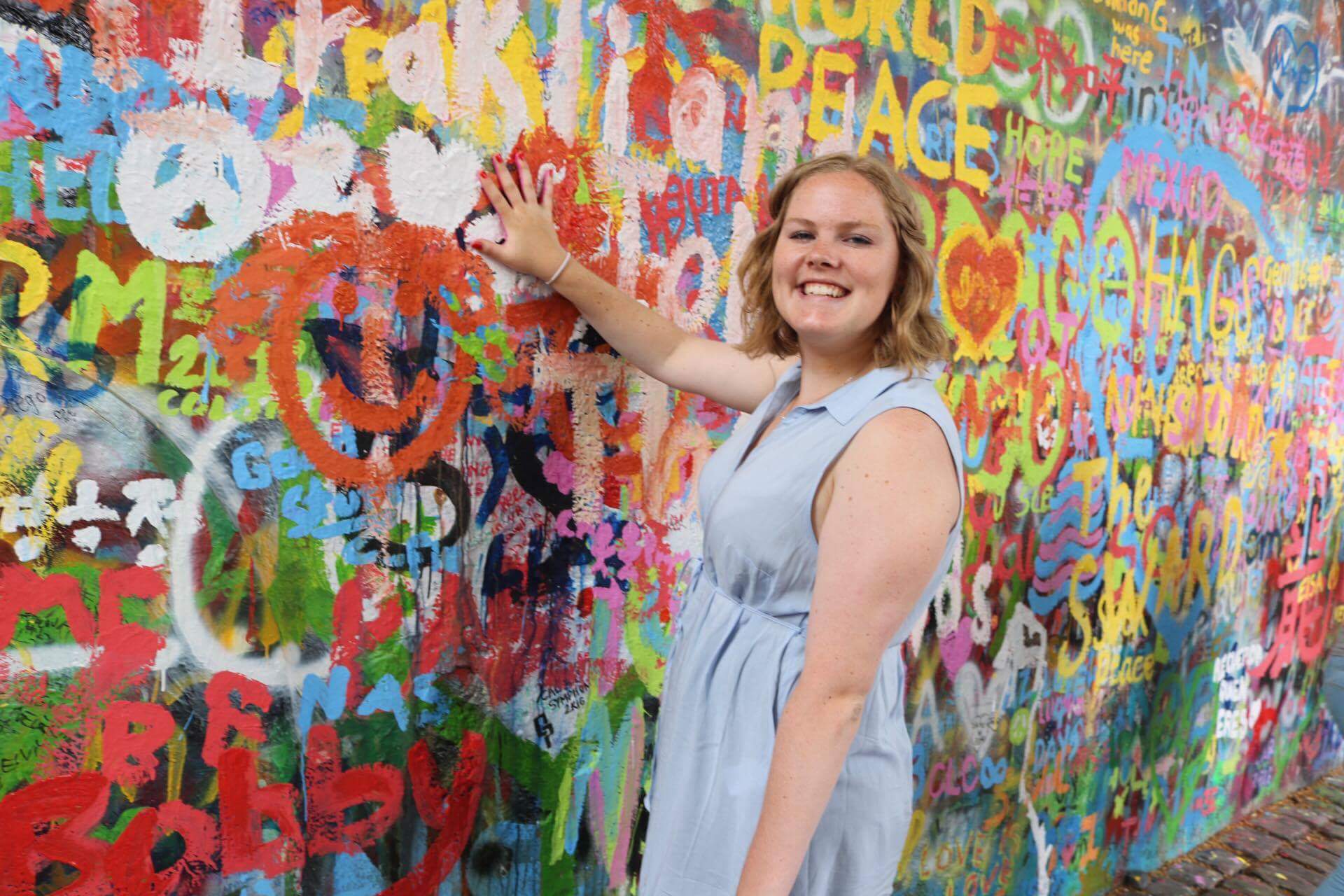 Honors Spring Professional Development Trips
KGCOE Trip to Orlando
During Spring Break, KGCOE honors students traveled to the Orlando area and visited Lockheed Martin, Aviana Molecular Technologies, Correct Craft, Ocean Optics, NASA and Disney. The students assessed each company's product development strategy to learn how companies execute their strategic visions. Students were encouraged to think critically about information presented by engineering representatives from the companies. After company visits, the students detailed a group Strengths, Weaknesses, Opportunities and Threats (SWOT) assessment.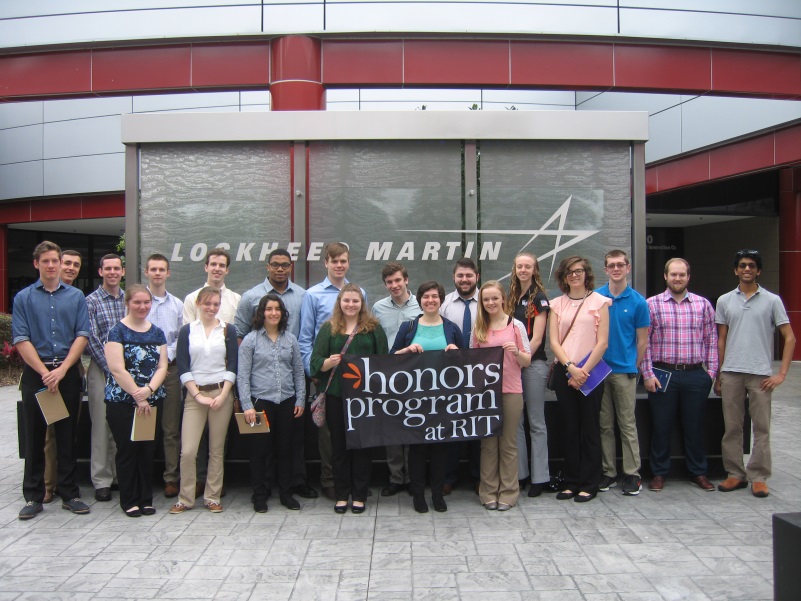 KGCOE Trip to Greenville, SC
KGCOE honors students also traveled to Greenville, SC and visited various companies. Students observed the tire manufacturing process at Michelin (see picture), how capacitors are made at AVX, electric buses being assembled at Proterra and contract pharmaceuticals being produced at Patheon. They also visited GE Power, which produces and tests generators that can run small towns, and GE Aviation in Asheville, NC, which makes aircraft engines. Students also met with RIT alumni, who shared their professional experiences working with these diverse companies.
SCB Trip to Seattle
During spring break, Honors students in Saunders College of Business visited Seattle, Washington to tour various companies. The trip included visits to companies large and small, non-profit organizations, an alumni networking event, and exploring Seattle. Students met with employees from Microsoft, Marchex, Liberty Mutual Insurance and the Bill and Melinda Gates Foundation. They received important insights regarding daily responsibilities and business operations. Throughout the week, students participated in multiple events. They met with large employee panels at T-Mobile and Amazon, met with employees at Nordstrom, toured a factory floor at Boeing (in the world's largest building), and visited multiple non-profit clients of 501 Commons. They benefitted from important opportunities to immerse themselves in industry. Students gained valuable knowledge and advice from this trip, and are excited to plan for next year's trip!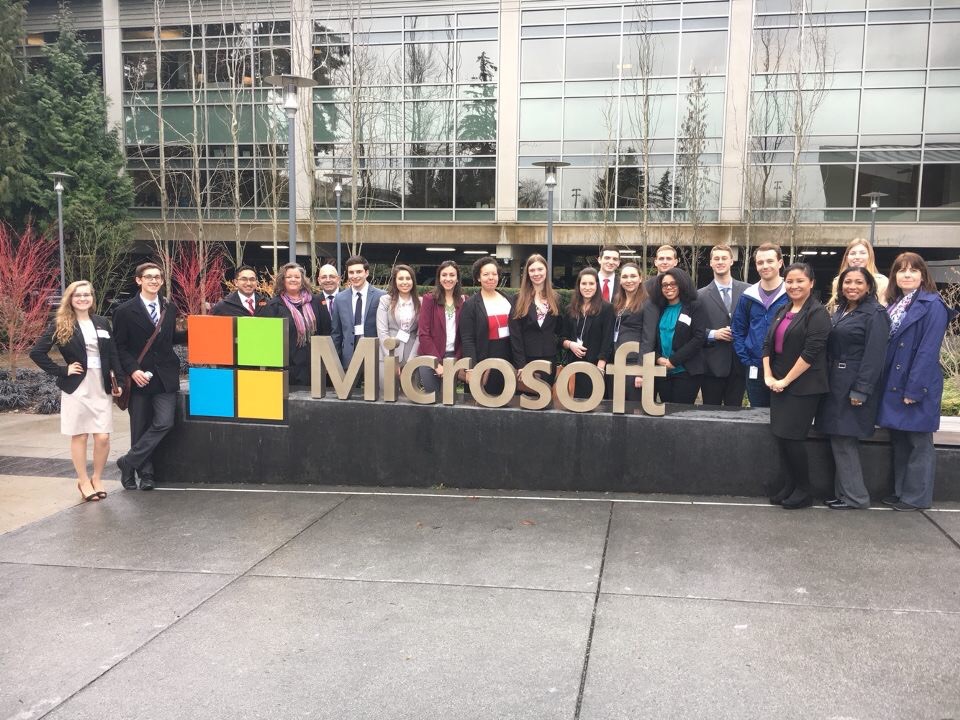 ASLIE Trip to Boston
In April, ASLIE honors students traveled with Ms. Marissa Polvere, ASLIE faculty, to Northeastern University, Boston. Students had the opportunity to visit the Expo Hall and interact with many Deaf people from the Mass Commission on the Deaf/Hard-of-hearing and many other organizations in Massachusetts. Students interacted with working interpreters and students from the Northeastern University interpreting program. Students attended Northeastern University's 20th annual ASL Festival, which featured the Marie Jean Philip ASL Poetry, Storytelling and Deaf Art Competition Awards Ceremony. Students attended a celebration with incredible performances from nationally-recognized Deaf talent. They saw fabulous performances by Jeremy Lee Sanchez (of "Deaf Jam"), Stephen Weiner (famous for his magic), and Rosa Lee (various ASL performance art).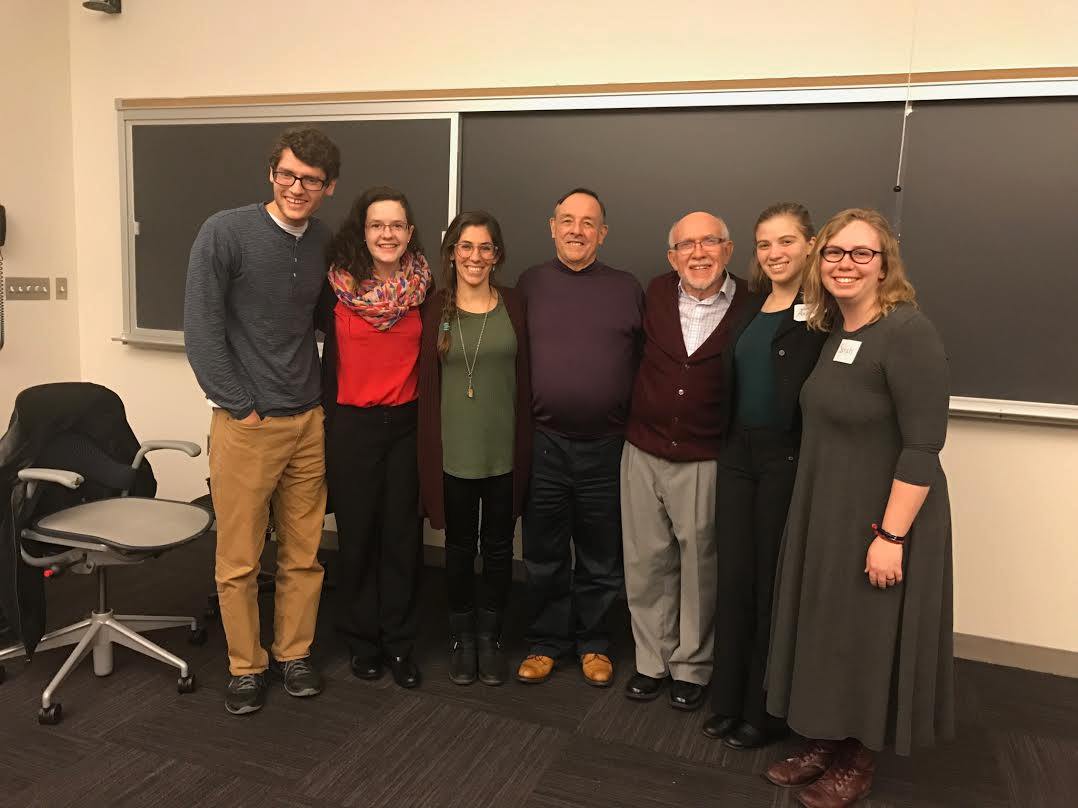 GCCIS Trip to Seattle
The GCCIS Honors Trip to Seattle was extremely successful! Students visited six companies (Google, Microsoft, Amazon, Unity, NullSpace VR, and Big Oven). Google, Amazon and Microsoft were the largest, Unity is mid-sized, and NullSpace and BigOven are both small startups. Differences in the sizes of these companies allowed students to observe differences in work environments, cultures, benefits, responsibilities, and much more. The companies did a fantastic job in facilitating meetings with students and individual employees. Students asked great questions and were very engaged. Students took full advantage of opportunities to mingle and converse with the representatives of the companies.
Students also met with RIT alumni from all of the companies. Both students and alumni attended a successful alumni event. Other group events included a visit to the Space Needle and the Underground Tour. Students also had free time to explore Seattle.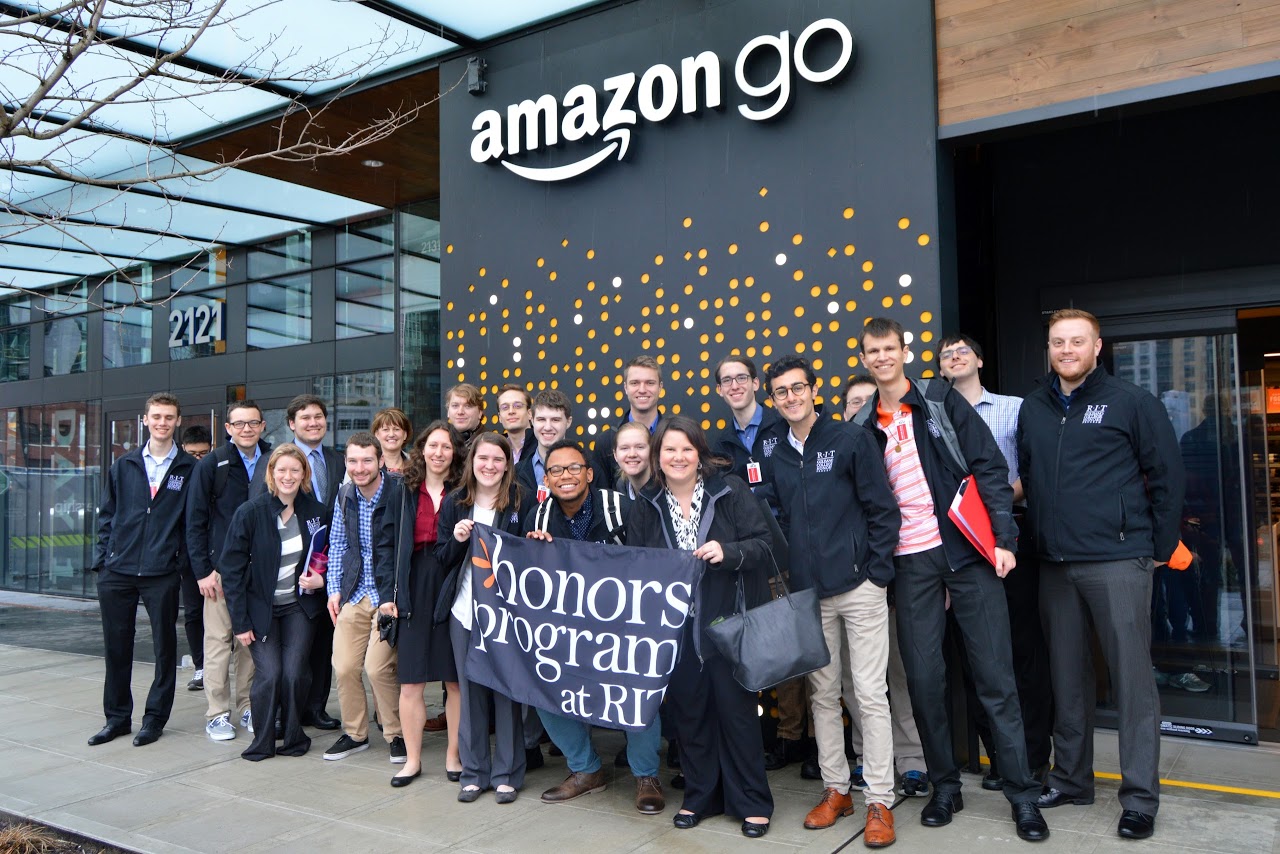 CIAS Trip to San Francisco
After class meetings and fundraising during the fall, 16 CIAS honors students, assistant dean Debbie Kingsbury, and associate professor Brian Larson left for 10 days in the San Francisco Bay area over intersession. Their travels took them to locations such as Muir Woods, Walt Disney Family Museum, Alcatraz, SFMOMA (San Francisco Museum of Modern Art), a cooking class in an art gallery, Yerba Buena on Dr. Martin Luther King day, on the cable cars, and even "biking the bridge". They were privileged to meet with alumni over dinners and during company visits at Google, Pixar, Autodesk, Dolby, ILM, as well as various corporate contacts. This included a meeting with Brian Cantwell, a 2018 Oscar winner at Lucas Films/Industrial Light and Magic – and "meeting" the original R2D2 and CP3O at ILM!
Their experiences served as topics for late night discussions, early morning meetings during the trip, including historical context/social awareness and the impact on creativity, the gentrification of San Francisco neighborhoods, the conflict and visibility of million dollar homes and tent cities sheltering San Francisco's homeless sitting side-by-side, and the struggles those images cause for us as individuals and human beings. Those discussions and bonding experiences continue through this spring semester, and are reflected in the students' journals, and their project presentations in April.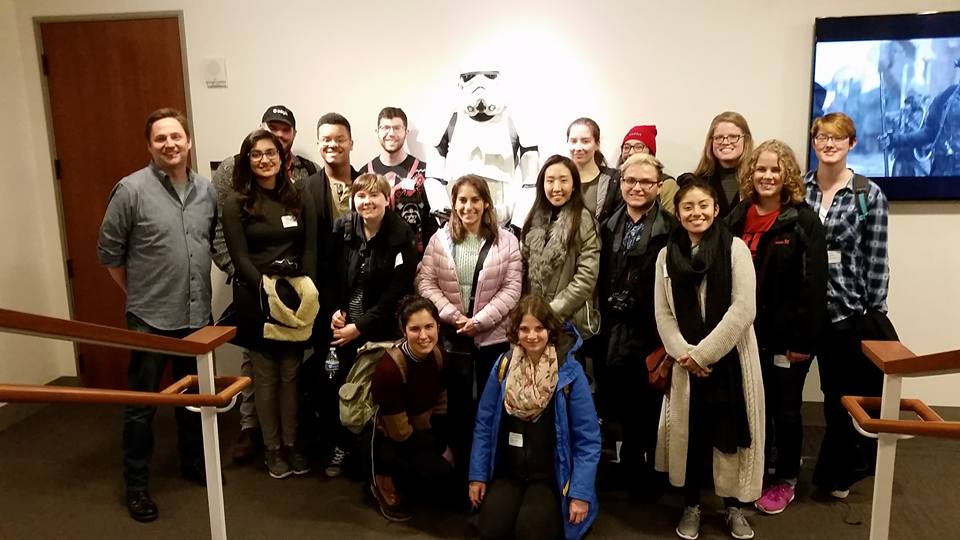 Other Professional Development
Beth Bogart, Internship at Oak Ridge National Lab
Beth was a summer intern at Oak Ridge National Laboratory in Oak Ridge, Tennessee in the Higher Education Research Experience (HERE) program. She worked with her mentors, Devin White and Sophie Voisin, to write edge-detection algorithms to improve the registration process in urban systems for PRIMUS, the Photogrammetric Registration of Imagery from Manned and Unmanned Systems.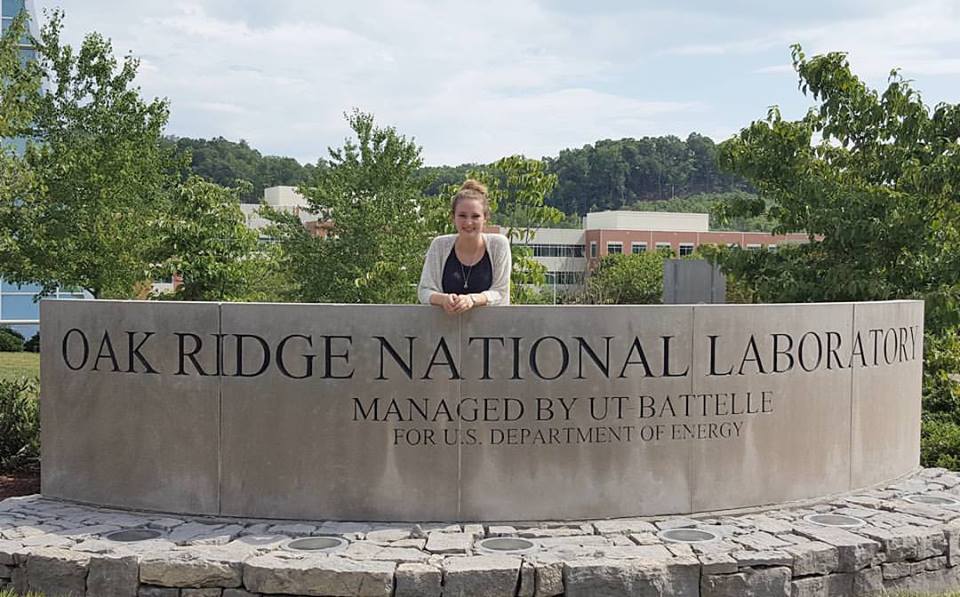 Timothy Torres, Graphic Design internship with Kodak

Tim completed a graphic design internship at Kodak this summer. He joined the Chief Marketing Office in the middle of a brand refresh. Part of his role was to develop new guidelines and apply them to existing products and designs, including a brand new desktop and mobile design for the global Kodak.com website. Tim was also the lead designer and UX architect on a team of 12 for the new Super 8 asset management portal, and did a phase 2 design for the Reel Film Finder app, both launching this fall.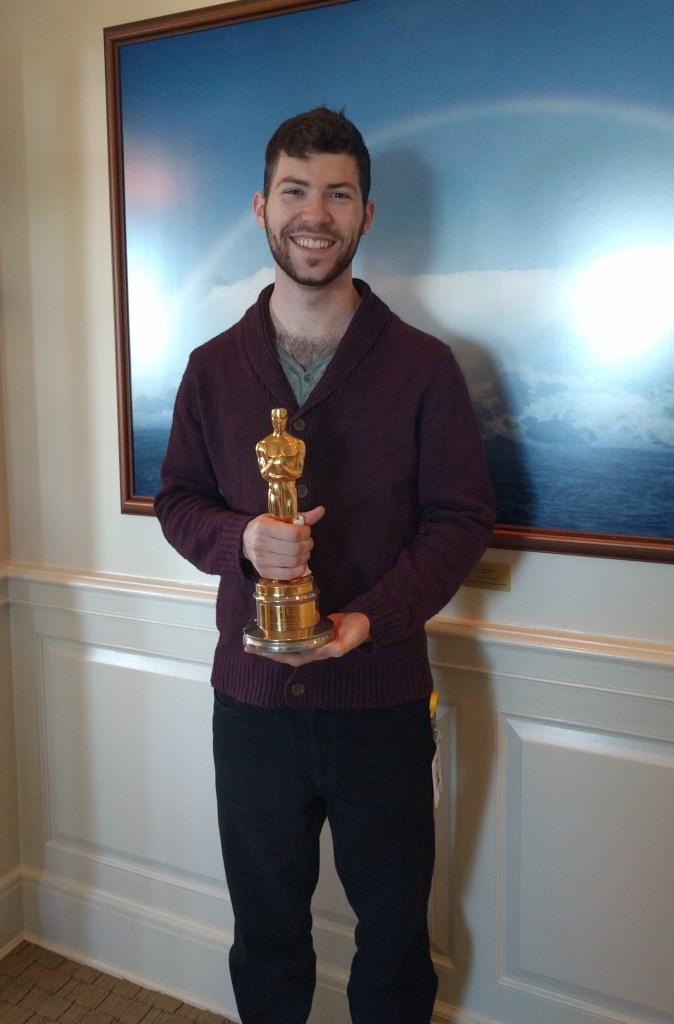 Justin Law, Air Force ROTC POC Training

Justin participated in Field Training as a cadet from RIT's Air Force ROTC detachment. He was a trainee in Air Force ROTC Field Training 2016, Max 5, Squadron 8, Oscar Flight, and his goal is to serve our nation as a United States Air Force Officer. One major step towards this goal was to go from underclassmen, or GMC (General Military Course), to upperclassmen, or POC (Professional Officer Course), and in order to do that he underwent 24 long days of training as a team with the other recruits. "Every day held unique opportunities and challenges that no person outside of a military training environment would ever get to experience. The pressure we received from our instructors and the hardships we had to get through every day forged a bond strong enough last us a lifetime. Leading from the front, yelling from the back, and running at my side; I will never forget the long hours I spent with all of the amazing trainees and instructors I now call friends. It's hard to believe that we went from anxious GMC to the proud POC we are today!"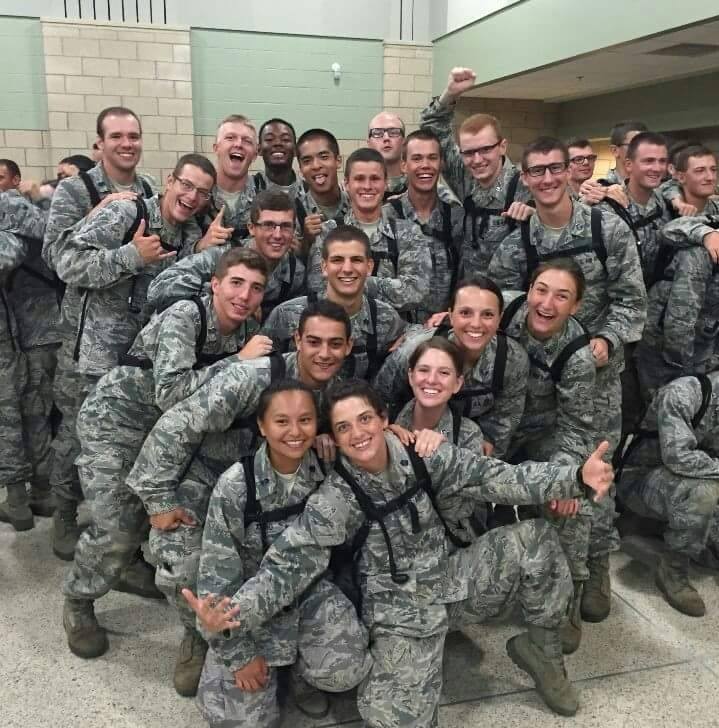 Events
GCCIS Honors Students Visit Pittsburgh

GCCIS Honors Students visit Pittsburgh

GCCIS Honors Students visit Andy Warhol Museum in Pittsburgh
First Year Seminars in Place and Space
In the third year of offering Honors First Year Seminars, students are able to explore different aspects of place and space conceptually and within Rochester. They presented their work at the Brick City Homecoming Honors meet and greet in October 15, 2016.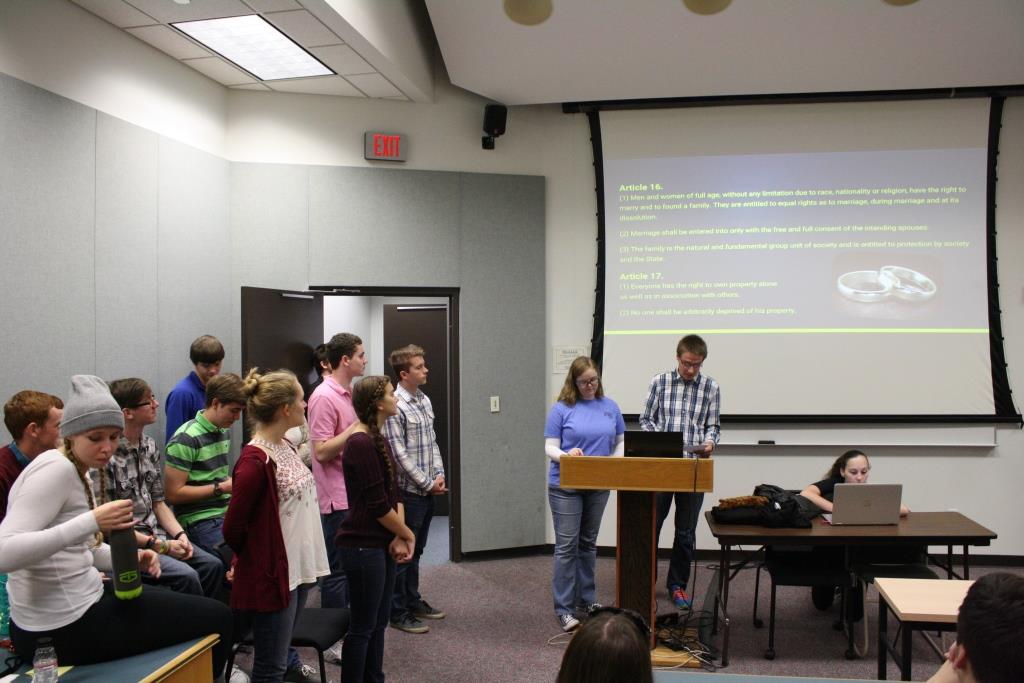 Dr. Danielle Smith's seminar created and played a game of Jeopardy on Human Rights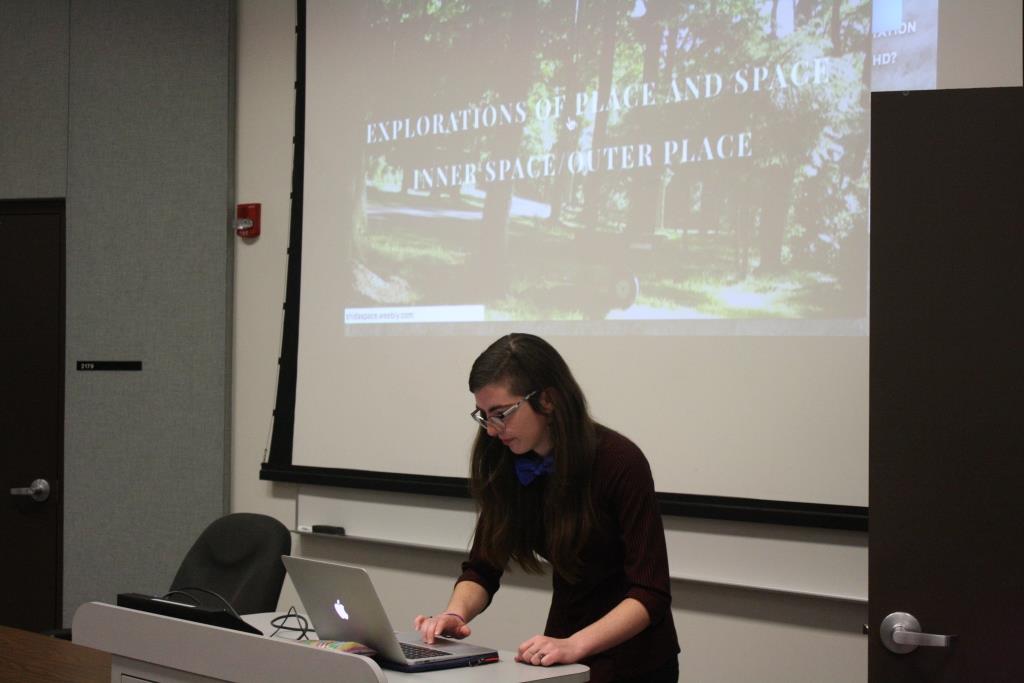 Karen Van Meenen's seminar, focuing on 'Place: On & Off the Map' presenting their research blogs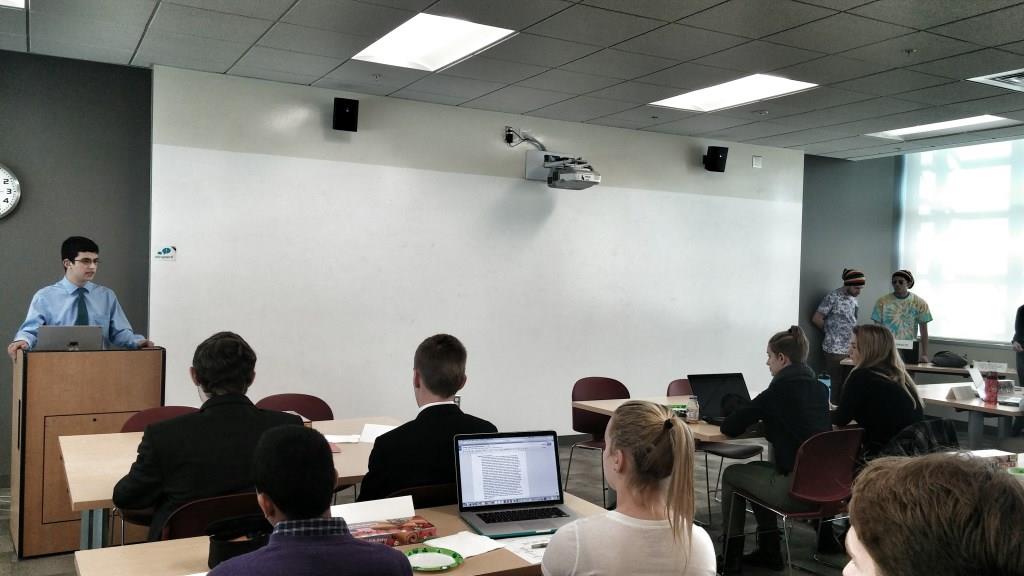 Dr. Rachel McGinnis' seminar presents in a Model UN format
Complementary Learning
During the 2015-2016 academic year, 628 Honors student submitted service and leadership experiences to total approximately 23,361 hours. With a requirement of 20 service or leadership hours on an annual basis, our students exceeded the requirement by 450 days, or nearly eleven thousand hours of service!