Alumni join forces to market smart toilet seat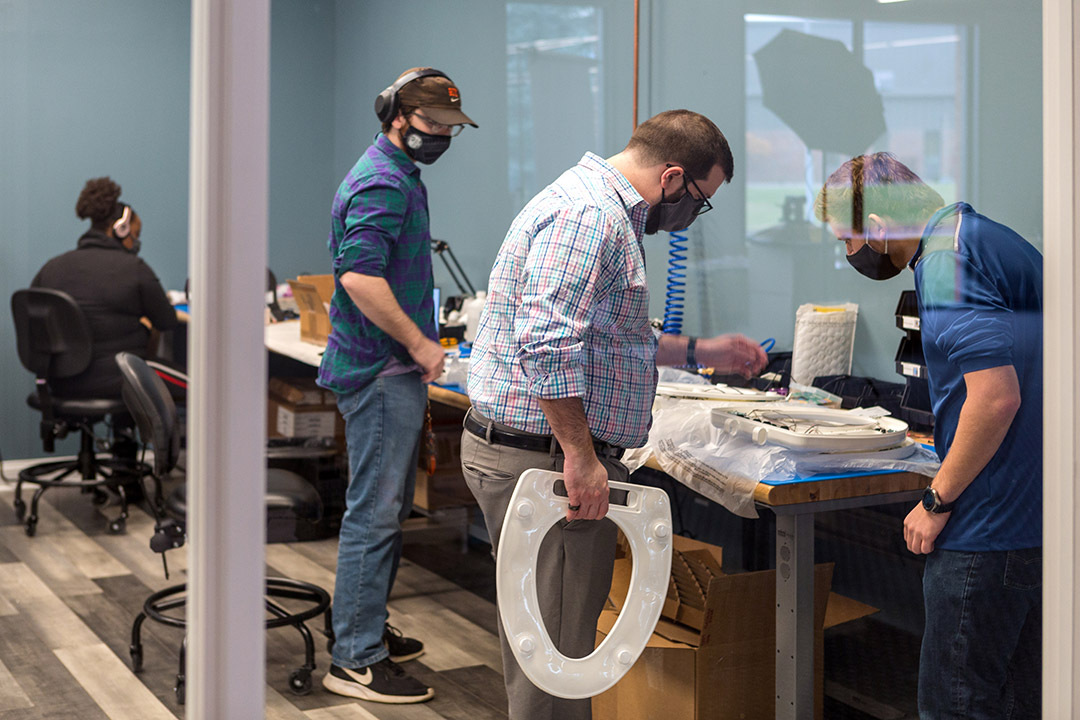 Alumnus Nick Conn's vision for a one-of-a-kind smart toilet seat that will improve the health of people around the world has made giant leaps toward becoming a reality with the help of one of RIT's most generous patrons.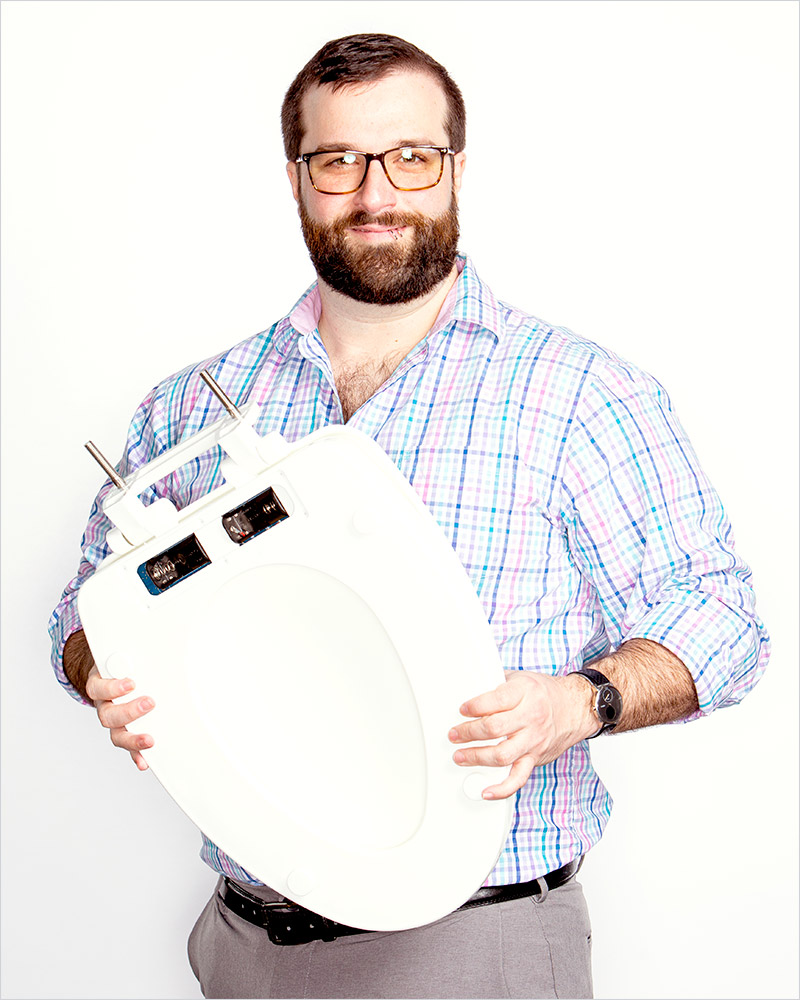 Gene Avallone
Casana, the company formerly known as Heart Health Intelligence created by Conn, received $14 million in funding to further the development of a toilet seat-based cardiovascular monitoring system. Joining the Casana leadership team as CEO is Austin McChord '09, founder of Datto Inc., who in 2017 donated $50 million to RIT, the largest gift in the university's history.
With 1 million new cases of congestive heart failure diagnosed each year, the revolutionary product hopes to make it easier for clinicians to monitor patients with the condition in the comfort of their own homes, as well as lower hospital readmission rates. The toilet seats are equipped to measure the electrical and mechanical activity of the heart and can monitor heart rate, blood pressure, blood oxygenation levels, and stroke volume.
Algorithms analyze the data and will notify advanced practice providers of health parameters outside of the set range. A report, passed along to cardiologists, will help determine if intervention is necessary.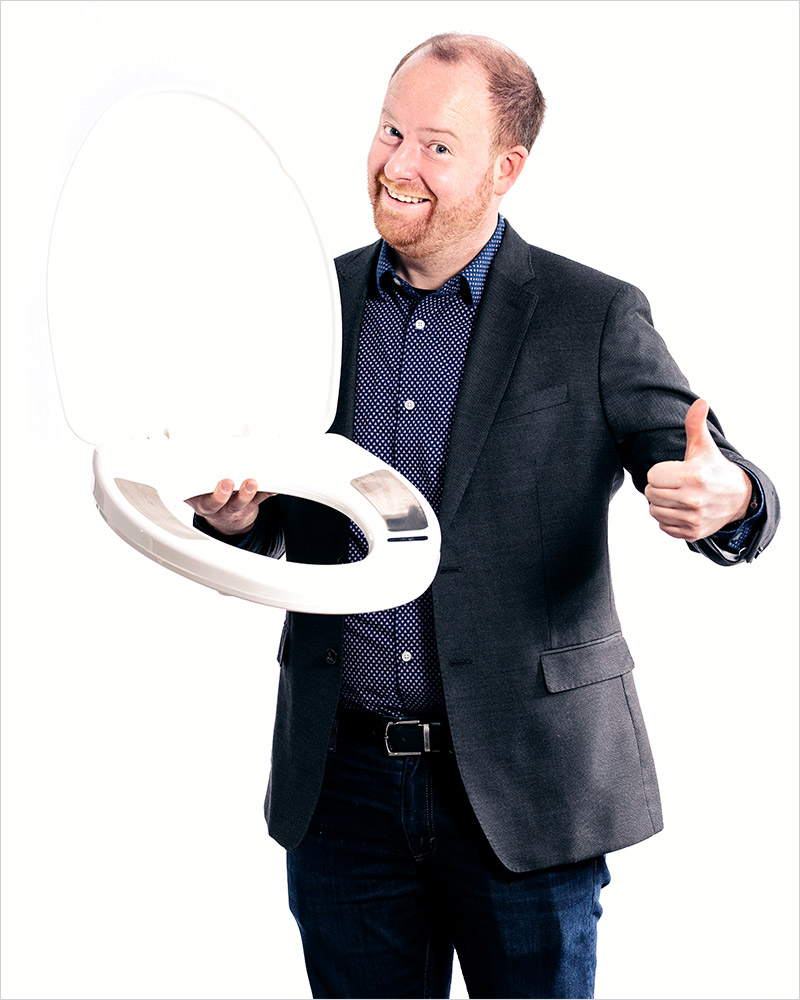 Oliver Thom
According to Conn, who earned three degrees from RIT—a bachelor's degree and a master's degree in electrical engineering in 2011 and 2013, respectively, and a doctoral degree in microsystems engineering in 2016—the toilet seat will be soon entering the clinical trial phase as part of the FDA clearance process. The first human subject testing will be conducted internally at the company's headquarters in Rochester, at the University of Rochester Medical Center, and at The Villages active adult community in Florida.
"Right now we are polishing the product," Conn said. "I am able to focus on where I can provide the most value, which is enhancing the design and capabilities of the product and tweaking the technology. With Austin at the helm of our leadership team, we are able to produce a fantastic product that will work as intended every single time, and Austin can focus on continuing to raise capital, building partnerships and connections, and marketing the toilet seat. We all complement each other so well."
McChord first met Conn in 2018 during an RIT visit and was impressed with the toilet seat technology that he developed. McChord kept up with Conn's progress, and in 2020, when the world changed due to the pandemic, he realized that it was the right time to express his intentions to help bring the toilet seat to market.
"Nick is a brilliant scientist and the toilet seat is his life's work. You cannot find anyone in the world more passionate about toilet seats than Nick," said McChord. "But the process of turning an idea into an actual industry, into a company that is going to be impactful, is really hard. I've been down that road. I knew that I could help him, and Nick was down for that. We are growing fast and are moving fast to make this a reality."
Following the $14 million investment, McChord brought on a team of "excellent operators" from his time at General Catalyst and Datto. In a matter of a few months, the company grew from four to 25 employees, including the addition of RIT Professor David Borkholder, a full-time member of the Casana leadership team. Borkholder was instrumental in helping Conn develop the project at RIT.
About the Name
The name Casana, according to founder Nick Conn, means "healthy home" in Italian. Casana was formerly called Heart Health Intelligence.
McChord said the FDA clearance, once reached, will be the first of its kind since there are no other smart health monitoring toilet seats in production in the world.
"We have to prove to the world that our product does what we say it does," he said. "Proving that is very expensive, which is why we made such a major investment. But we will have a truly unique position in the market and we are already several years ahead of any potential competition."
McChord said he is drawn to ideas in "unsexy spaces that no one is paying attention to." He was interested in this idea because not many people in the world are paying attention to toilet seats and data backup.
"These areas that are overlooked are actually really fascinating spaces," he added. "Outsiders who bring a fresh look at an existing space have a good chance at disrupting it—and those are the things that I get most excited about."
Conn, who has wanted to be an electrical engineer and entrepreneur since he was 11 years old, believes that everything in his life has led to this particular adventure.
"The combination of an invention that offers huge impact, cool technology, and a 'wow factor' is everything that I've ever dreamt of," said Conn. "I just thought it would take a lot longer to get to this point. I'm so excited that every day I get to work with a phenomenal team that is here to support me, which is the wildest part of it all. I am possibly the most blessed person in Rochester. My dream is happening and it's happening at the highest level possible."
Topics