Inclusive Excellence Summer Research Experience
The Inclusive Excellence Summer Research Experience will offer College of Science students in their first year at RIT (including transfer students) an opportunity to do research with a College of Science faculty mentor. Because our aim is to broaden our research groups to include a greater diversity of culture, experiences, and ways of thinking, preference will be given to students from nontraditional and underrepresented groups.
If you are selected for this fellowship program, you will be paired with a faculty research mentor and will be expected to work full-time in your mentor's research group (~40 hours/week) over the summer for approximately 10 weeks. You will receive a stipend of $4,500 and will be eligible to receive additional funds for research supplies and travel to a conference.
Our IE Research Mentors are profiled on the main research strand page Here. Please submit any questions to Desirée Forsythe dlfsps@rit.edu.
The 2022 Summer Research Experience application is now open!
Apply here for the IE Summer Research Fellowship
Meet Some of our IE Fellows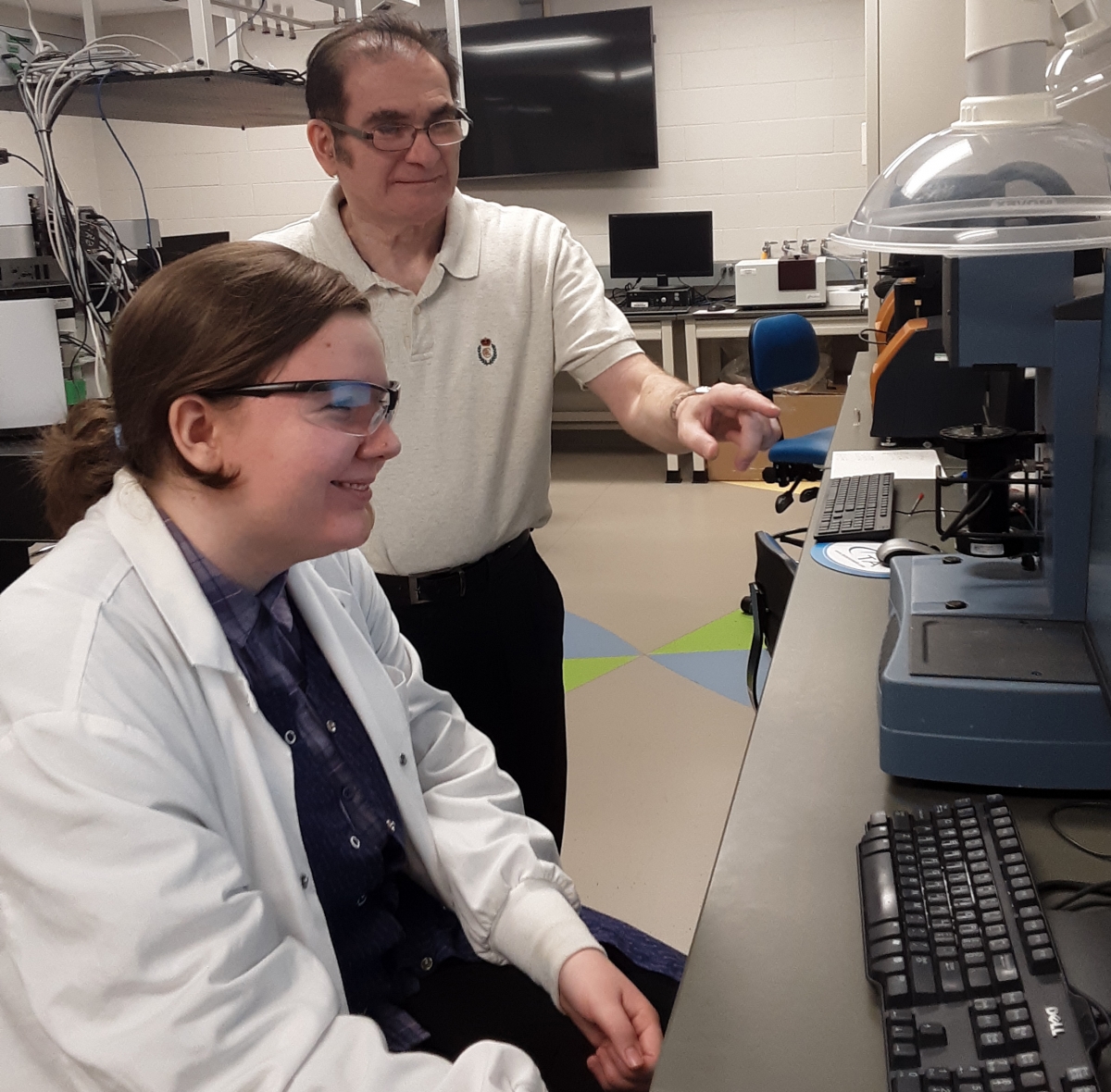 Student:      Amina Andelija
Mentor:       Dr. Matt Miri
College:      Rochester Institute of Technology
Year:           Rising Junior
Major:         Chemistry
Pronouns:  She, Her, Hers
Amina is the first in her family to go to college, and the first to show a real interest in science. Most of her family are war survivors, and she lost some family members in the 1990's during the genocide in Bosnia.

She was interested in astronomy at a very early age, and during high school she was part of several science programs held at SUNY Oswego, which led to her interest in research.
"Two chemistry teachers in high school inspired me to go into chemistry, as I was good at that," Amina commented. Physics was her second choice.
Amina is working with sustainable polymers this summer. There are two groups in her research team. The first group is synthesizing different types of polymers. The second group, Amina is part of, is characterizing the properties of polymers. They then  analyze the polymer properties with lab instruments, looking at the surface, melting temperature and cooling temperature. They will analyze the sustainability of the newly formed polymers, which will be biodegradable as opposed to many of the current plastics made from petroleum.
The long-term goal, Amina explains is to eliminate plastics made from fossil fuels, which contribute to carbon emissions and Climate Change. Making more environmentally friendly, renewable and biodegradable plastics is the way to make plastics  more sustainable. This research is looking for polymers  with better properties while remaining environmentally conscious.
Amina will be presenting at the Inclusive Excellence symposium at the end of the summer session, and eventually contribute to a paper to be published. She comments that RIT has been helpful writing workshops offered on campus to fine tune abstract writing, among other writing skills.

Name:          Deanna Abid
Mentor:        Dr. Dina Newman        
College:       Rochester Institute of Technology
Year:            Rising Senior
Major:          Biotechnology and Molecular Bioscience
Pronouns:   She, Her, Hers

Deanna is a Palestinian American born and raised in Rochester. She has four sisters, two of whom are RIT graduates. While not in school she likes to read and bake for relaxation. In the 5th grade her class went to the Rochester Museum and Science Center's Challenger Learning Center. She was inspired to learn more about science, as she enjoyed using problem-solving skills. Having lived in Rochester, she says, gave her the advantage of being around RIT alumni, and that was an influence for her coming to RIT in the end. 
Deanna is a transfer in the two plus two program from MCC to RIT. She transferred during the pandemic year and became familiar with RIT through virtual classes and connections. 
This spring she was looking into different forms of RIT's College of Science research, and found that the RIT Inclusive Excellence summer fellowship program was actually looking for transfer students as well. Fortunately Dr. Newman was looking for a student to join the Molecular Biology Education Research (MBER) lab, and they connected. 
Deanna is investigating the different ways that DNA is represented in drawings, and which types of drawings are most common in various contexts. Her summer research project involves examining the diagrams and figures in genomics textbooks and primary literature. She is categorizing each figure according to a model developed by the MBER lab called the DNA Landscape, which considers both the scale and level of abstraction. She is uncovering some interesting patterns.
Deanna says she would like to continue this work in the fall semester, because there are so many more questions to ask.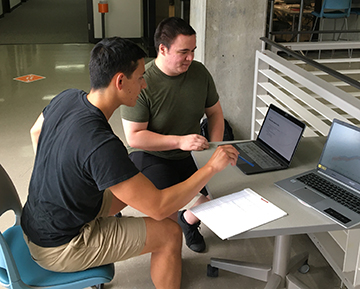 Name:         Grayson Olin
Mentor:       Dr. Tony Wong
College:      Rochester Institute of Technology
Year:           Rising Junior
Major:         Applied Mathematics
Pronouns:  He, Him, His
Grayson's dad was doing computer programming with no formal degree (self-taught) from the time Grayson was very young. He grew up watching the family business grow from his Dad's efforts. His uncle is a chemical engineer, so it runs in the family. "We are science adjacent," Grayson comments. 
Grayson started out by reading Michio Kaku's science books, which in turn excited him to be a physicist. Kaku's science language and enthusiasm was at a level where everyone could understand and be inspired to learn more about the world around them. In high school, Grayson felt as though his physics class was an easier version of math. He remembers his pre-calculus teacher prompted students to calculate the sum of numbers between 1 and 100. He realized this had to been done in an alternate way from using a calculator. He quickly figured out how to use a formula, seeing the numbers relating to each other that add up in a way to compute the answer. And that is when he became interested in math. 
His research project this summer is modeling sea level rise over time and projecting into the future how that will change. Climate change! He is uniquely adding expert assessment to calibrate the model later on to see how it changes the accuracy of the model. 
Grayson explains that the sea level rise can be mathematically figured with a differential equation, using data in past research to fill in some of the variables and then estimate those variables later to see which best reflect the sea level model. When asked how the initial measurement of sea level is made, he explains that space satellites can measure sea level. 
The first goal is to add one bit of expert assessment, and at that point it then could go on for further research.
The summer IE research fellowship experience participants share a messaging group to gain research help from each other. Workshops on campus are held where all researchers come together to engage in experiential learning and discussions. 

Name:         Kayla Houston
Mentor:       Dr. Crista Wadsworth
College:      Rochester Institute of Technology
Year:           Rising Junior 
Major:         Biomedical Sciences
Pronouns:  She, Her, Hers
Kayla lives in Syracuse with her aunt. Her cousin who also lives there is like a sister to her. She became interested in science in high school at which time she took biology. She described her teacher as "an awesome teacher." Her experiences in that class led to her interest in anatomy, which further sparked her interest in continuing her career path in science. Kayla decided to make that her major at RIT. 
During her freshman year at RIT she received an email from Dr. Dawn Carter encouraging her to apply for the Inclusive Excellence Summer Fellowship program. Then Covid-19 hit, and the program was cancelled due to health concerns. This year RIT honored the application acceptance for Summer 2021, and she is happy to be a part of the experience. 
Together with Dr. Crista Wadsworth, Kayla is studying antibiotic resistance in gonorrhea. She amplified a portion of the genome from a penicillin resistant strain using the polymerase chain reaction, and purified the product using gel extraction. These purified products were then transformed it into a penicillin susceptible strain.  Kayla next measured the penicillin resistance levels of her transformant cells to see if she impacted their resistance phenotypes. Ultimately, their goal is to figure out the genetic basis of penicillin resistance which has been an unsolved mystery for over 30 years.  
Kayla's end result will be a poster in the symposium that will share the information with others. 

Name:         Ryhl Charles
Mentor:       Dr. Michael Gleghorn
College:      Rochester Institute of Technology
Year:           Rising Sophomore 
Major:         Biology
Pronouns:  He, Him, His
Ryhl was born in Ithaca, NY. He grew up in Athens, Georgia, yet spent most of his childhood in East Africa (Tanzania and Kenya). His parents both work for the United States government, and therefore his family moved frequently. His mother is originally from Bolivia, his dad from Ithaca, New York; both today live in Nairobi.
Ryhl moved back to the US in 2020 for his freshman year at RIT. Due to the pandemic, his classes were mostly virtual, with only a small portion in person. Communicating online wasn't a forte of his, having grown up in East Africa where it wasn't a strong means of communication. Ryhl shared that even a credit card was a new concept, as he grew up using cash only. 
He is the first in his family to study the life sciences. He first became interested in this field spending time in his dad's office and having the opportunity to go along with him on project visits in those countries. He also took advantage of interacting with a number of professionals from various departments in the Embassy, particularly  the Health Office as they funded research and programs in maternal and child health, HIV/AIDS prevention, zoonic diseases, and other pertinent current health issues. Ryhl recalls this as a key turning point in his interest in life science. In high school he signed up for concentration in science courses, realizing a passion for the sciences, especially chemistry and biology. 
Growing up in East Africa, he was familiar Ebola spread, malaria, and other prevalent infectious diseases. His interest in the RIT Inclusive Excellence research fellowship was an opportunity to pursue bacterial health issues by taking part in two major REU projects with Dr. Michael Gleghorn. These projects are:
VapC Project – Ryhl is researching a bacterial protein toxin that is thought to contribute to helping pathogenic bacteria remain dormant and therefore immune to antibiotics. VapC is an RNase that cleaves tRNA molecules. Through this study he is learning to understand the structural properties of this protein and how the structure dictates its function. He is working to solubilize this protein in the presence of tRNA to capture a complex for structure determination. This information might guide future drug discovery to inhibit the action of the RNase.
OMP-26 and Protein D Project – He will be structurally characterizing this protein using small angle X-ray scattering (SAXS) and X-ray crystallographic techniques. These proteins are derived from H. influenzae, an organism that causes ear infections. As such, and in collaboration with the Michel lab, characterizing these protein structures can lead to developing improved vaccines.
Ryhl is currently working towards obtaining a license to become an EMT and volunteer for the RIT campus ambulance. He also is enrolled in the NOLS (National Outdoor Leadership School), an outdoor EMT course.
His plan is continuing to engage in research, as his main goal is to be a doctor (possibly pulmonology) in the emergency room of a hospital. He is currently on the pre-med track. He wants his research and degrees to contribute to the medical field, apply his learning to his career, and doing his part in championing equity in health care.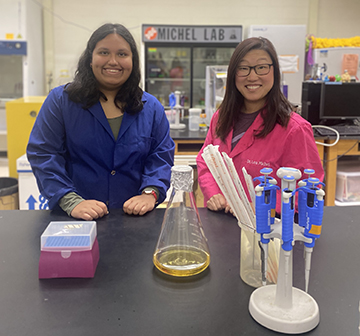 Name:        Nidhi (Nidhee) Baindur
Mentor:      Dr. Lea Michel
College:     Rochester Institute of Technology
Year:          Rising Sophomore
Major:        Computational Mathematics
Pronouns: She, Her, Hers
Nidhi comes from a small island in the Indian Ocean, named Mauritius. Back home she has a younger brother, currently in high school, and her mother. Nidhi has had an outside-the-ordinary journey to RIT. Her first year was entirely on line, due to the COVID-19 pandemic. On the other side of the world (an 8-hour time difference), Nidhi often attended meetings and classes between 1 and 4am her time! However, now that she is at RIT, she has been able to join her research lab and campus in person.
"I am learning so much from this Inclusive Excellence fellowship experience," she commented. "I had no lab experience before this, and I am so glad to be paired with Dr. Michel for the summer!." Alongside gaining valuable lab skills, and having hands-on experience with scientific research, Dr. Michel's work holds a special place in Nidhi's heart. When she was 14 years old, her father died of sepsis. Having the opportunity to now contribute to Dr. Michel's research to diagnose sepsis, through the IE fellowship, Nidhi feels like the match with her mentor was kismet.                     
Nidhi shares that sepsis is not only the most expensive condition treated in US hospitals, but also the leading cause of death. One major challenge for sepsis patients is that in 70.1% of cases, doctors cannot determine the causal pathogen. This is most likely due to aggressive antibiotics or localized infections. 
"This is where our research comes into play," she states. When a patient has a bacterial infection, the bacteria release outer membrane vesicles (called OMVs). One of the objectives of her research project is to understand the role these OMVs play in sepsis and how those OMVs can help us determine the causal pathogen of infection. In the lab, Nidhi is learning t induce the production of OMVs in bacteria and to purify those OMVs in large batches.  
The long term goal of this research is to better elucidate the role of OMVs in sepsis and to identify molecular diagnostic biomarkers that can be used to rapidly diagnose bacterial sepsis. Nidhi plans to continue research with the Michel lab once the fall semester begins, although she may switch projects to focus on computational approaches toward solving biological problems.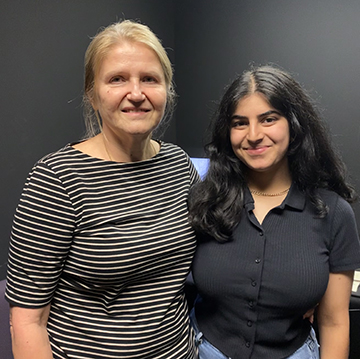 Name:         Kavya Phadke
Mentor:       Dr. Elena Fedorovskaya
College:      Rochester Institute of Technology
Year:           Rising Junior
Major:         Bioinformatics
Pronouns:  She, Her, Hers
Kavya is a first generation American, as her parents immigrated to the US from India. She loves to play tennis, as does her entire family. "I'm obsessed with watching grand slams on television," she says smiling. She has also been interested in music her whole life and took Indian classic singing for 12 years and piano for 8 years. 
Kavya didn't know what she'd like to major in going into college, and she really liked computer programming, but wasn't interested in just programming. She became interested in some form of biotechnology. In high school Kavya won the Stockholm Junior Water Prize, an award in science water competition, the awardee for the state of New Hampshire. This led to her entering the nationals where she competed.
Through her experiences she became focused on bioinformatics, as it combines her programming/data science skills with biotechnology. 
Her research with Dr. Fedorovskaya is looking at multisensory interaction. She is examining the relationship between haptic stimuli and visual stimuli. While looking at a touch dial on the computer screen, an individual is touching another touch dial within a box they can't see. The exercise is to see whether it changes their response time, and how quickly they can tell if it matches what they are looking at on the screen. 
Kavya is using three types of data collections: (1) eye tracking, (2) response time, and (3) EEG placement to see the moment the subject can tell what they are touching.
The volunteers taking this exercise are all form the College of Science at RIT, with most of them being faculty. 
Next steps would be to utilize applications of this with a Virtual Reality (VR) setting next semester. At this time they will look at whether the absence of color on the dials on the screen affects the decision.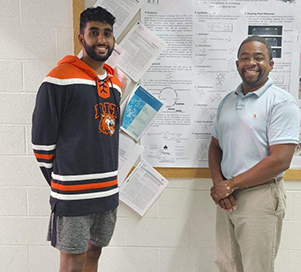 Name:        Gaurav Cheema
Mentor:      Dr. Michael Coleman
College:     Rochester Institute of Technology
Year:          Rising Senior
Major:        Bio-chemistry
Pronouns: He, His, Him
Gaurav's family is originally from India. He and his sister are the first to go to school in the US for undergraduate college level studies. His sister is a biomedical engineer, and his mom went to Rochester Institute of Technology (RIT) for a graduate program. Gaurav likes to play soccer, and is the goalie for RIT's soccer team. 
Gaurav took a chemistry class in high school and liked both the chemistry program as well as the hands on experience in the lab that gave answers to inquiries. He liked both math and science, and then realized in order to do chemistry, he needed to know aspects of biology as well in order to enter the career field he wanted. He is interested in the application of the science, the background of where chemistry came from, and for what applications it can be used. 
Gaurav is working with Dr. Coleman this summer on organic synthesis. They are focusing on the synthesis of a Novel Class of Chiral Silver N-Heterocyclic Carbene(NHC) Catalysts. Since Chiral Metal NHC catalyst have remained a relatively unexplored area of catalytic asymmetric organometallic transformations, Gaurav and Dr. Coleman are especially interested in exploring this novel class of chiral catalysts as an enabling technology for the efficient and selective access to complex active pharmaceutical ingredients and other chiral molecules.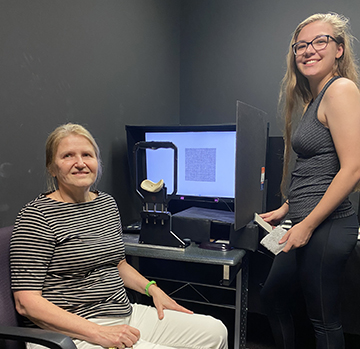 Name:          Elise Guth
Mentor:        Dr. Elena Fedorovskaya
College:       Rochester Institute of Technology
Year:            Rising Sophomore
Major:          Physics
Pronouns:  She, They

Elise loves softball and is on the varsity RIT softball team. She says she is really into Dungeons and Dragons, the role-playing game that lets the player create mighty heroes and solve puzzles.
Her mom is a kindergarten teacher, and her dad never finished college, so she is the first to major in science. She says she chose science to prove people wrong who said she wouldn't be able to do it.
When Elise was in second or third grade, she though being an engineer sounded fancy, so that was the first job idea that really inspired her to pursue a STEM career, which is a very male dominated field. She notes that in a physics class of 30-40 students, only a few are female. She has noticed, however, that she hasn't come across any gender biases in her classes at RIT.
She became interested in the summer Inclusive Excellence fellowship program when she received an email from professor Zemcov. She commented that she was interested in gaining more experience in a more diverse environment, so she applied to work with Dr. Elena Fedorovskaya.
They are working on the interaction between how one visually perceives things versus perceiving them through touch—visuo-haptic.
They have a large screen where volunteer participants are looking at the screen with objects that are textured. At the same time, inside a box is material participants are touching without seeing it.  They are to determine whether what they are touching is what they are in fact looking at. They have three options of what to identify as the object they are touching.
The researchers also hook up the volunteers to an EEG system to see how their brain responds to what is happening while participants are thinking and figuring out what they are seeing and touching.
"Depending on the results we get, we might continue the EEG data further or begin to use Virtual Reality (VR) in extended testing," Elise added.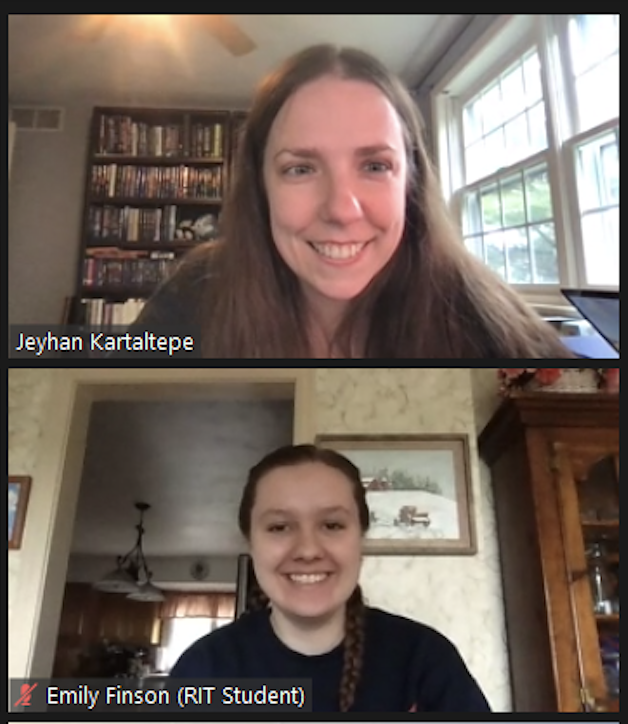 Name:          Emily Finson
Mentor:        Dr. Jeyhan Kartaltepe
College:       Rochester Institute of Technology
Year:            Rising Junior
Major:          Physics
Pronouns:  She, Her, Hers
Emily was born and raised in Jamestown, NY. She is the oldest of four children and has a twin sister and two younger brothers. From eighth grade until her high school graduation, she was homeschooled in order to train full-time as a competitive figure skater. She still skates as often as possible and, if she's not in class, she can usually be found at the ice rink.
Math and science were always her favorite subjects in school when she was growing up, but never really thought that it was something she could do as a career. Her interest in science grew during her time at Jamestown Community College (JCC). There, she had great physics and chemistry professors who encouraged her to pursue science.  Before coming to RIT, she was able to graduate from JCC with a associates degree in mathematics and chemistry.
She became interested in the RIT Inclusive Excellence program while working on a research project with Dr. Kartaltepe during the spring semester. While it was her first time getting involved in research, she was eager to continue working on her project. "I am very grateful to the IE program for making it possible for me to continue my research this summer," Emily comments.
Her summer project with Dr. Jeyhan Kartaltepe is entitled "Analyzing Extragalactic Spectroscopy from the Subaru Telescope." COSMOS is an ongoing project working toward building a public online database of archival (previously collected) spectroscopic data. This data, collected from the Gemini, Subaru, VLT and Hubble Space Telescopes, is then reduced and processed to create two-dimensional and one-dimensional spectra for all galaxies. This summer she is working with a data set collected from the camera and spectrograph, MOIRCS (Multi-Object InfraRed Camera and Spectrograph), on the Subaru telescope positioned atop Mauna Kea in Hawaii. She is reducing the spectroscopic data  using SpecPro, a computer program created by the California Institute of Technology for analyzing and viewing spectra, extracting spectra, and measuring the redshift and emission line fluxes of galaxies in the data set. Following this, further analysis will be done with the data to determine other galactic activity such as star formation rates and active galactic nuclei.