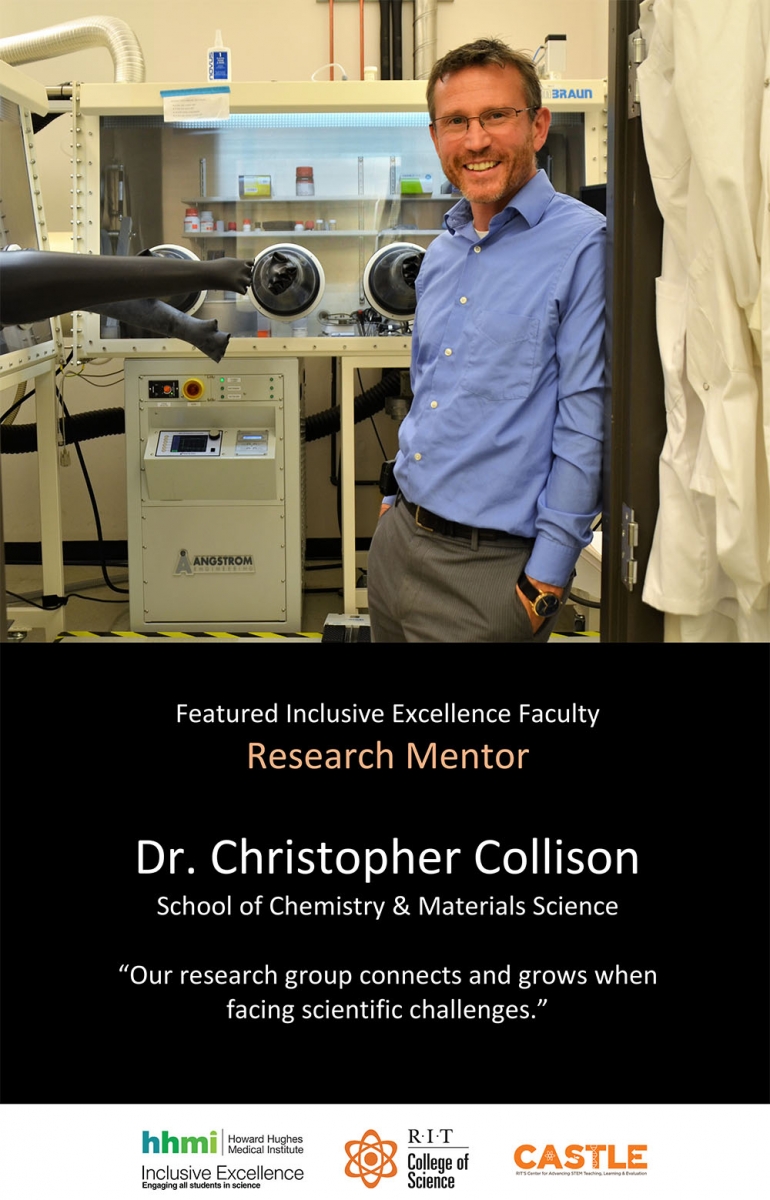 Dr. Christopher Collison
Associate Professor
School of Chemistry and Materials Science
(585) 475-6142
Profile
Dr. Collison's group works chiefly with Squaraine molecules, synthesized at RIT by Dr. Jeremy Cody, where we look to control structural morphology to form aggregates. The excited state properties and spectroscopic features of these aggregates can be predicted computationally through essential states modelling in a collaboration with Frank Spano at Temple University. The group looks to determine how the various aggregation states influence exciton dissociation at the bulk heterojunction interface in our devices; the group models the materials properties and measures the performance of devices made in its state of the art lab to validate its hypotheses.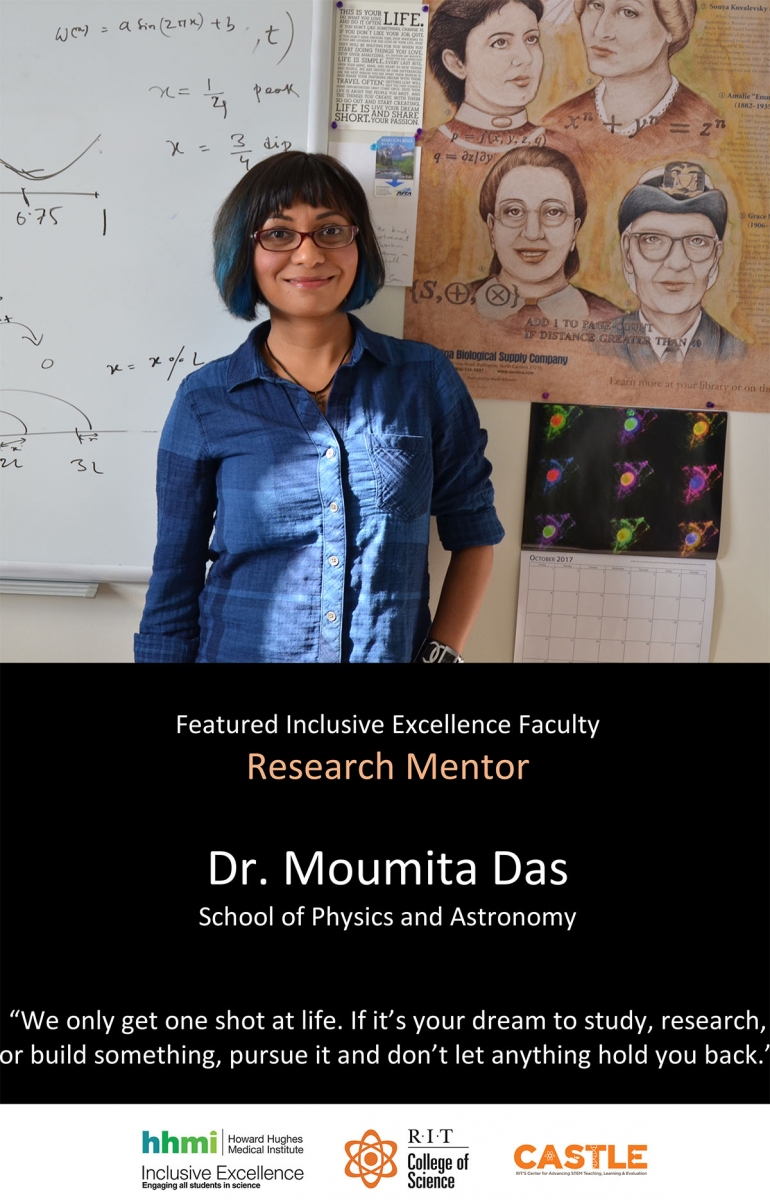 Dr. Moumita Das
Assistant Professor of Physics
School of Physics and Astronomy
(585) 475-5135
Profile

"From embryogenesis, to osteoarthritis, to cancer, physical forces and mechanical properties of tissues play a key role in health and disease. Many physical models of tissues largely focus on a single level of complexity e.g. individual cells or large collections of cells. A multi-scale approach is critically needed to address the complex interplay of mechanisms at each level, and bridge the gap between models at different levels. My long-term goal is to use multi-scale modeling to explain how mechanical forces are sensed and transmitted from molecules to cells to tissues, and how these processes impact tissue dynamics, properties, and biological functions. To this end, my group uses a combination of analytical theory and computer simulations to investigate time-dependent mechanical properties of tissues based on interplay of mechanics, geometry, and statistical physics of underlying components. Our models are informed and tested via close collaborations with experimental labs.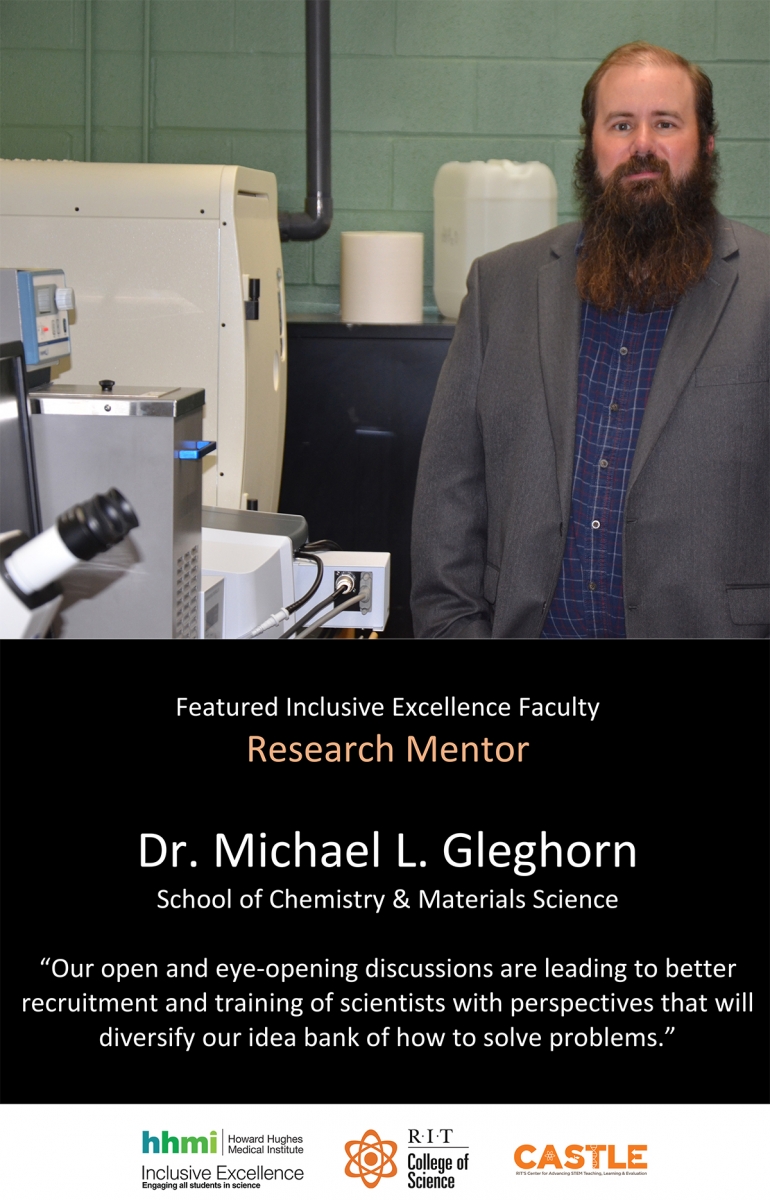 Dr. Michael L. Gleghorn 
Assistant Professor of Biochemistry
School of Chemistry and Materials Science
(585) 475-5528
Profile
Dr. Edwin Hach
Assistant Professor of Physics
School of Physics and Astronomy
(585) 475-4537
Profile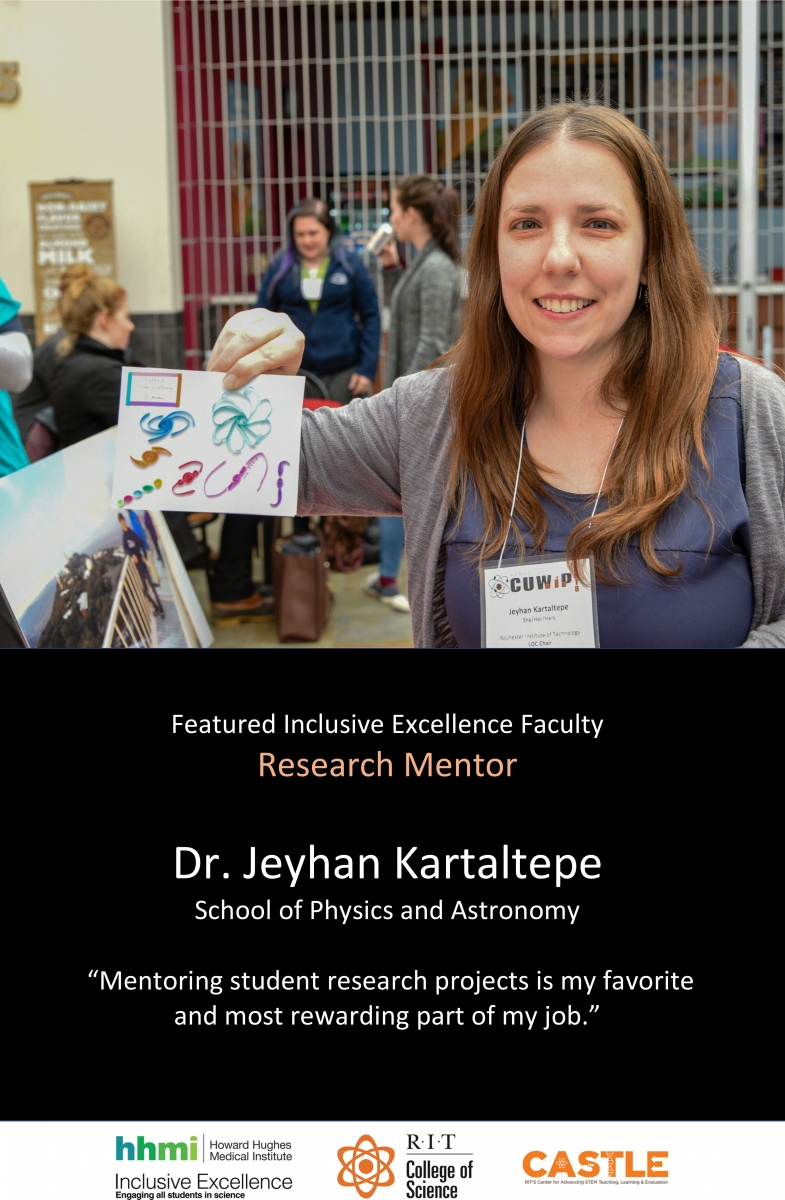 Dr. Jeyhan Kartaltepe
Assistant Professor of Physics
Astrophysical Sciences and Technology Program Faculty
(585) 475-7514
Profile

Jeyhan Kartaltepe is an Assistant Professor in the School of Physics and Astronomy and in the Astrophysical Sciences and Technology program. Her work focuses on understanding how galaxies formed and evolved to become like the ones in the nearby universe. She is particularly interested in the role played by galaxy mergers and interactions and how that role changed over time. She is involved in a number of large multiwavelength surveys that make use of major facilities all around the world, including Keck, Hubble, and the soon to be launched James Webb Space Telescope.
Dr. Kartaltepe's research interests are in the following areas: Galaxy Formation and Evolution, Galaxy Mergers and Interactions, Infrared Galaxies, Active Galactic Nuclei (AGN), Galaxy Morphology Education and Public Outreach.
Dr. Lea Vacca Michel
Associate Professor
School of Chemistry and Material Science
(585) 475-4273
Profile
Lea Vacca Michel, Ph.D. is an Associate Professor in the School of Chemistry and Materials Science at the Rochester Institute of Technology. Currently, her work is focused on dual oriented bacterial lipoproteins and crystallin proteins which are localized in the eye lens. Dr. Michel is the Chair of the Women in Science program at RIT, Director of the Rochester Project SEED program, and Director of the Research Strand for the HHMI-funded Inclusive Excellence @ RIT program; she strives to increase the participation of women and minorities (including those who are deaf and hard-of-hearing) in science and math. Her research interests include: Biochemistry, Biophysics, Vaccinology, Immunology, and Structural Biology.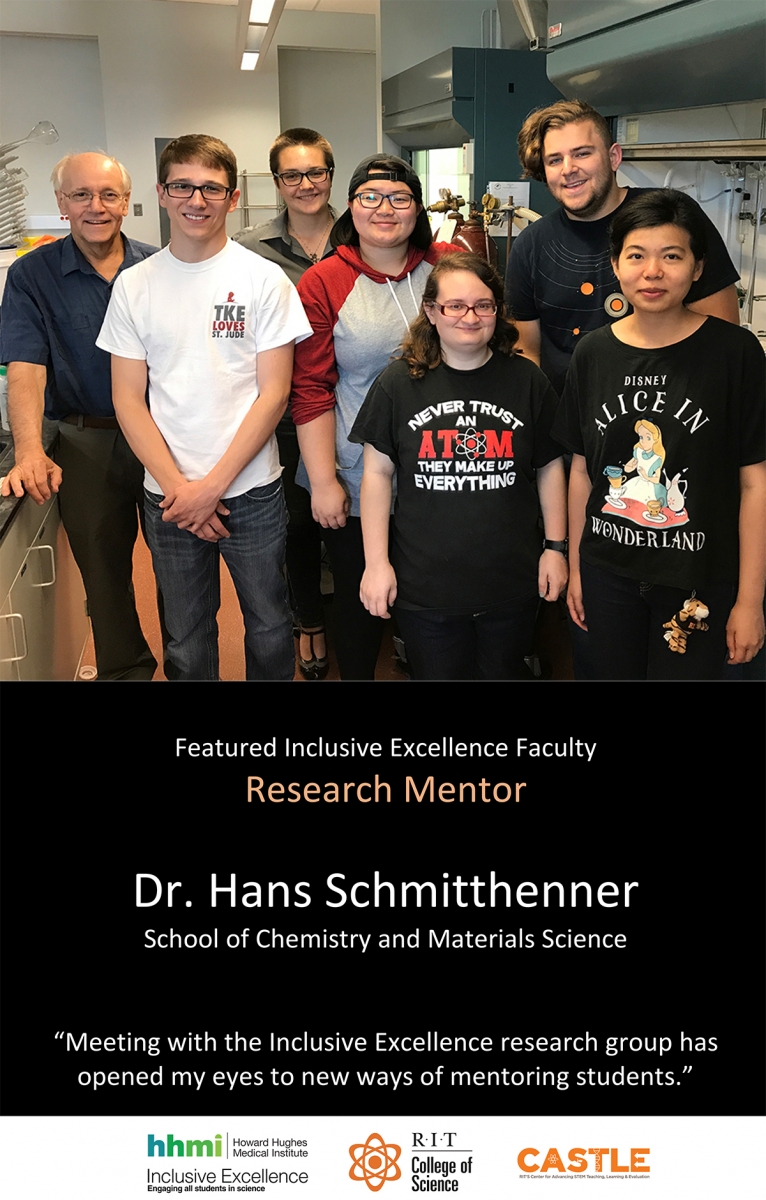 Dr. Hans Schmitthenner
Research Professor
School of Chemistry and Materials Science
(585) 749-4705
Profile
Dr. Schmitthenner is the lead in the Schmitthenner Research Group. The philosophy in the lab is to apply fundamental aspects of chemistry and imaging science to practical applications in medical imaging and cancer research. Their research involves a mix of peptide, dye and organometallic chemistry combined with fluorescence, photoacoustic, MRI and PET imaging. The goal is to transform screening and early diagnosis of cancer by creating novel imaging agents that specifically target cancer cells.  Our strategy incorporates new synthetic methods which we developed at RIT for preparing single and multi-modal imaging agents.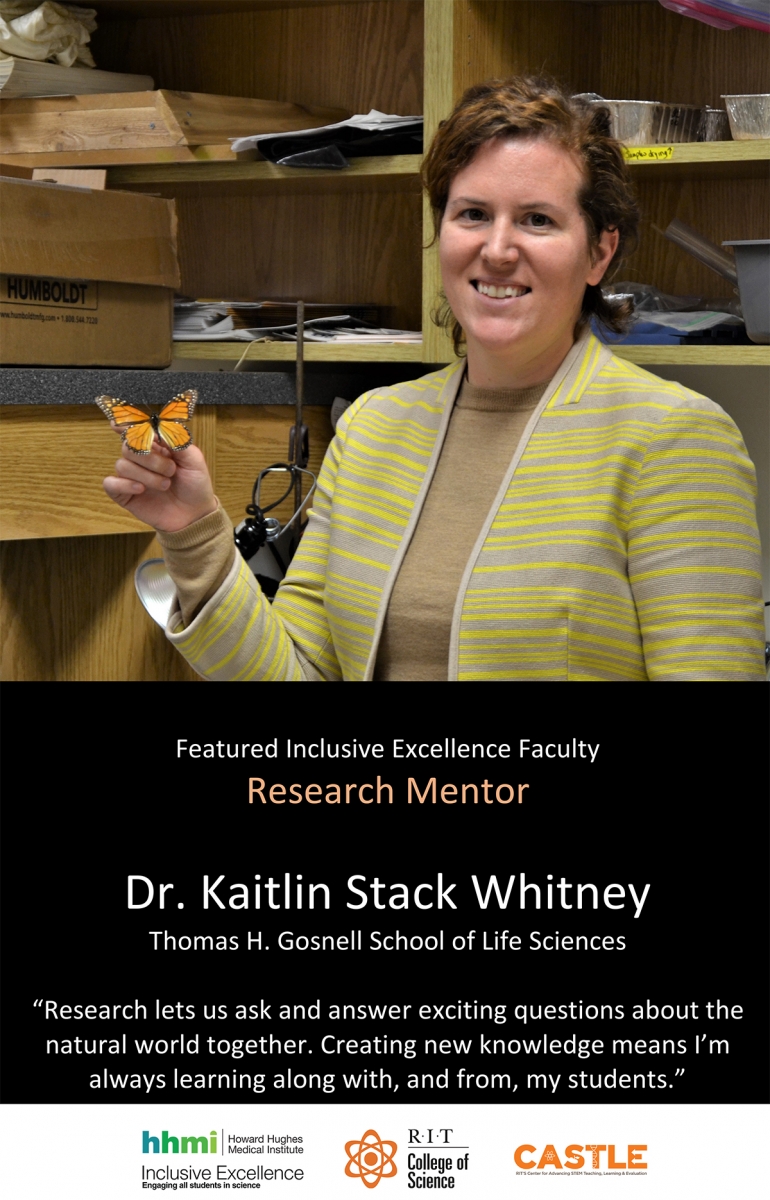 Dr. Kaitlin Stack Whitney
Visiting Assistant Professor
Thomas H. Gosnell School of Life Science
(585) 475-5966
Profile
Dr. Stack Whitney is environmental scientist who uses insects to ask: can we make human-dominated landscapes more friendly to wildlife?  She has conducted ecology research in a wide variety of landscapes, from tundras in Alaska to mountains in Uganda to farms in Wisconsin and India.  Before coming to RIT, Dr. Stack Whitney worked for the US Department of Agriculture's Farmer to Farmer Program, as well as the US Environmental Protection Agency Office of International & Tribal Affairs and Office of Pesticide Programs.​  Her research is interdisciplinary and highly collaborative, incorporating environmental humanities and social science often in partnership with historians, state agencies, and theoreticians. 
Potential Projects:
- Evaluating novel urban ecosystems (e.g. solar arrays) as habitat for wild
bees and other insects
- "Global Urban Evolution" collaborative international survey of urban
plant adaptations 
- Applications of machine learning for conservation and climate adaptation
planning along roads
- Developing practices for more accessible field-based research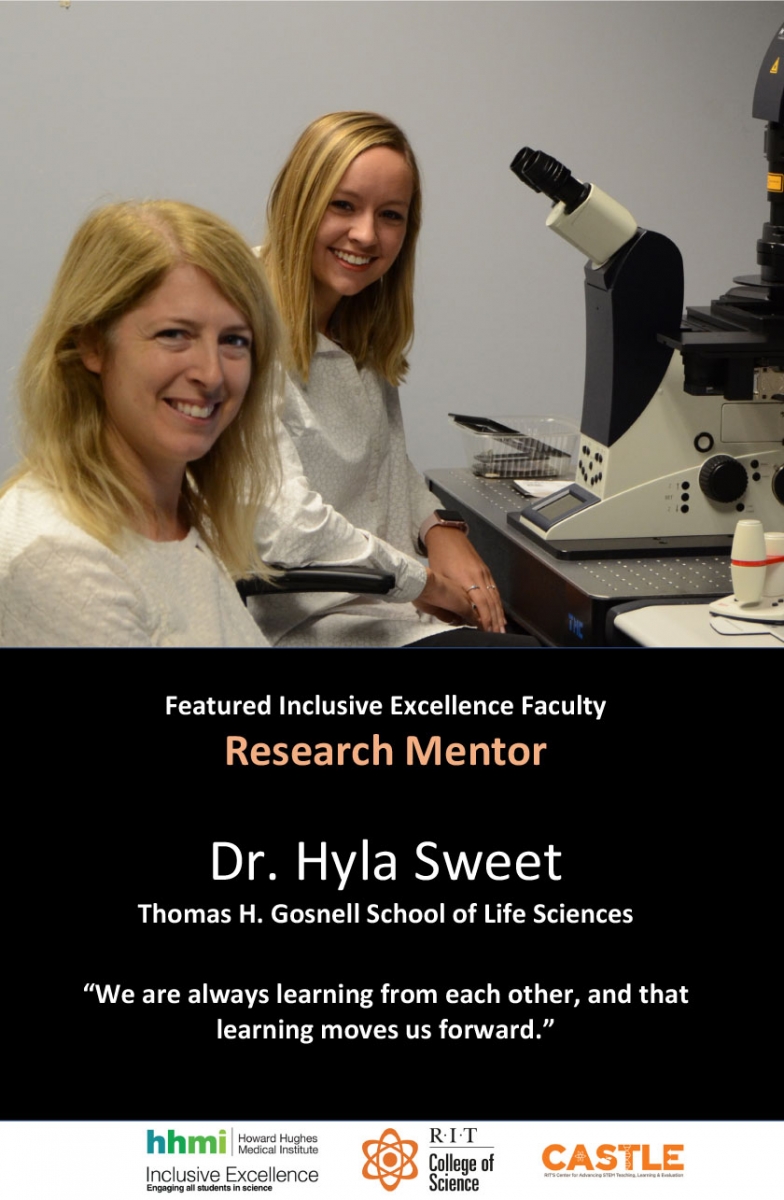 Dr. Hyla Sweet
Associate Professor
Thomas H. Gosnell School of Life Sciences
(585) 475-5143
Profile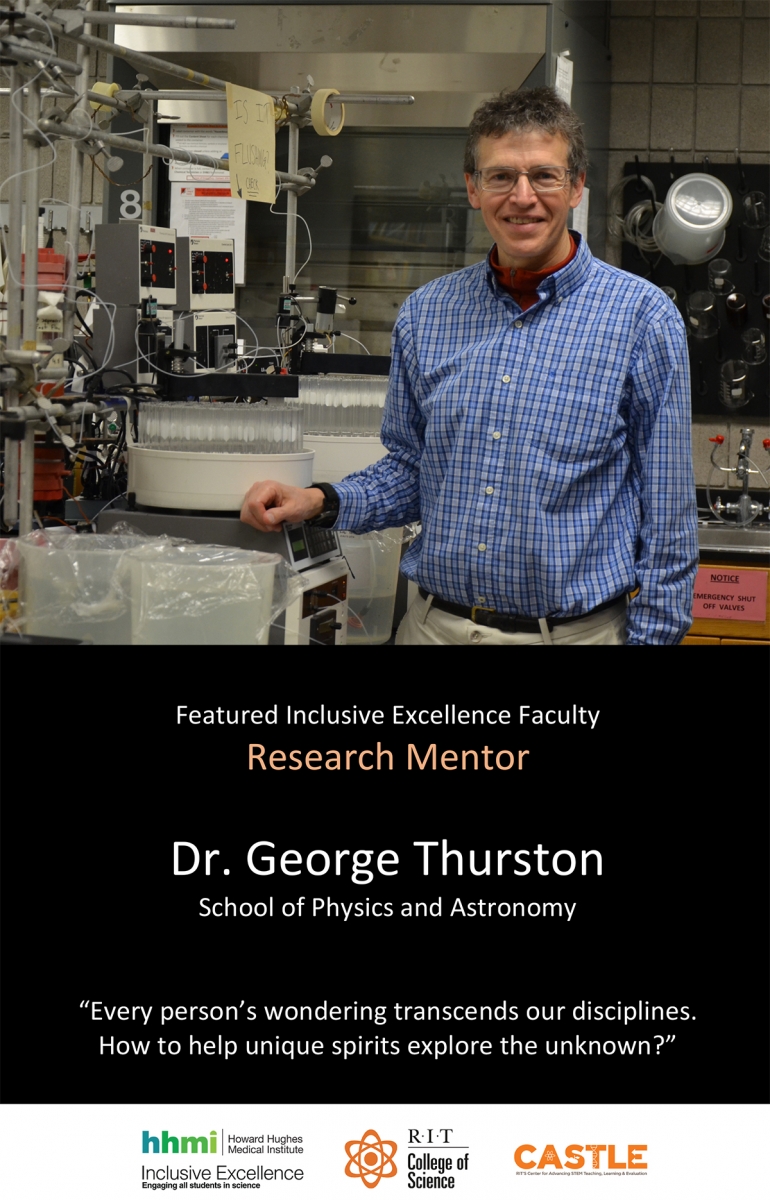 Dr. George Thurston
Professor of Physics
School of Physics and Astronomy
(585) 475-4549
Profile
In cataract, the leading cause of blindness worldwide, concentrated mixtures of eye lens proteins can undergo liquid-liquid phase separation, and can also aggregate so as to scatter light, clouding the lens and degrading vision. Chemical inhibition of the responsible interprotein interactions could, in principle, delay visual impairment from cataract. To make an informed search for cataract inhibitors, it is important to understand the molecular basis of eye lens protein solution phenomena.
Dr. Thurston's current aims are to help develop the needed basic understanding of realistically concentrated fluid mixtures of eye lens proteins, including their phase transitions, equations of state, light scattering, and aggregation kinetics. He and his colleagues are using static and quasielastic light scattering, small-angle X-ray scattering and neutron scattering, Monte-Carlo simulation, and statistical thermodynamic models to develop this understanding.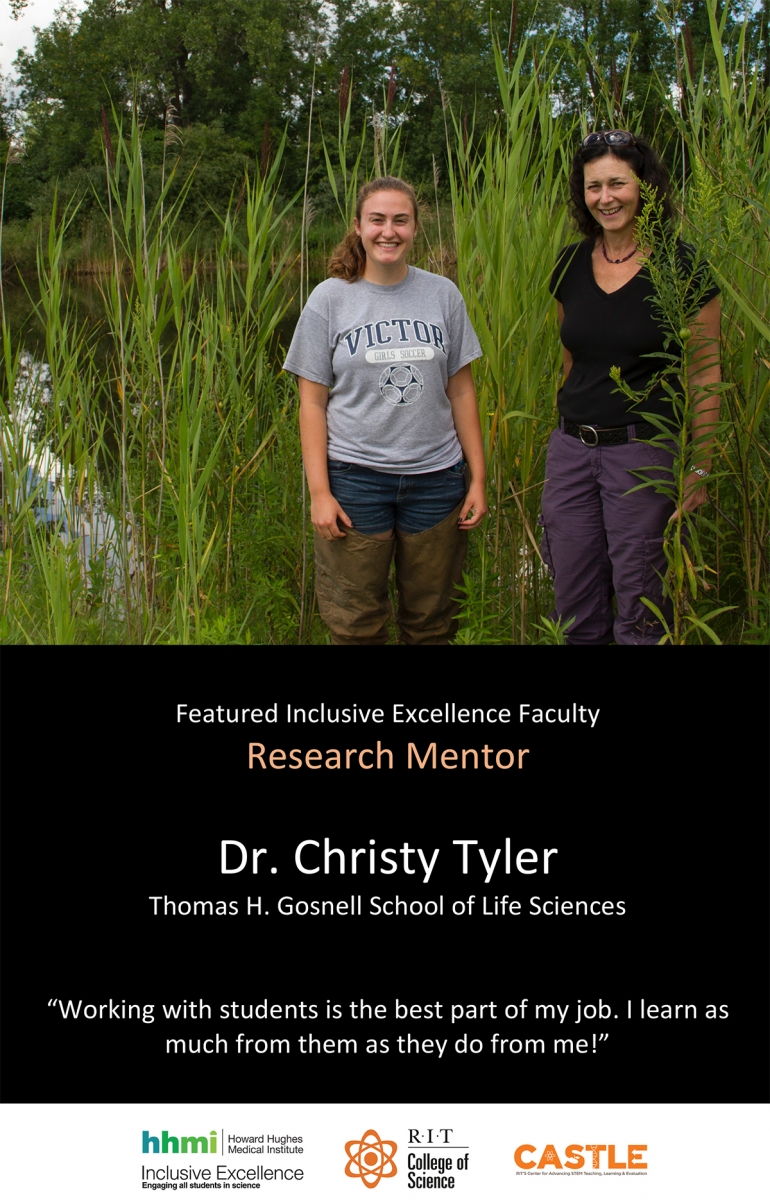 Dr. Christy Tyler
Environmental Science Graduate Program Coordinator
Professor of Environmental Science
Thomas H. Gosnell School of Life Sciences
(585) 475-5042
Profile
Dr. Tyler's research interests: Aquatic Ecology and Biogeochemistry, Wetlands, Invasive Species, Ecosystem Restoration

The Tyler Aquatic Ecology Lab @RIT research concerns the interaction between aquatic organisms and their biological and physico-chemical environment.  Their work takes a two-pronged approach towards the interplay between organisms and their environment. The first asks fundamental questions about how organisms affect and are affected by their environment. The second investigates how these relationships change with anthropogenic disturbance. Past projects have evaluated a variety of primary producers, including native and invasive wetland plants, benthic microalgae and nuisance macroalgae. More recently, they are investigating the linkages, direct and indirect, among biodiversity (primarily of invertebrates), plant productivity, and biogeochemical processes.  

As a result of increasing human populations in the coastal zone, both marine and freshwater, land-margin ecosystems are among the most heavily impacted ecosystems on Earth; human-associated pollution, destruction, and introduction of non-native species cause drastic perturbations from steady-state ecosystem structure and function. Understanding how aquatic organisms respond to, or create, perturbation and thereby affect biogeochemical cycling, water quality and higher trophic levels under these changing conditions is imperative to predicting future changes and dictating appropriate management strategies. 
Potential Projects:
Remote sensing innovations to assess carbon sequestriation and resilience of coastal salt marshes
Impacts of herbivores on plant community structure and nitrogen removal potential of created freshwater wetlands
Innovations at the Food-Energy-Water Nexus: Ecological implications of food waste disposal technologies