Imaging science student makes dream job at Facebook a Reality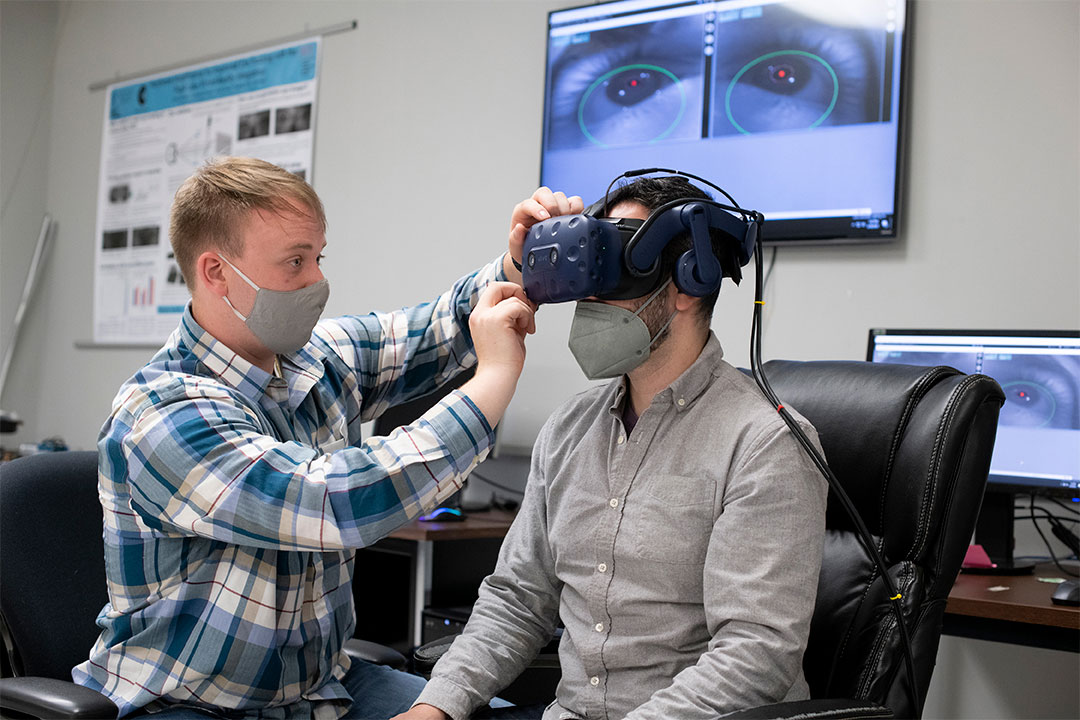 A. Sue Weisler
Jared Gregor is about to graduate with a degree in imaging science and take an exciting new job at Facebook Reality Labs, but he never would have found his college major without a happy accident.
While he was still a high school student in Clifton Park, N.Y., Gregor was filling out an application for RIT's College & Careers summer program and had to pick three majors to explore, but struggled with what to put down for his third option. At random, he picked the new economy major imaging science without knowing anything about the program. When he attended the information session, he quickly realized he had stumbled upon the perfect fit for him.
"I found out that in the imaging science program, you're not limited to just one branch of science, you get to use physics, a little chemistry, math, technology, all this stuff," said Gregor. "The well-rounded aspect of it was really cool. I loved all of my science and technology classes in high school, and wanted a chance to continue to do a little bit of everything."
While the major was a bit of a shot in the dark, Gregor stuck with it, excelled in both the classroom and research lab, and completed a co-op with Facebook Reality Labs that helped launch his career.
In June, Gregor will move to Seattle to become a camera system engineer for Facebook Reality Labs, working on the team that handles the cameras on the outside of the Oculus Quest 2 virtual reality headsets. On his co-op last summer, he was part of the same camera team, but before the VR system's public release last September.
"It's really awesome to be able to work on something your friends and family actually get to use," said Gregor. "It's an emerging technology and that's the part that excites me. These devices are unique because they don't need any wires and the four cameras on the outside scan and track the room, so there is potential to use its cameras to do mixed reality type experience."
Gregor credits the Chester F. Carlson Center for Imaging Science's hands-on focus and extensive research opportunities for preparing him for this opportunity. Over the course of his undergraduate career, he has been part of projects to collect data using drones, worked with remote sensing, and throughout his senior year he has been immersed in research with Associate Professor Gabriel Diaz. Gregor has been helping Diaz develop machine learning systems that help improve eye tracking technology and allow it to more accurately detect different portions of the eye and comprehend blinks.
Gregor said he has many fond memories at RIT—president of the Imaging Science Club, a member of the Ski Club, and a member of the Honors Program—but he said his favorite memories dates back to his freshman year. He participated in the Innovative Freshmen Experience project-based course, where class members combined their talents and applied their skills to create an imaging-based hockey analytics system under the guidance of faculty.
"Being able to present our final product in front of thousands of people at Imagine RIT as a freshman stands out," said Gregor. "An imaging alum came up to me and talked to me for a little while and it was inspiring to see him come back, talk about how he still loves this field and be interested in what we were doing."
Topics