RIT's Digital Imaging and Remote Sensing Laboratory now offering services to the public
DIRS Enterprise Center provides data collection, calibration and other technical services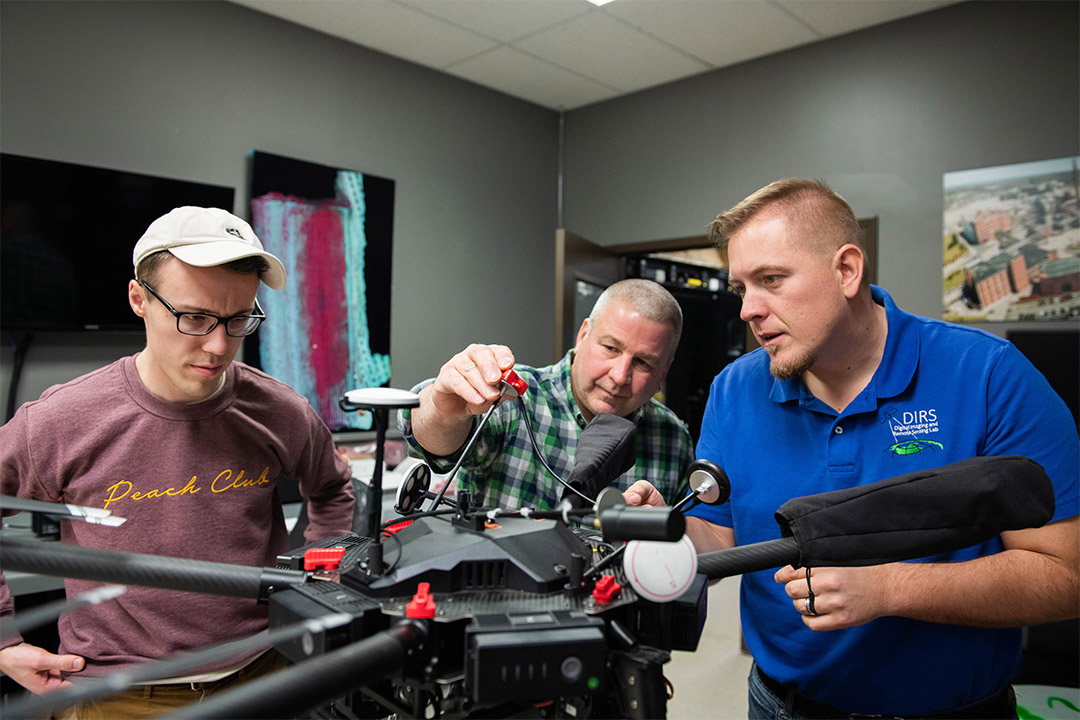 A Rochester Institute Technology laboratory with deep expertise in drones, imaging and remote sensing technology is now offering its services to the public. Through the Digital Imaging and Remote Sensing (DIRS) Enterprise Center, customers can now hire faculty and staff from RIT's Chester F. Carlson Center for Imaging Science to provide training, consulting, data collection, equipment calibration and more.
The DIRS Laboratory was founded more than 30 years ago to develop tools that extract information about the Earth from aerial and satellite imaging systems. Their faculty, students and staff design and develop imaging instruments, collect data using airborne and ground-based imaging systems, develop 3D models and more. Professor Carl Salvaggio, director of the DIRS Laboratory, said the organization is excited to work with new collaborators outside of academia and expects to support a wide variety of industries including agriculture, construction, insurance and more.
"We have all kinds of unique capabilities that people don't have the equipment or training to do," said Salvaggio. "We fly many different unmanned aircraft, each of which has a unique set of sensors that we have integrated together to create truly one-of-a-kind multimodal imaging opportunities. Our lab has been doing this for a long time, building many systems from scratch, and learning how to use this data to produce top-notch scientific products. We think we'll be able to now provide this same high-quality data and services to our Enterprise Center customers."
The Enterprise Center will be able to help customers with both hardware and software. In addition, the lab has developed the Digital Imaging and Remote Sensing Image Generation (DIRSIG) model, a popular physics-driven synthetic image simulation capability for government agencies and contractors to conduct system engineering research. The Enterprise Center will offer customized training and technical services by request.
Salvaggio said running the Enterprise Center will also provide RIT students with employment and valuable hands-on experience. As their customer base grows, he expects students will be trained to help calibrate equipment, operate drones for data collection and complete other tasks.
To view a full list of services the DIRS Enterprise Center offers, visit the DIRS Website.
Topics