RIT's 2022 Changing Hearts and Minds Award goes to College of Art and Design
CAD received the award for its efforts in diversifying RIT's faculty body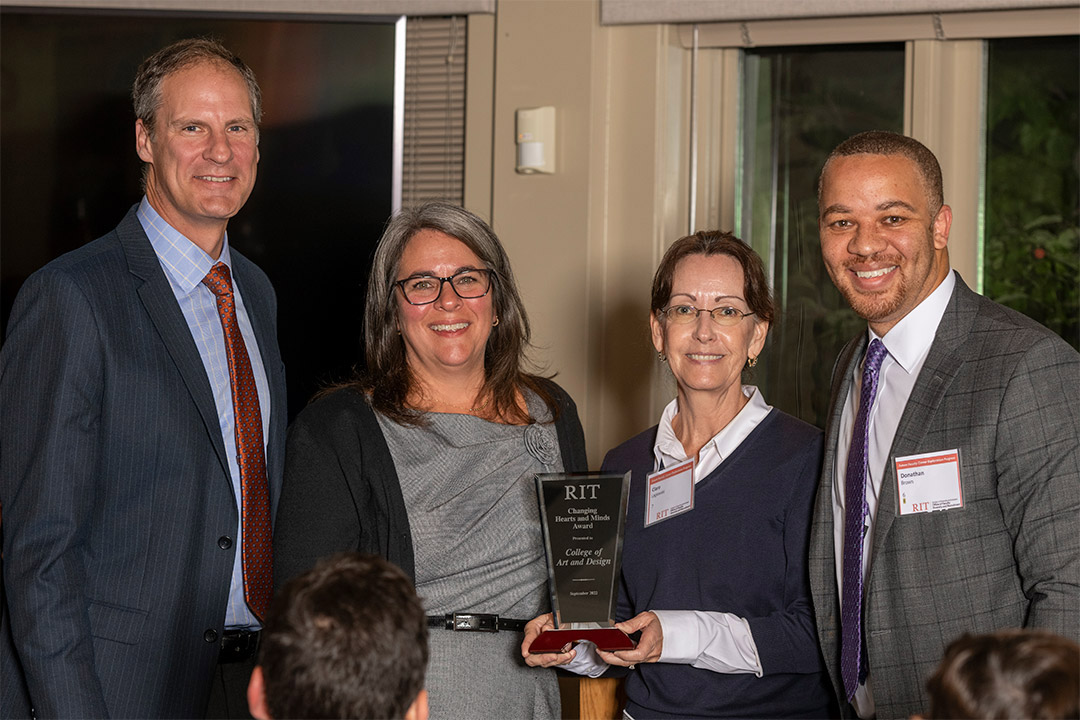 RIT's annual award for success in diversifying the university's faculty ranks and helping to advance RIT's overall commitment to diversity went to the College of Art and Design. CAD received the 2022 Changing Hearts and Minds Award, sponsored annually by RIT's Office of the Provost and the Office of Faculty Diversity and Recruitment (OFDR).
"This award recognizes the growing and continued commitment we see from the College of Art and Design with their intentional efforts to try and diversify their faculty," said Lorraine Stinebiser, RIT's director of Faculty Diversity and Recruitment. "To truly begin to change hearts and minds, we need to look beyond just the numbers. The hiring of historically underrepresented faculty doesn't just happen by chance. It begins by building relationships—whether through our Future Faculty Career Exploration Program or our virtual Pathways to RIT."
Donathan Brown, assistant provost and assistant vice president for Faculty Diversity and Recruitment added, "I am very pleased by the outcomes of our continual partnership with CAD, as their efforts, assertiveness, and overall progress is precisely why they have earned this year's award."
The college was chosen based upon the new faculty hire data indicating that its externally searched faculty roles will be filled predominantly by women or AALANA individuals. Stinebiser also noted that CAD hired Dennis Delgado, a visiting lecturer in the School of Photographic Arts and Sciences, earlier this year after he participated in both the Future Faculty Career Exploration Program and Pathways to RIT.
"On behalf of the CAD faculty, we are honored to receive this award," said Todd Jokl, CAD dean. "We have a firm, college-wide commitment to diversity and inclusion and thank OFDR for their programmatic support that allows us to connect with some of the best emerging minds in higher education. For the college, this award does not signify an endpoint, rather, progress towards a more diverse and inclusive environment overall."
The recognition comes with a physical and monetary award, which can be used in meaningful ways to further advance the college's AALANA faculty recruitment and retention initiatives.
"At RIT, we place a high value on having a diverse community of scientists, artists, and intellectuals, which allows us to be a strong and vibrant university—one that attracts creative and innovative students," said RIT Provost and Senior Vice President for Academic Affairs Ellen Granberg. "I thank the faculty and staff of CAD for upholding that value and for helping push RIT to become a more equitable, inclusive, and dynamic place."
Topics