It's Educational, It's Entertaining: How You Can Take Part in Native American Heritage Month at RIT | November 2021
Newsletter November 2021
It's Educational, It's Entertaining: How You Can Take Part in Native American Heritage Month at RIT
We are celebrating Native American Heritage Month at RIT in November. Here are some of the exciting events:
November 3rd RIT Minett Professor Perry Ground (Onondaga, Turtle Clan) shares "Stories from the People of the Longhouse" from noon to 1:30 p.m. (lunch available) in the Bamboo Room in the Student Alumni Union. Ground will host a second storytelling session later the same day from 5:30 -6:30 p.m. in the Fireside lounge. This event will also be streamed via Zoom here.
November 10th Tuscarora Nation elder James Bissell will demonstrate how to make traditional water drums and explain their purpose in the Haudenosaunee community. The event is in SDC 1300 from 4-5:30 p.m.. This event will also be streamed via Zoom here.
November 11th Each year on November 11th the Canandaigua Treaty Day is commemorated in Canandaigua, NY. This year the Treaty Day will be privately celebrated and virtually shared via the Ganondagan State Historic Site Facebook page. Join at: www.facebook.com/Ganondagan
November 15th "Re-Thinking Thanksgiving: A Native American Perspective on an American Holiday", from 6 to 7:30 p.m. Bamboo Room, SAU. Our Minett Professor Perry Ground is leading a lively, engaging, and content-based presentation and will give an overview of the history of this very misunderstood holiday. This event will also be streamed via Zoom here.
November 18th "Frybread n' Friends" from 7 to 9 p.m. Colby Kitchen (dorm side) where the Native American Student Association, AALANA Collegiate Association (ACA), the American Indian Science and Engineering Society (AISES), Native American Future Stewards Program, and the International House are hosting a "Frybread n' Friends" event where a member of the Native American Student Association, Sherry Sneezer (PhD student in Sustainability), is teaching attendees how to make traditional Navajo frybread and the various ways to eat it in addition to being a night for community and camaraderie.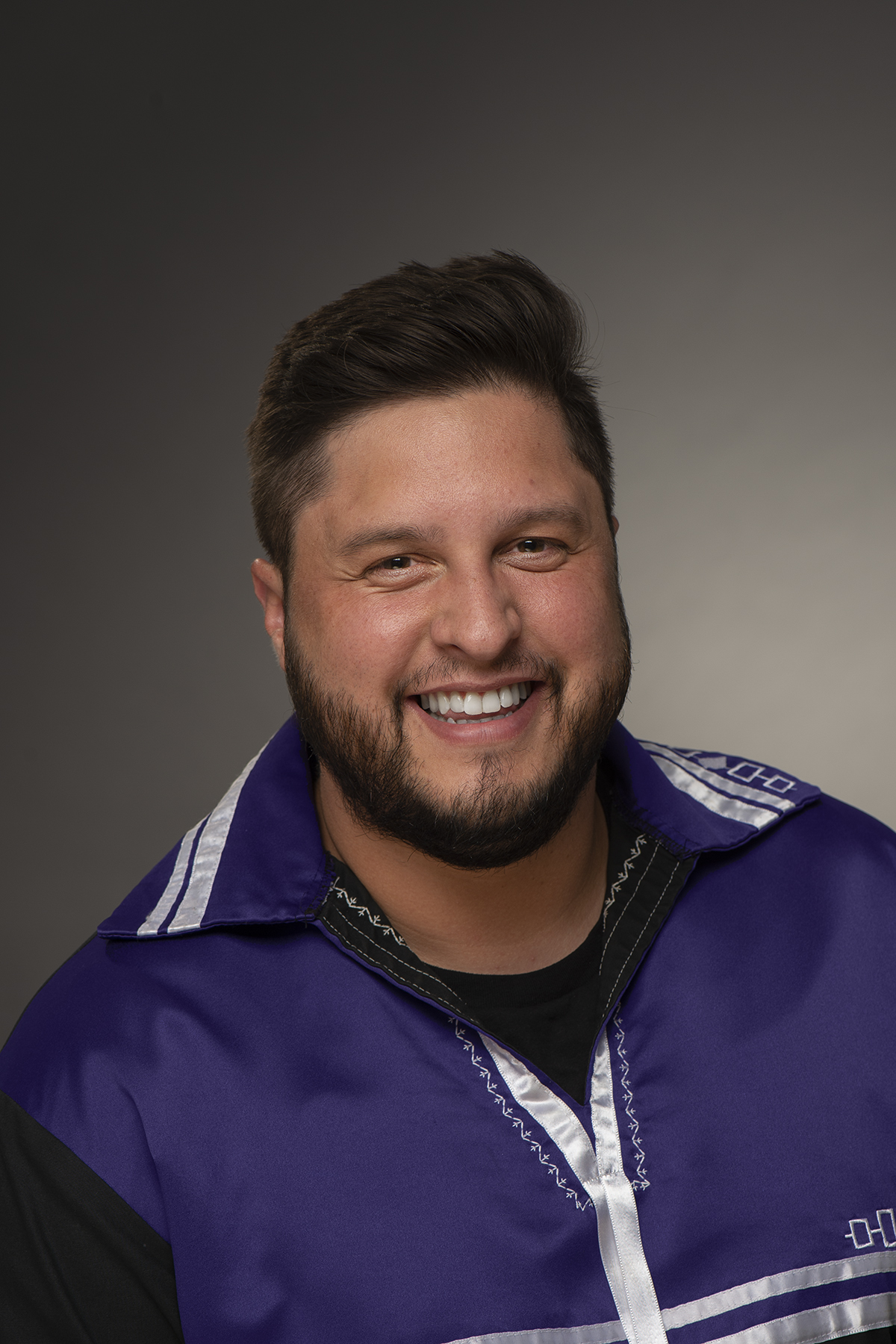 One person who has played a major role in organizing all of these events is the new director of the Native American Future Stewards program. Read more about him here.
It's Not the Mileage-it's the Message Cliff Jacobs is Focused On.
It's a pretty hefty commute to campus for Cliff Jacobs. It takes an hour and a half to drive the 88 miles from his home on the Tuscarora Reservation in Niagara County to Henrietta each day. The commute doesn't faze him. His focus is on his new role as director of the Native American Future Stewards program at RIT. The Syracuse and Columbia University School of Social Work grad joined RIT on July 1st. He has worked at Columbia University as assistant director of Special Interest Communities and has extensive experience working in the criminal justice system in the New York City area.
You are a trained Native American Peacemaker. Please tell us what that is and what your training entailed?
Peacemaking tends to look somewhat different depending on the Native community you are in, but ultimately focuses on healing the relationships and the hurt between involved parties—rather than focus on punishment and any crime committed. Growing up on the Tuscarora reservation, I always heard about peacemaking and the process of bringing folks together to resolve conflict through storytelling, building bridges, and being very direct/honest with how the situation impacted you, but didn't get to "practice" it until going through training at the Red Hook Community Justice Center's Peacemaking Program in Red Hook, NY. My peacemaking training was facilitated by Gawehogeh Wendy Hill (Cayuga nation, Bear clan). In my training, I learned about storytelling and its use in peacemaking sessions as a tool to resolve conflict, the history and use of peacemaking in Native communities, how to work to find consensus instead of compromise, and a lot of role playing. Training required a certain number of hours with the material and practice before officially becoming certified. It was a fantastic opportunity and I feel so much closer to my Native identity because of it.
Peacemaking Circles as a way of resolving conflict is the goal.  How can we all use this method in our everyday lives?
Traditional Native peacemaking is specific to Indigenous communities, but just like the Red Hook Community Justice Center found a way to honor the practice and not appropriate it by using tenets but ultimately making it their own, I think people can use some core themes in everyday life to help resolve any conflicts that may arise. A huge aspect of peacemaking is having a focus on respect. This can be evident through the use of establishing ground rules that everyone agrees to before the session starts and the use of a talking piece which is passed around to show and keep order. The ability to honor and keep the process moving forward without interruptions, side conversations, and verbal/physical attacks, participants often feel heard and valued in the space. I think we as people can use this sense of respect in any conversation we enter and make sure we are truly listening and valuing what people bring to the table instead of talk over them and use power and privilege to take the conversation over.
As the new director of the Native American Future Stewards program, where will your focus be this year? Is there any one thing you want to accomplish?
I want to ensure in everything we do from the daily conversations I have with students to the programs that are implemented, there is a sense of Indigeneity brought. I do not want the program to lose its Indigenous identity and the reason it was established. I want all of our Indigenous students, faculty, and staff to feel heard and seen while knowing they have a safer place on this campus to just be their Native selves. There are so many spaces in this world that are not suitable for Indigenous people to feel respected and just "be." I want my office and every single initiative or program FSP implements to be the place Indigenous people gather and connect. I want to hear from the current and former Indigenous students on what they loved during their time at RIT and the things they wanted to see happen but may not have come to fruition. I can only be as successful as the students in the program, so a lot of my energy will be used to ensure they know who I am and what I can provide for them during their time at RIT.
I also want to make sure RIT is set up for success and is able to both actively recruit and retain Indigenous students. Through what students see on the website to what they hear from current students, faculty, and staff about the value of an RIT education, I want to make sure people know RIT is an option for Native students and it is able to see them through to graduation and beyond. I want to be out in the surrounding Native communities and work with community members to ensure they know about RIT and the possibilities Native students can achieve. There can always be more partnerships made with Native vendors, scholars, and leaders to make sure the Future Stewards Program and RIT as an institution stays up-to-date on the happenings in Indian Country and give back to the Haudenosaunee Confederacy. I plan to make that a priority during my time in this role.
You grew up on the Tuscarora Indian Reservation. What was life like and are there any special memories that stand out to you?
Growing up on the Tuscarora Indian Reservation, I was ingrained, since I was little, that family and community are the strongest things in this world. If you can find those that make you feel safe and supported (regardless if they are blood relatives or not), hold onto them because they will help you blossom into the person you were meant to be—who you truly are inside. It's a tough world out here and being surrounded by love daily can help lighten the load. I had the privilege of living in my Native community and learning about my culture and language daily by attending the Tuscarora Indian School from Pre-K to 6th grade. I had a bunch of community-based experiences like being able to attend the Tuscarora Nation Annual Picnic where I saw traditional Native song and dance. It was through my Native education and the experiences I had living on a reservation that I learned about what it means to be Tuscarora. My sense of Indigeneity grew because of my family and community. I loved my experience growing up on the reservation. I just recently moved back now as an adult. It's where I currently live now and commute from to work!
Do you have any hobbies or sports teams that you cheer on?
I have a bunch of hobbies! I love watching TV and movies. I am truly an avid movie watcher and have a hard time saying there is such thing as a "bad movie." I love the movie or TV experience and being able to separate from reality even if it's for a 20-minute episode. I also play volleyball in my spare time and did since high school and through college. Mostly recreation leagues now, but it is still very much a part of my life. I played lacrosse since I was young but stopped when I went to college. But you can always catch me at a Bandits game or even just cheering on my nieces and nephew at their lacrosse games at school. I will most definitely be coming to RIT lacrosse and volleyball games so if you want to join me, just let me know!
I am so happy to be here at RIT and to work with Indigenous people on and off-campus. If you have any ideas or want to partner on events in the future, please feel free to send me an email at cdjddi@rit.edu. Nyá·wę (thank you), Cliff!