Gracie's begins online-only ordering Monday as seating renovations begin
Outdoor tent, expanded lobby seating available for remainder of semester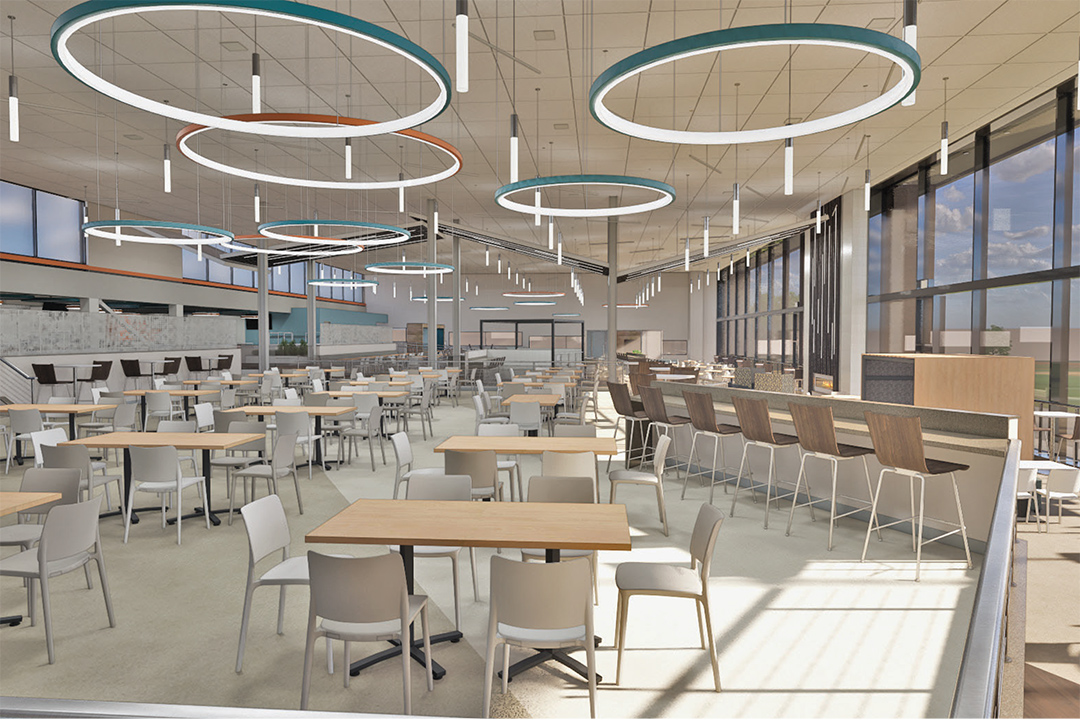 Gracie's, the largest dining hall on the RIT campus, will go to all online ordering Monday as renovations begin to restructure its seating area.
Orders will be prepared in the kitchen and can be picked up in the lobby of Grace Watson Hall, where additional seating will be added in the lounge, as well as in the lobby of Kate Gleason Hall and in a large, heated tent that will be in place just west outside Grace Watson Hall.
"We're excited. We've been planning this for a long time as part of a multi-year plan," said Kory Samuels, executive director of RIT Dining. "When finished, Gracie's will have the look and feel of a modernized college dining facility."
This $2 million renovation project, expected to be completed in time for Orientation Week in August, will feature different style booths, counter seating, and two- to four-person high-top seating that better aligns with students' eating and congregation preferences. New lighting and an electric fireplace will welcome visitors, and a meeting room that can accommodate 10 students (when restriction limitations are lifted) will also be added.
"Personal charging outlets will be everywhere to allow people to recharge their phones," Samuels said. "Technically, you can even be in a virtual class with headphones on. The overall goal was to give as much flexibility in that space for students to utilize whether they are coming by themselves or in large groups."
The new layout will seat up to 550 people in its dining area when restrictions are lifted – only 175 were allowed at one time this semester. "Our furniture is flexible, so we can even expand that number if needed," he said.
This is the second of two phases for recent renovations at the dining hall. Kitchen and serving area renovations were completed in the summer of 2019 and included new equipment, an open layout, and an updated aesthetic, which will be continued with the new seating area. Before the kitchen renovation in 2019, Gracie's had its last major renovation in 1991.
Prior to the pandemic, Gracie's served 2,500 meals a day. Meal plans were since changed to allow students more options, and Gracie's currently serves about 1,000 meals daily and employs 33 full-time staff members and 150 student employees, Samuels said.
Gracie's kitchen will be sealed while construction takes place in the seating area.
Everything that was available in person from Gracie's will also be available online, and the hours Gracie's is open remain the same: 7:30 a.m. to 8 p.m. on weekdays, and 11 a.m. to 7:30 p.m. on weekends. In-person and online ordering will remain at The Commons, and food trucks are expected on Sundays to provide additional options.