Renovated Gracie's on schedule to reopen on Aug. 12
RIT's largest dining facility features new pizza oven, upgraded serving areas and roomier kitchen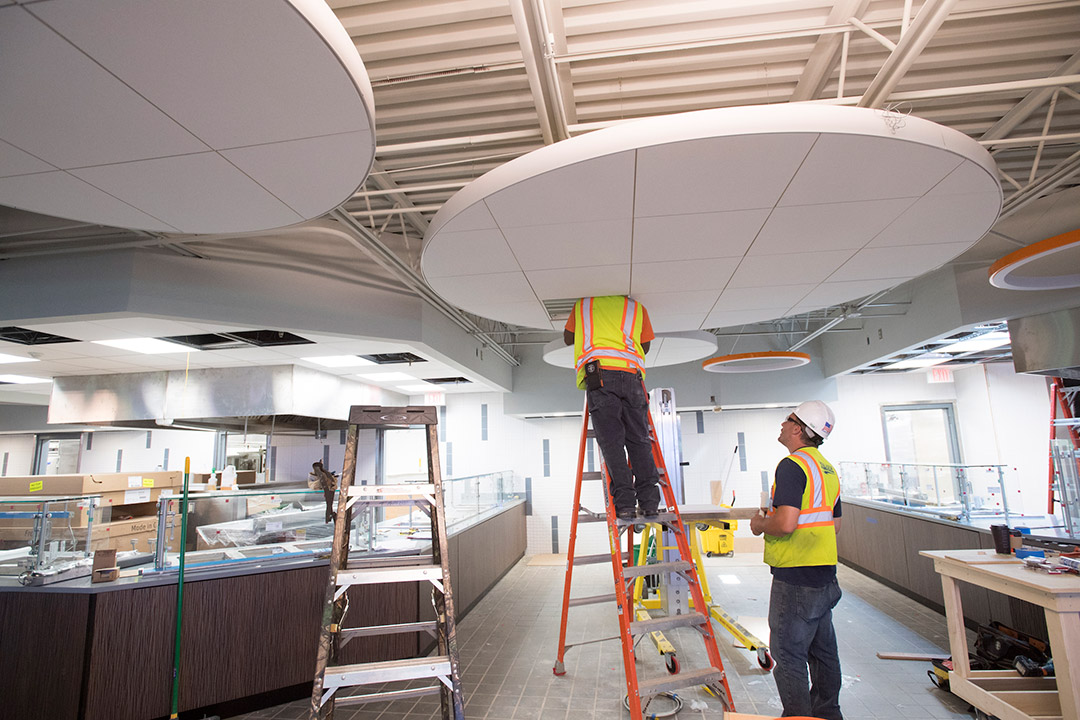 Gracie's, the largest dining facility on the Rochester Institute of Technology campus, is on schedule to reopen Aug. 12 after a $2 million renovation of its kitchen and serving areas.
Located in Grace Watson Hall, the facility serves about 2,500 all-you-care-to-eat meals a day and employs 34 full-time staff and 275 student employees. It opened in 1968 – the year RIT moved to its Henrietta campus – and saw its last major renovation in 1991.
And Gracie's has one of the largest kitchens in the Rochester area, said Kory Samuels, executive director of RIT Dining.
The renovation, which began May 1, is now in its final phase. Dozens of contract workers have been donning hard hats to complete the installation of serving stations and counters, painting walls, shampooing the carpets and giving a thorough cleaning of the entire 5,000-square-foot space.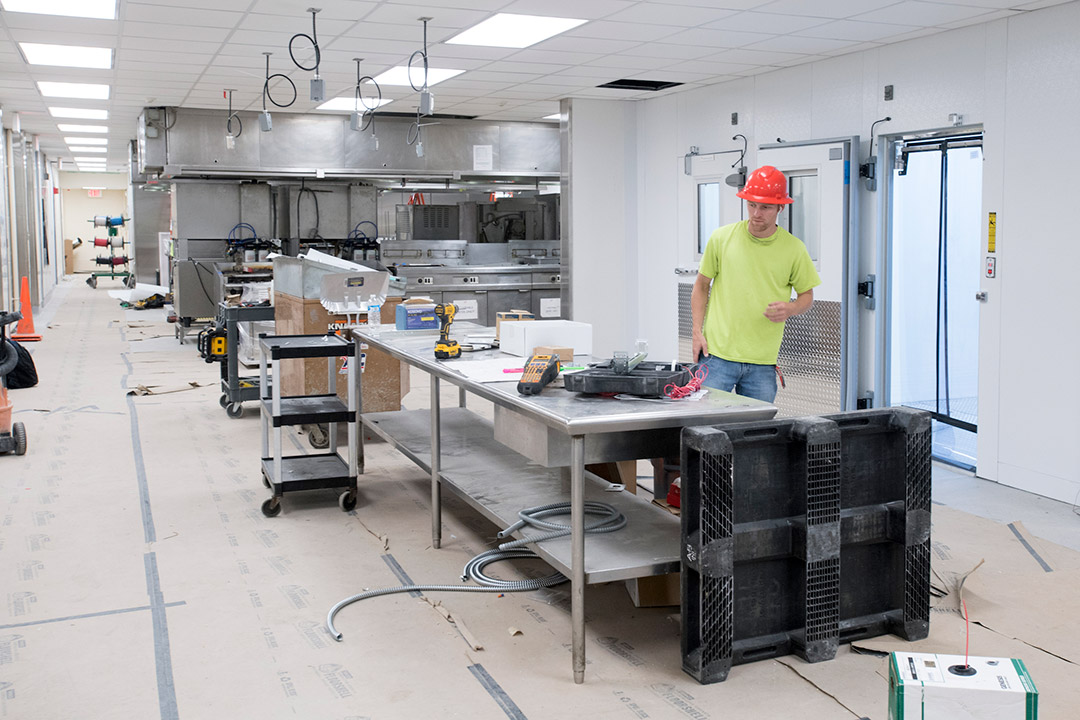 A. Sue Weisler
"The most obvious thing people will notice is the brand-new serving area space," Samuels said. Much of the equipment is new and incorporates food safety technology, such as the digitally-controlled temperature settings to keep foods in the salad bar, deli bar and soup stations at the safest temperatures, whether hot or cold.
Chef de Cuisine Daniel Morales has added new menu items to pair with the new stations, including carved smoked brisket, vegan burritos, Sicilian pasta, roasted garlic herb prime rib, a vegan poutine bar, a Ramen bar, and a build-your-own bruschetta bar.
The most notable addition is an orange-colored ceramic pizza oven that will cook and rotate a pizza at 800 degrees in 90 seconds. A crane was needed to lift the 5,100-pound oven through the roof to its current spot in Gracie's.
Samuels said the flow of traffic should be improved with the new setup. There will be more areas where customers can order food, such as an omelet for breakfast or a build-your-own pasta bake for lunch or dinner.
"People are looking for meals that are created right in front of them," he said. "We're keeping up with the industry trends for customer experience."
More space will also be devoted to vegetarian, vegan and gluten-free foods, and nuts will be gone in consideration for those who are allergic to them.
The space was designed to be efficient and aesthetically pleasing. An elevated ceiling with architectural details including large circles to enhance sound will present an open feeling, and a new exit to the dish area will decrease congestion.
It won't be unusual for visitors to be welcomed with the aroma of fresh-baked cookies being baked in the serving areas.
Big changes were also made in the kitchen, where most guests never see. Previously, coolers, steel stoves and prep tables were situated to form an almost labyrinth-like environment.
"When the cooler doors were open and the kitchen doors were opened at the same time, there was only about a six-inch opening," Samuels said.
Now, there's a roomier layout, with a line-of-sight going from one end of the kitchen to the other. The lighting is brighter as well. Some of the previous kitchen equipment remains. "But there's nothing older than 9 years old here now," Samuels said.
Another major renovation is due for Gracie's next summer, when the seating area – which can accommodate 700 – will be improved. Larger areas that can seat six or eight at a table will be gone, favoring smaller tables that can be pushed together if needed for larger groups.
Topics