RIT names new director of Venture Creations technology business incubator
Entrepreneurship expert Johan Klarin selected to lead university incubator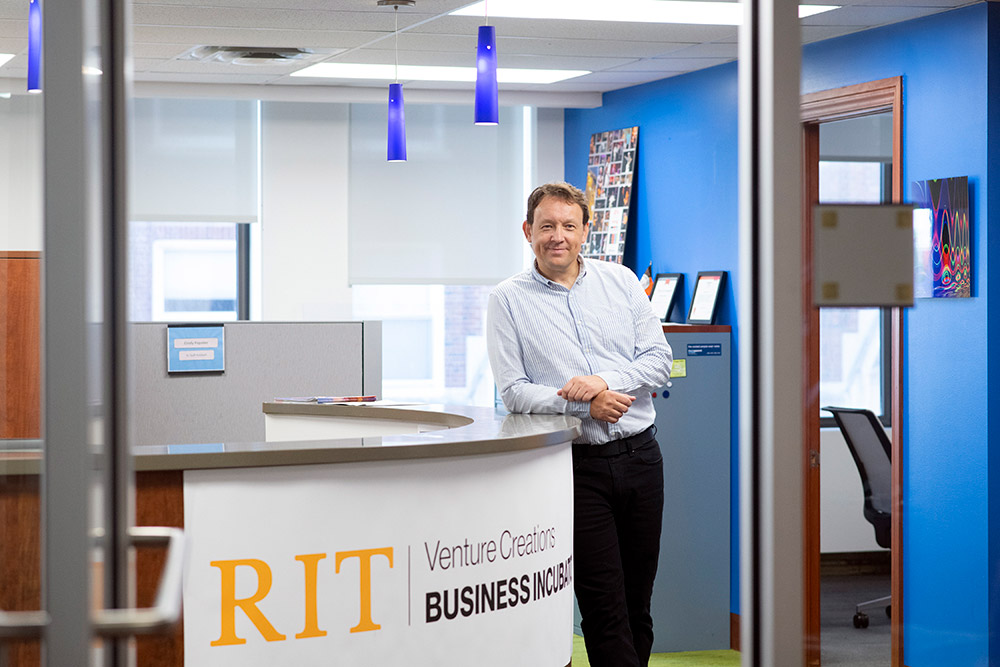 A. Sue Weisler
Rochester Institute of Technology's Venture Creations technology business incubator has named entrepreneurship expert Johan Klarin as its new director. Klarin began his tenure Sept. 7.  
Klarin comes to Venture Creations from Columbia University, where he served as manager of the NYSERDA-funded Entrepreneur-in-Residence program, assisting clean-tech startups in New York state. Prior to that, he was managing director of Viaduct Inc., a consulting company focused on Western New York startups, out of Buffalo, N.Y.
Klarin is also co-founder of several companies including AmeriCan Syndicate, a cross-border consulting company that advises Canadian startups that create prototypes and scale-up sales in the United States; Architect Marketing Platform; and online intermediary Arriving Here LLC.
"We are so pleased that Johan will be joining Venture Creations as its newest director," said Ryne Raffaelle, RIT's vice president for research. "Johan's extensive background in creating and advising business startups is the perfect blend that will make him successful in this position. We are looking forward to seeing how Venture Creations will continue to grow under his management and, with the valuable assistance of our seasoned coaches, launch new companies that thrive."
Klarin is looking forward to working with the Venture Creations team, resident companies, and graduate companies.
"As a former serial entrepreneur, I have the greatest respect for the incredible work start-up founders and teams do," said Klarin. "It's the lifeblood of communities, cities, regions, and the nation. I'm very excited to join the Venture Creations team to help founders and teams succeed, and change the world." 
Klarin takes over from retiring co-interim directors Peter Parts and Roy Pierce, who led Venture Creations for the past two years.
"We offer our sincerest appreciation for the fine work of Peter and Roy in their leadership roles," added Raffaelle. "Together, their combined expertise skillfully advanced the work of our Venture Creations companies to gain traction and succeed."
Topics