Start-up companies launched at RIT Venture Creations business incubator graduation
Launched companies focus on addressing mental health, creating artificial intelligence software to monitor power lines, and developing next-generation battery materials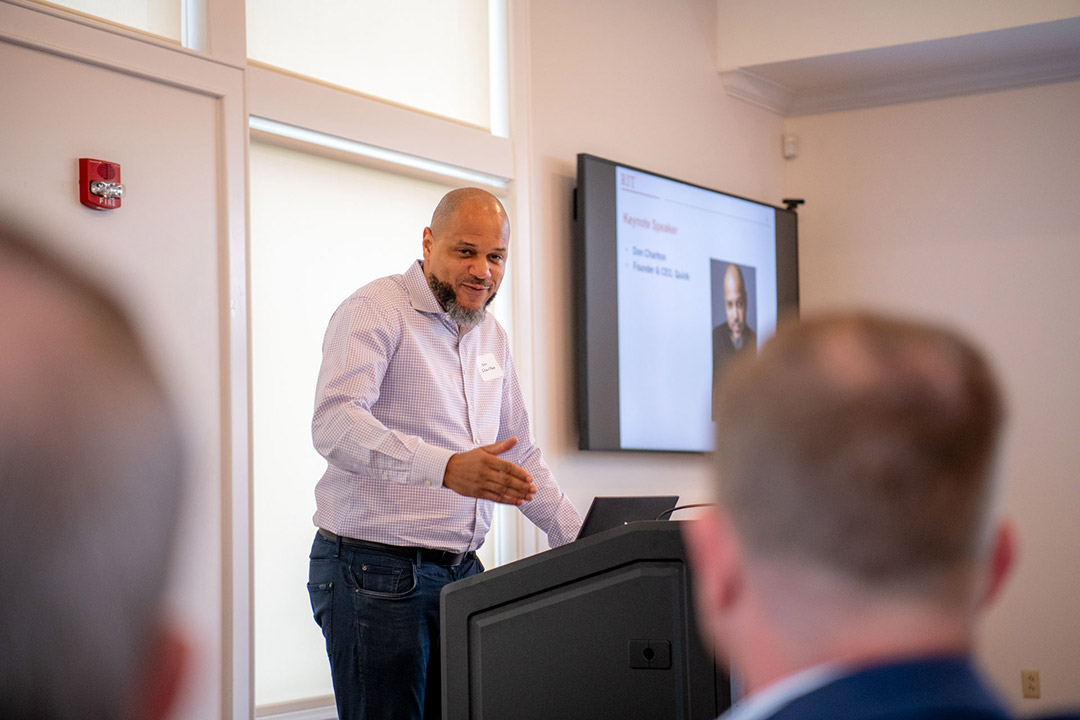 Erin Halligan-Avery has seen the mental health struggles that people face as they navigate through rigorous academics, complex family and work situations, and many other emotionally difficult issues, such as depression and anxiety. As a former wellness coordinator, and now founder and president of ConcernCenter, Halligan-Avery is helping individuals and organizations manage their issues and find resources through a mobile app service.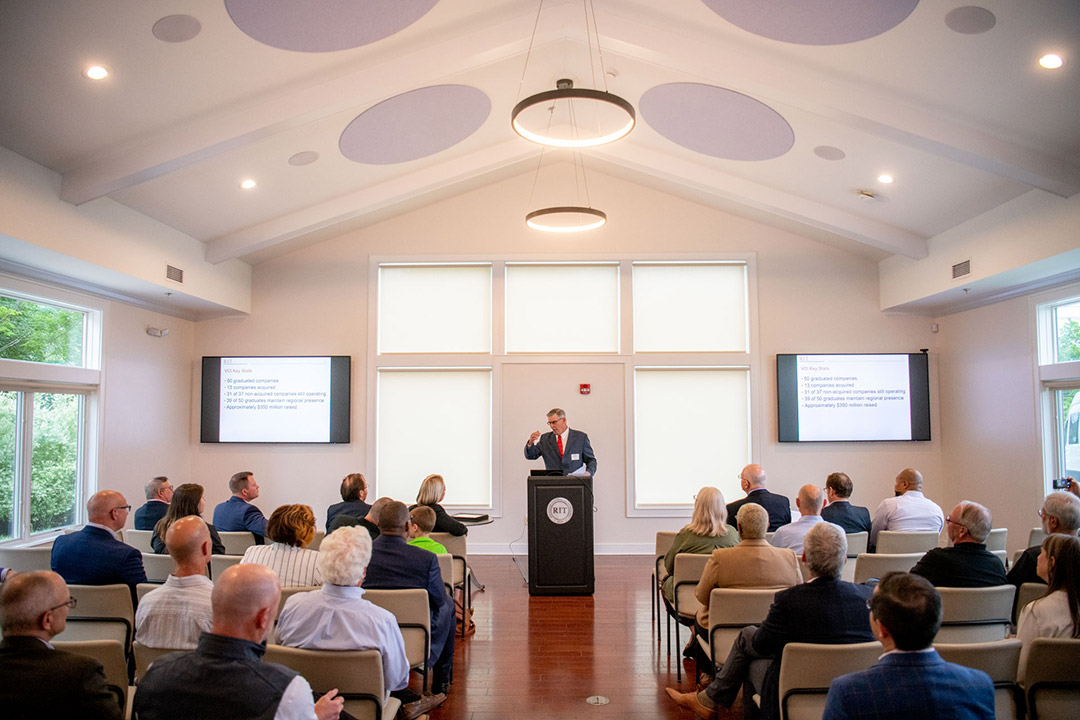 Nate Tangeman
On June 13, ConcernCenter joined two other start-up companies that graduated from RIT's Venture Creations business incubator with a commitment to continuing to engage local and regional suppliers, expand labor forces locally and nationally, and impact the regional economy. Venture Creations, which was created in 2003, helps start-ups commercialize products and raise outside risk capital by providing companies with coaching, connections to industry professionals, custom programming, and access to countless other resources.
"The companies that we are celebrating will impact this region through hiring, engagement of suppliers, and as consumers," said Ryne Raffaelle, RIT's vice president for Research. "This year's graduating class represents real-world validation of our mission."
To date, the incubator has graduated 50 companies, with 13 of those companies being acquired. In addition, 83 percent of the non-acquired companies are still operating, with 39 companies maintaining a regional presence. More than $350 million in capital has been raised.
The 2023 graduating companies are:
ConcernCenter is a mobile app that works with individuals or organizations to identify resources that manage certain issues such as anxiety, poor attendance, depression, and more. The service provides a prioritized list of helpful resources such as mental health professionals, school staffers, confidential help lines, and community programs. Industries served include colleges and universities, employee assistance programs, K-12 school districts, and veterans associations. It is fully customizable to any organization, compatible with Google Analytics so administrators can see which concerns are selected most often, and is Section 508 Americans with Disabilities Act compliant.
"Venture Creations Incubator taught me the essential aspects of business ownership and start-up culture, everything from creating a pitch deck, to completing revenue projections, applying for trademark, and understanding my customers," said Halligan-Avery. "As this was my first time starting a company, the leadership from Venture Creations was pivotal to my success as a small woman-owned business."
SmartKable Powerline Solutions, based in Skaneateles, N.Y., uses a patented network and artificial intelligence software to monitor power line losses and line health in real time while predicting the remaining life of the lines. A company goal is to make green energy more efficient and reliable. The solution has been proven and refined during field testing and pilot projects at multiple Indian and Caribbean utilities. SmartKable was founded by Doug Hirsch.
Graphenix Development Inc. develops next-generation battery materials and high-energy storage technologies. Its silicon anodes integrate into existing high-production battery manufacturing, enabling companies to reach an electric and sustainable future. The company, which was created out of a passion for helping combat climate change through technology innovation, also collaborates with product and battery manufacturers from a range of industries.
According to co-founder Robert Anstey, "our plans are to raise a larger investment round by the end of this year and begin commercial production of our anode for defense and high-performance electronic device applications. We will then develop and secure electric-vehicle development agreements in order to be installed in EV's by 2028."
RIT President David Munson recognized the importance of the university's thriving entrepreneurship programs that foster innovation and creativity and help provide an essential pipeline to start-up incubators.
"Our university community is bursting at the seams with ideas — including those being recognized this evening — that will change the way we all live and work. Our students have an opportunity to practice acquired skills, learning how to collaborate, but also to go it alone when necessary, tackling challenges when needed resources are seemingly unavailable. Our budding entrepreneurs may not always be sure of their next steps, but they are sure they are onto something amazing. Our students discover that success often requires failure, yet they learn how to persist because they are confident that they will succeed using the types of skills and attitudes that have played a key role in the companies we celebrate this evening."
Delivering the keynote address was Don Charlton, a 1999 graduate of the graphic design program in RIT's College of Art and Design, and founder and CEO of Quicki, a platform where professionals network quickly and effectively using short video messages. Charlton, who is described as a start-up evangelist, writer, and public speaker, also founded JazzHR in 2009. JazzHR, formerly The Resumator, was the first widely adopted start-up recruiting solution in Silicon Valley with a customer list that included many big-brand tech companies at the early launch stage, such as Instagram, Dropbox, Evernote, Tumblr, Uber, HubSpot, Warby Parker, Barack Obama for America, and more. The company was acquired in 2021 for $180 million.
"As I was trying to build my company, I stared into the face of failure repeatedly. My journey felt like climbing a mountain without any gear," said Charlton, who has been profiled in The New York Times and Black Enterprise, and was named one of the 25 Most Influential African-Americans in Technology by Business Insider. "But, people really do this without gear, until they reach the top. If you want success, you need to prove that your company won't fall. This is where you separate the 'want-trepreneurs' from the entrepreneurs. The will to survive is how start-ups thrive."
Charlton also had a message for company supporters. "Double down on your support. You can impact the lives of entrepreneurs with a few simple words: Don't fall; don't fail."
Venture Creations Director Johan Klarin said, "At Venture Creations, we are all about supporting people who think differently. We see the joy that comes from building a company. When it works, it's an amazing feeling and it's great to see start-ups when they succeed."
Added Anstey, "I felt that Venture Creations was a good sounding board for our strategy and plans. They helped to secure some funding from grants and our investment from the RIT Venture fund. They worked through some problems and issues we had over the years and were encouraging."
"I've learned that entrepreneurship is not for the faint of heart and is an art more than it is a science," said Halligan-Avery. "There are so many moving pieces, and much of a company's success is reliant on making strong connections, greeting obstacles with curiosity, and persevering through the rough patches."
Topics