October 29, 2019
by Luke Auburn
College of Liberal Arts earns 2019 Changing Hearts and Minds Award
Annual award recognizes the college for making strides in diversifying RIT's faculty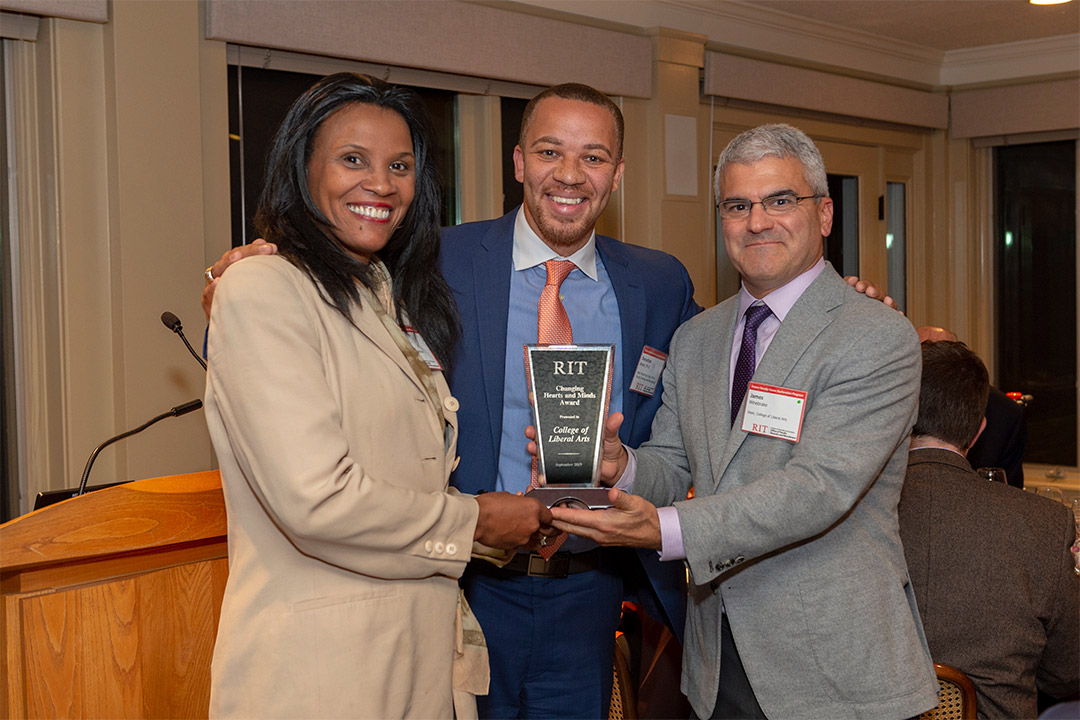 Rochester Institute of Technology's College of Liberal Arts received recognition for its success diversifying the university's faculty ranks and helping to advance RIT's overall commitment to diversity. The college earned RIT's 2019 Changing Hearts and Minds Award, sponsored annually by RIT's Office of the Provost and the Office of Faculty Diversity and Recruitment.
"This award embodies both a dedication to and materializing of our shared inclusive excellence values by way of recruiting an excellent and diverse faculty," said Donathan Brown, assistant provost and assistant vice president for faculty diversity and recruitment. "It is important that we take a moment to acknowledge how our colleges are materializing their inclusive excellence initiatives."
In the 2018-19 academic year, nearly 25 percent of RIT's newly hired female faculty and 20 percent of RIT's newly hired African American, Latin American and Native American (AALANA) faculty were in the College of Liberal Arts. Last year the college also hired its first postdoctoral researcher, Katrina Overby, a former Future Faculty Career Exploration Program participant.
"Congratulations to Dean James Winebrake and everyone from the College of Liberal Arts who worked so hard to achieve this award," said Ellen Granberg, RIT provost and senior vice president for Academic Affairs. "Increasing AALANA faculty is not something that happens by chance. Our partners across campus are making a concerted effort to recruit and retain the best talent. By including everyone at the table, collectively, we push RIT forward."
Winebrake and Senior Associate Dean Laverne McQuiller Williams accepted the award on behalf of the college at an event at Liberty Hill as part of the Future Faculty Career Exploration Program. The award includes $2,500 in funding to further advance the college's underrepresented minority faculty recruitment and retention initiatives. Past awardees have used the funds to send faculty to diversity-focused conferences, provide start-up packages for female faculty members and facilitate college diversity and inclusion events.
"We deliver this award annually to the college that has had the most impact in the last year toward diversifying our faculty," said Keith Jenkins, RIT's vice president and associate provost for Diversity and Inclusion. "It represents that the College of Liberal Arts made a commitment, acted on it and had wonderful results. Recruitment is the first step of a journey and we must also work to support and retain our talented new scholars."
Carmala Garzione, associate provost for Faculty Affairs, added that "Colleges must not only cultivate and engage a robust pool of potential faculty applicants—they must do so in a manner that intentionally and proactively engages women in STEM and underrepresented minority potential candidates overall. As our outcomes continue to show, when this approach is engaged, RIT is the beneficiary of an excellent and diverse faculty."