RIT names Neeraj Buch as new dean of undergraduate education and associate provost for student success
Michigan State University department chair assumes role Jan. 16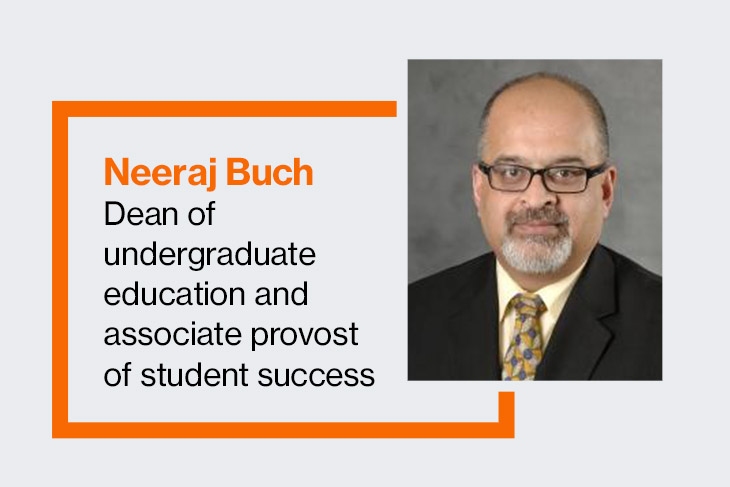 Rochester Institute of Technology has named Neeraj Buch as the new dean of undergraduate education and associate provost for student success. Buch begins his new leadership role Jan. 16.
Buch joins RIT from Michigan State University after two decades of experience in the Department of Civil and Environmental Engineering, including roles as professor, director, department chair and associate dean.
"The leadership of Dr. Buch will be imperative as we continue to expand RIT's undergraduate educational portfolio and improve our retention and graduation rates," said Ellen Granberg, RIT provost and senior vice president for Academic Affairs. "His experience in these areas, as well as his reputation as a highly qualified academic with a passion for undergraduate education, will raise RIT to another level as we help our students thrive and succeed."
Buch's accomplishments as associate dean and department chair include using data-informed interventions to improve graduation rates, enhancing support for first-generation students, establishing a first-year engineering program that integrates academics with professional and personal development, and leading academic student services for a college with 6,000 undergraduates.
While at Michigan State, Buch served on many university-level committees related to student success including the Student Success Committee, the Enrollment Management Group, the University Honors College Committee, and the Teaching Effectiveness for Faculty Committee. He has also served as a mentor and advisor to individual students and student organizations including the American Society of Civil Engineers student chapter, the American Society of Civil Engineers concrete canoe team, and the Chi Epsilon Civil Engineering Honor Society.
Buch's research interests are in the areas of concrete pavement design, rehabilitation, non-destructive testing of pavements, and composite materials. His work is published in more than 100 peer-reviewed archival journals and conference proceedings. He is an honor member of Chi Epsilon, the civil engineering honor society; fellow of the American Concrete Institute; and honorary member of the International Society of Concrete Pavements. He has earned many awards and distinctions for excellence in teaching and outstanding research. He also has been named principal investigator or co-PI on many grants, earning millions of dollars in research funding.
Buch earned several degrees in civil engineering, including a bachelor's degree from Sardar Patel University in India; a master's degree from University of Michigan; and a Ph.D. from Texas A&M University.  
In this new role, Buch is looking forward to supporting RIT's already stellar undergraduate programming.
"As dean of Undergraduate Education and associate provost of Student Success, I will champion the quality of the undergraduate academic student experience at RIT and bolster the extraordinary reputation of the university and its students across the nation and the globe," Buch said.
A committee of students, faculty, and staff led the search.
"I would like to thank the entire committee, particularly Trustee Christine Whitman, as well as co-chairs James Hall, dean of University Studies and executive director of RIT's School of Individualized Study, and Javier Espinosa, chair of the Department of Economics," Granberg added.