Engineering technology student upgrades industrial robot to be used for future classes
Pete Van Camp uses capstone project to help improve next generation training on industrial robots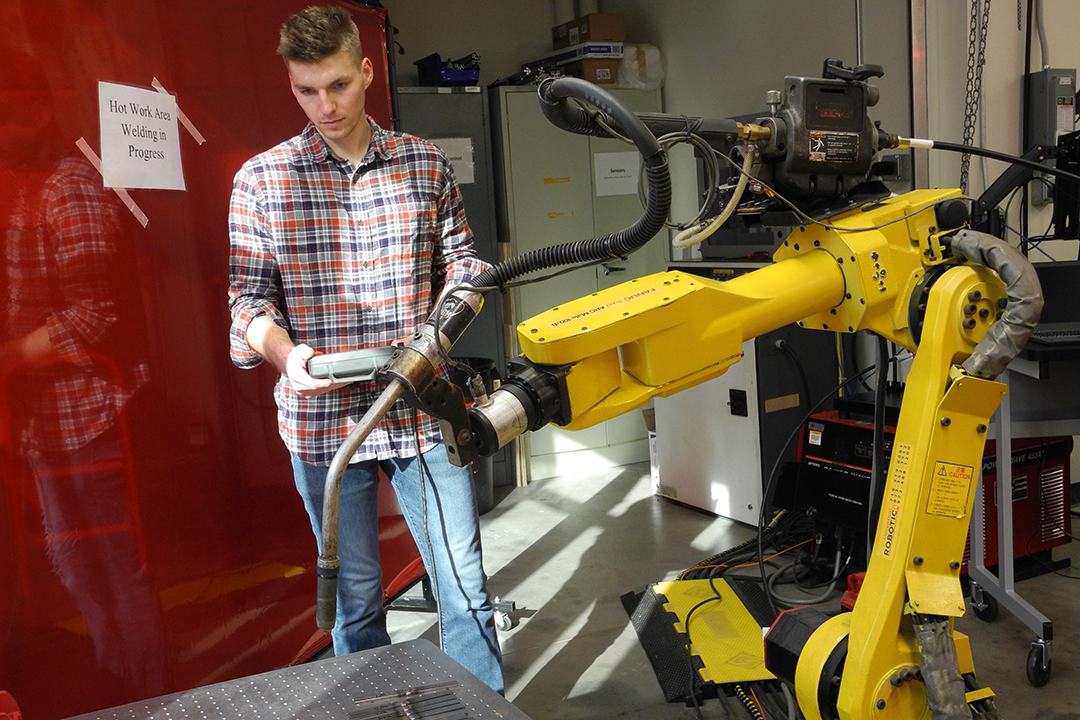 Pete Van Camp played detective before he acted as a manufacturing engineer for his graduate capstone project.
His project involved upgrading a Fanuc industrial robot, which had been sitting idle for a short time in the Fabrication and Robotics Lab located in RIT's College of Engineering Technology. Limited documentation about functions, missing cables and components, and fewer technical people from the company to provide service support were just a few of the barriers Van Camp encountered as he began.
"It was probably a year of mystery before I really got into doing any of the work," said Van Camp. "It was a lot bigger project than I expected. Most of what came with the robot didn't work, it was missing a bunch of cables to get the robot welding system functional. I didn't know that much about welding, let alone robotic welding."
He reached out to robot welding integrator Lincoln Electric and spoke with one of the technical salesmen, who invited him to visit company headquarters in Cleveland.
"I learned a ton of stuff about how they used the welding robots. Being able to see how their systems were set up, and learning about different welding processes, it was huge," said Van Camp, who is from Marion, N.Y. He will graduate this May with dual bachelor's and master's degrees in mechanical engineering technology and manufacturing and mechanical systems integration.
Intended for automotive manufacturing plants, the robot was purchased by CET several years ago. Certifications for current industry standards lapsed.
"Fanuk is an established brand. But often the guys that understand it the most are 50, 60 years old. They don't usually write a lot of articles and post them online about how to do things like people do today," he said. "Instead of doing YouTube, I was calling technicians and engineers trying to figure things out. It is kind of crazy how much knowledge that generation has, and to lose it—that's huge."
Manufacturing's changing workforce includes a large percentage of experienced workers of retirement age, and knowledge in use of traditional robots is decreasing. Companies and educational institutions are building workforce development programs that encourage new skills in automation and robotics to engage a new generation of manufacturing engineers.
Van Camp's work on the robot and as a teaching assistant in the department can be part of this bridge from past to present—and future.
"Pete had to be easiest student for me to advise ever because he is an entrepreneur and worked independently on the entire capstone. He would come to me for quality engineering questions but once I spent a few minutes explaining what I would expect to see, he completed the task professionally," said Duane Beck, professor of practice in CET's manufacturing and mechanical engineering department, and Van Camp's faculty adviser.
Van Camp contributed not only a modified and upgraded robot, but guidelines for future faculty and student engineers to use the equipment as part of other coursework and projects.
"I am helping other students get up to speed, so that when I'm gone, they will be able to make updates. One is learning the PC logic and graphics, then we'll work on the robotics program while I am still here so that he can make changes, and I'll be here to answer questions," said Van Camp, who will begin work after graduation with MSI Tec in Colorado as an automation field applications engineer.
Topics