President Munson expects restrictions to lessen as vaccinations increase
More in-person classes expected in fall semester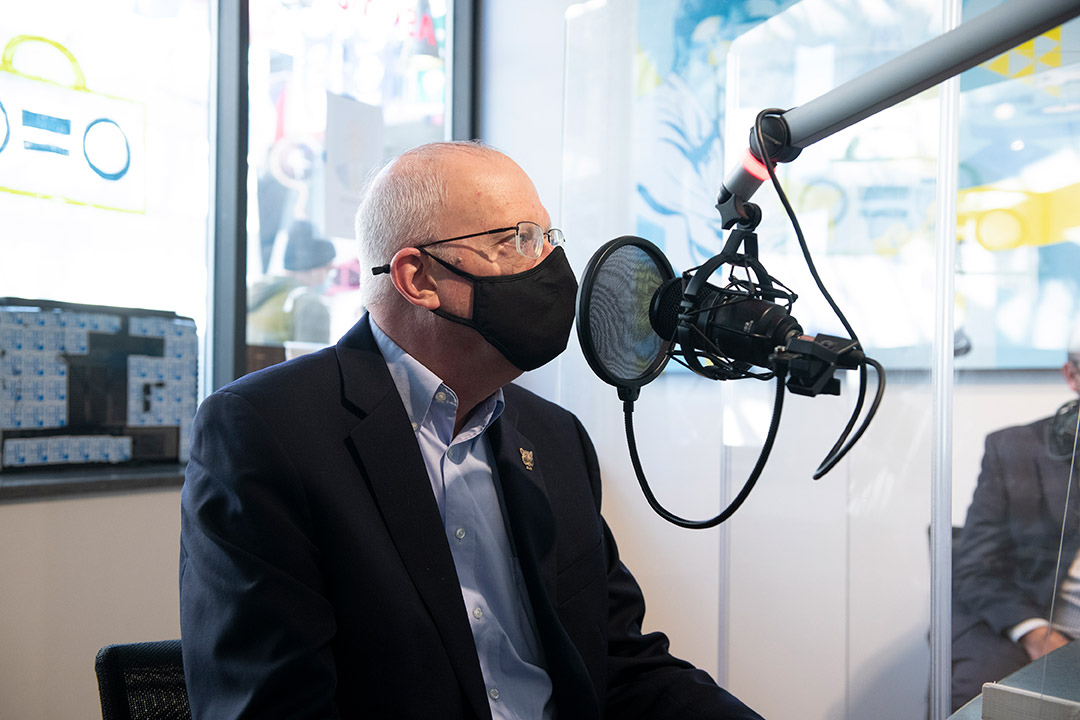 A. Sue Weisler
As more people receive the COVID-19 vaccination, RIT President David Munson said more restrictions will likely be lifted as the number of positive cases of the virus dwindle on campus, in the community, and in the world.
"With more people vaccinated, it's safer to have more people back on campus with a little greater density, and we want to be creating a little bit more of a normal campus atmosphere before the end of this semester," Munson said during his latest "Ask Munson" question-and-answer interview Wednesday on WITR (89.7) radio.
It has been a full year since the RIT campus closed and classes went online as the pandemic spread. Millions of dollars have been spent improving air filtration systems in buildings, installing barriers, testing, enhanced cleaning, and other modifications that have helped keep the campus and its students, faculty, and staff as safe as possible.
"I think for RIT, almost everything has gone well," Munson said. "I credit our students. You students have followed the rules so well."
He also credited RIT's administration for planning, the faculty for transforming the way they were teaching, and staff members, who were involved in everything that has been done.
But he admitted he was a bit concerned in January when everyone needed to be tested again before coming on campus. Those tests yielded about 180 students and 40 employees who tested positive for the virus and needed to be healthy before they were allowed to return to campus.
"We wondered what we'd be in for," Munson said. "But as you know, we've been testing the entire student body every week, and typically we're finding about one positive in every 1,000 students. And that prevalence of virus is just astonishingly low, much lower than the surrounding community. Kudos to our students. Let's keep it going."
If the declining trends continue, and if everyone continues to keep vigilant, he said, everyone should be optimistic for a more normal fall semester.
"It won't be completely normal. But it will be mostly face-to-face classes," Munson predicted. "And yeah, people still might be wearing masks. But we would expect a lot more of the social distancing guidelines will be a bit more flexible. And I think it will feel way more normal than this semester has."
He recalled a student he was recently having lunch with aptly summed up the vibe he feels on campus.
"He said every day feels like Sunday," Munson said. "I look out my windows from Eastman Hall and wow, there just aren't as many people as normal out on the Quarter Mile. And you go in buildings and a lot of people just aren't there. So many people are working from home. We're actually going to work to start changing it before the end of the semester. We have a lot of people who have been vaccinated."
And when asked if two years from now he thought things would be back to normal, Munson said it depended on the viral status in the world, not just on campus.
"I would hope by then nobody is wearing masks because by then we just don't need to," he said. "I would hope the world has defeated the virus. But it's not just a matter of the United States defeating the virus, or New York state defeating the virus. It's a worldwide problem because people travel. Will the virus be pretty well eradicated in Africa, in South America, in Asia, what have you? Because it's not just us. This is a worldwide problem. But I'm very optimistic that we will have few or no restrictions a couple of years from now."
Munson said he wouldn't have done anything differently since the pandemic hit.
"We took some precautions that maybe we didn't have to, but we didn't know how bad things might get," he said. "You could always go back and say hey, we could have saved money on this, or maybe we didn't need to do this much cleaning. Some of those things are true, but I think given what we knew at the time, I think we made the best decisions we could. This virus is deadly. We just had to be so careful. I'm just very happy about how it has turned out. This is just not a credit to me. I've had an amazing team that I've been working with. It's a lot of group thinking, a lot of group decision making. Many, many heads are way better than one. People from every segment of the university have been involved."
Other topics Munson discussed:
Action Plan for Race & Ethnicity: Launched last spring, the plan seeks to address ways the RIT campus can be more diverse and inclusive. "We already have a Division of Diversity and Inclusion, with 38 staff members—much larger than what most universities have. But even with that, there's always more we can do and we're always looking to get better," Munson said. "This is certainly a time when we thought we should re-examine." He said the draft, vetted with different governance groups on campus, includes three main pillars. There are two main action items in the pillar relating to students: "We're going to be working on increasing the number of minority students on our campus in various categories, and the second has to do with student success, looking for higher graduation rates, and putting in a number of programming efforts to make that happen." Comments from the RIT community are being accepted by Vice President and Associate Provost for Diversity and Inclusion Keith Jenkins before the final plan is developed by the end of this semester.
Imagine RIT: Some 200 exhibits from students and faculty have been submitted for this year's Imagine RIT: Creativity and Innovation Festival  to be held virtually on May 1. "There will be a certain number of channels where you can interact with the presenters," Munson said. "I didn't want to have a festival that was 100 percent prerecorded. I wanted interaction. And I think it will be a good festival. It won't be normal, but we're going to do as well as we can."
Commencement: In-person commencement is likely in mid-May. Although not finalized, a likely scenario will have many small ceremonies over two days for RIT's 2021 graduates, and possibly a separate ceremony for 2020 graduates. Current state guidelines limit occupancy of large indoor arenas such as the Gordon Field House and Gene Polisseni Center to 10 percent for entertainment events. Assuming these same guidelines can apply to commencement, that would allow approximately 580 people inside the Field House and about half of that in Polisseni. Students may be grouped by college, with each student allowed to walk across a stage. "The challenge is guests. Right now, we're not going to be able to have parents and guests indoors. We don't see a way for them yet to be inside in the facilities," Munson said. All events, however, will be live-streamed.
Athletics: Spring teams are playing, but RIT is following state guidelines which currently do not allow for spectators at college sporting events.
Student Government impeachment: The Student Government recently voted to impeach one of its senators after it decided comments he made were offensive. "I feel that the process that the Student Government followed was excellent," Munson said. "They followed all of their rules and bylaws. This is absolutely an educational experience for everybody involved. It may be painful for some, that's for sure. Because I had questions on whether that decision might have violated the RIT policy on free speech for that student who was impeached, I appointed a review panel with a number of RIT staff members on it and a few trustees on it. I'm expecting to hear from them by the end of this month. Based on what I hear from them, I then will make a final decision."
IMLC: About 260 names were submitted in the naming contest for the Innovative Maker and Learning Complex. Seven finalists were selected and are being voted on by students. "I thought there was an argument in favor for every one of those," Munson said. "The student input will be taken very seriously, and I'm pretty sure one of the seven names is going to be it. We need something that is easy to say and if we're lucky, a little bit catchy. It's just going to be totally awesome. We're so excited about what will be coming our way within the next couple of years."
The final "Ask Munson" session this academic year is planned on WITR on April 28.