Recent RIT graduate presented with Distinguished Lee Scholar award
Biomedical engineering graduate Chiara Young honored for integrity, leadership, service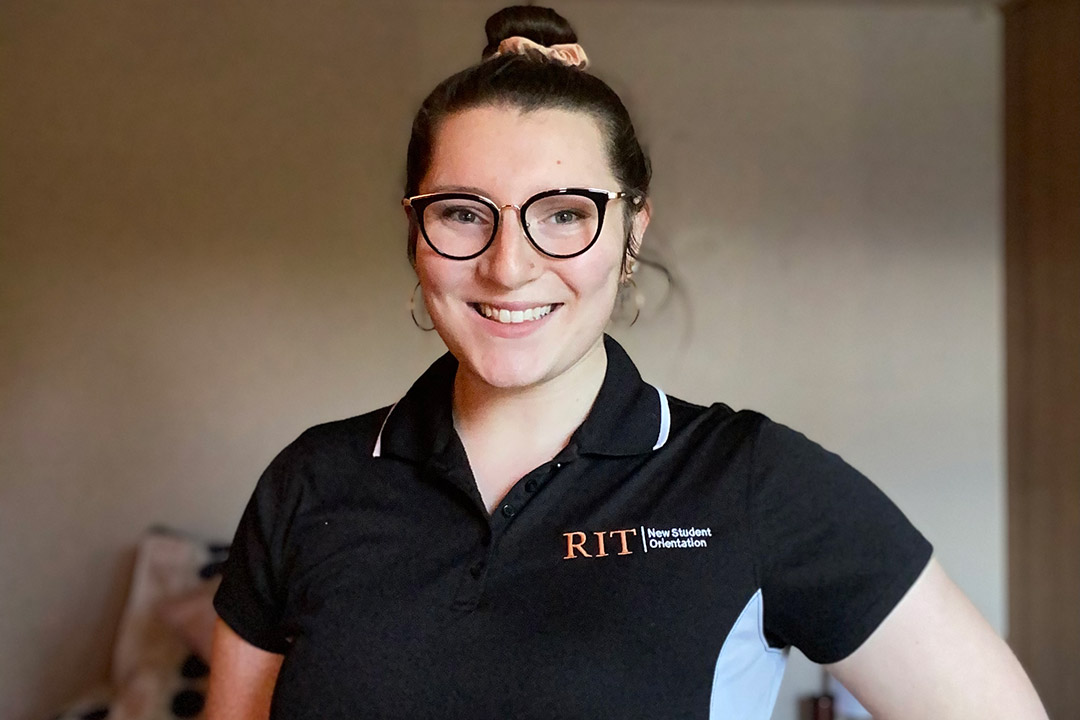 Chiara Young, a fifth-year biomedical engineering graduate from Sherman, N.Y., received the 2021 Distinguished Lee Scholar award from the Patrick P. Lee Foundation. Young, who graduated in May, was presented with the award based on her integrity, leadership, and service to others. RIT has been a partner school of the Lee Foundation since fall 2019.
How is the scholarship administered? 
The foundation looks for students who demonstrate values of service, leadership, and integrity and they have been growing their support of engineering and engineering technology students through annual scholarships for engineering students who are nearing graduation. 
I was chosen as one of four scholars from RIT and received significant aid for my fourth- and fifth-year of study at RIT. As an extension of this scholarship, the Patrick P. Lee Foundation selects one exemplary Lee Scholar to serve as an ambassador to the foundation as the Distinguished Lee Scholar. In the fall of 2020, the foundation members hosted a Zoom call to congratulate the Lee Scholars and encouraged us to apply for this esteemed award. This takes the scholarship to a whole new level altogether, providing students with as much financial support as possible toward student loans and tuition costs and to help the students succeed during their early professional years. It is an absolute honor to be the recipient of this award. The Patrick P. Lee Foundation has not only invested an incredible amount of support through their financial donations but also showed so much support through the conversations we shared and the community we built along the way. 
How has winning this scholarship impacted you personally? 
I feel so blessed, thankful, and truly humbled to have been chosen as the recipient of the Distinguished Lee Scholarship. I am one among so many other deserving scholars. I know they are all exemplary leaders in their respective programs — intelligent, driven, and hardworking people that I admire. The Patrick P. Lee Foundation supports many programs and the impact this foundation has had on my life and the lives of others has changed my perspective on what it means to give. I am truly inspired and will pay it forward the first chance I get. 
How would you say you demonstrate the values of service, leadership, and integrity? 
Service is not only concerned with what one does, but also with how one lives. I always find myself looking for opportunities to help people, which is part of what led me to the field of biomedical engineering. There is a great deal of work that goes into improving technology in regards to health care. The better the technology, the more help we can provide, increasing the quality of life. Beyond the bounds of my career, the drive to serve and help does not disappear. It lives in the little acts of kindness that can be shown at any time of the day. For instance, providing a warm meal for someone in need and checking in with people. Basically, anything I can do to help wherever I can. 
I have had the distinct honor to be a leader in the RIT Orientation program. I was part of a group of six students who organized and executed the program. I began my tenure with RIT Orientation as an orientation leader, moved into a supervisor position, and then this leadership position, a student coordinator, for two years.
For me, leadership is something that you find yourself. If you want to be a leader, you have to take the steps toward getting there, starting with leading by example. I believe that service plays a huge role in leadership. My goal as a leader is to help people better themselves toward reaching their full potential. As a leader, you are a resource for the people around you doing everything you can to help them succeed.
Integrity is about doing the right thing no matter who's watching. At the end of the day, I answer to myself. If I am not happy with my actions or decisions, I have to live with them. That is enough motivation for me to make a conscious effort to live with integrity. Working in the medical device industry, the importance of integrity is magnified ten-fold. It gives me immense joy to know that my work helps ensure that the products being sold and used by surgeons are quality products. 
What have you loved about studying at RIT? 
I have truly learned a lot. I think for me, the biggest thing I can take away from RIT is how to be a compassionate professional. Something unique to RIT are the co-op opportunities for students to gain some professional experience before graduating which teaches them communication skills for the workplace, how to be responsible with deadlines, and recognize when to ask for help. Beyond this, RIT has taught me the importance of acceptance of self and others. Our school has a lot of different people with extremely different backgrounds and interests. Coming from a very small town with little diversity, being at RIT has opened my eyes to so many new cultures and people, which has been a beautiful experience. 
What are your post-graduation plans? 
I currently work in the quality department at ConMed Corp., as a microbiologist and sterilization specialist. I received an opportunity to do a co-op at this company, which continued into a full-time position, and so I hope to continue making a difference as part of this organization.
Topics