RIT Housing handles complicated move outs during pandemic
Some 6,000 students needed to collect, store or ship personal items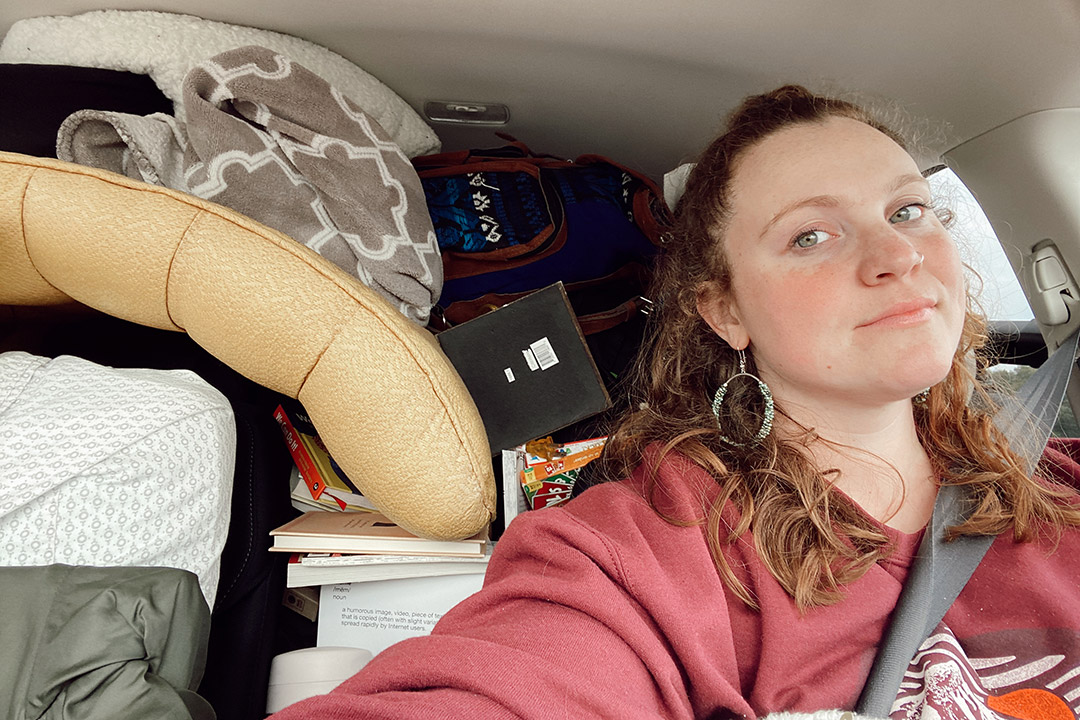 As social distancing requirements forced distanced learning, students across the country suddenly had to consider where they would be doing that learning.
For the estimated 6,000 Rochester Institute of Technology students who lived on campus in a residence hall or apartment, the dilemma came during their spring break week in early March, which was then extended another week before their online classes would begin.
"We had students all over the world on spring break wondering what their options were, not knowing how they would get their items, what they were going to do if their countries were shut down or if they could have a third-party access to their rooms," said Michelle Teal, assistant director of customer relations for RIT Housing. "Because of this, we quickly developed new processes to manage this new situation that allow students to communicate with us regarding their plans for the remainder of spring semester through our student portal."
Staff members from RIT Housing, Residence Life and Student Affairs were faced with an array of unique situations from students. One student was visiting home in California with family and stayed, but needed their passport mailed back. International students couldn't go home because many borders had closed and they had no other place to live. Other students were home with family but their textbooks were in their room on campus.
"Our office was very busy those first two weeks," Teal said. "We were managing a rapidly evolving situation with changes occurring by the hour. We worked with various departments daily to disseminate accurate information to students and families. We created options that included students to remain at home and to return at a later time when we could manage social distancing."
Another factor for consideration was what to do about students who returned to campus that had been traveling internationally for spring break or from study abroad. RIT Housing monitored space as students were leaving and reserved the ones that met the criteria for quarantine, with private bedroom and bathrooms. The RIT Housing team prepared more than 40 spaces for students to remain in quarantine for 14 days in case they had been exposed to the virus.
"Our primary focus was to guard against the spread of COVID-19 and to keep our students, staff, faculty and the community around us in a healthy and safe environment," Teal said.
Some students moved out on their own, making appointments before they arrived so social distancing could occur. Some who didn't come back to campus were provided a list of moving and storage companies to move items out of their rooms. RIT Housing helped facilitate the process of third-party access between students, families, friends and moving companies to assist with the removal of items. Students who remained home were offered the option to complete a virtual checkout process which if completed by April 5, would give them a 50 percent credit for their room fees applied to their student account.
About 250 students were approved through Student Affairs to stay on campus until the end of the semester.
The situation caused students to scramble as well.
Amelia Hamilton was celebrating her last spring break of college with 10 friends in a cabin in the middle of the Adirondacks when the restrictions were being imposed.
"We were hiking, snowshoeing, out in nature all that time, enjoying life with no technology or internet up there," said Hamilton, who graduated this past week with a degree in visual media. "We finally went into town in Lake Placid and saw notes posted on doors with limited numbers of people inside."
Unsure if state borders were next to close, Hamilton left the mountains, came back to her Perkins Green apartment, packed what she could fit in her car and drove three days to her family in Austin, Texas, where she completed her final semester.
"I was stressed and overwhelmed and kind of freaking out," she said. "I just packed my valuables and took pictures of my furniture. If I knew when I was coming back to Rochester, hopefully to live after graduation, I could have put it in storage."
She ended up posting her furniture for sale and had friends sell it for her. They got permission and made an appointment from RIT Housing five or six times to gain access to her apartment.
"I think RIT Housing went above and beyond what I expected," Hamilton said. "They were so understanding. There wasn't a manual how they should do this, but they acted so calm and tried to understand all of our needs. I'm proud to be part of a community that cares for each other and makes sure we're safe and had what we needed. Those are the priorities RIT had for us."
Topics