RIT students can beat the blahs during FreezeFest
Skating, hot chocolate, games, and s'mores planned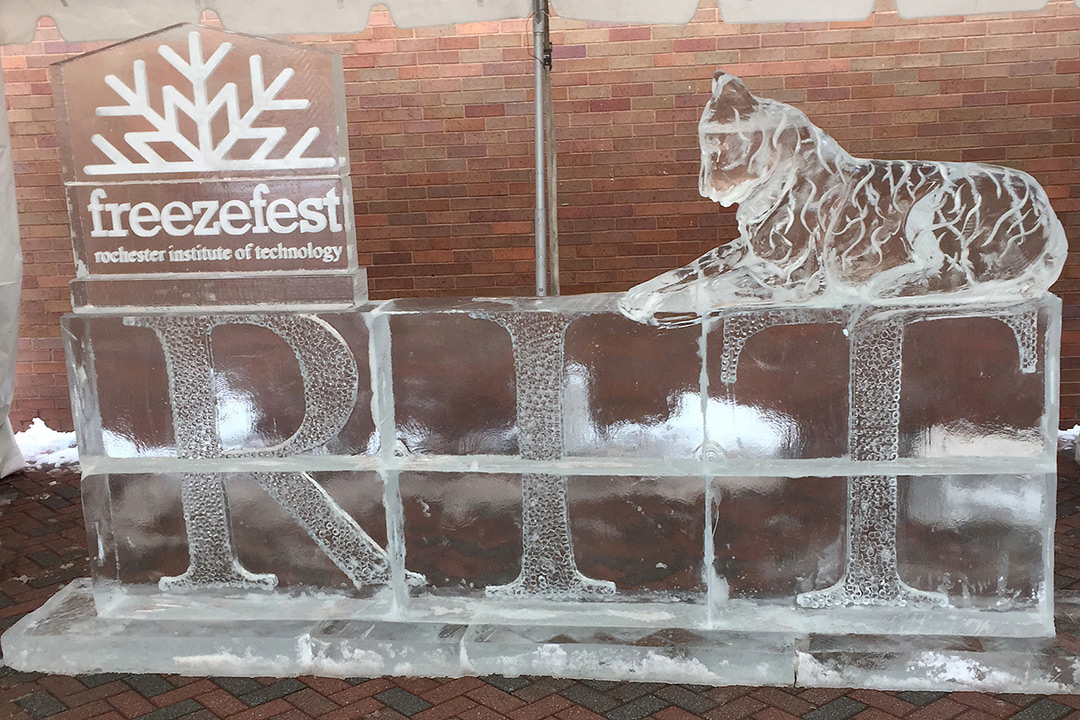 Ice skating, downhill skiing, hot chocolate, movies, and more are planned for this year's 13-day FreezeFest, beginning Tuesday through Feb. 12.
Since its inception in 2010, FreezeFest has brought students and the RIT community together for an assortment of winter-themed programs and events. Most of the events are not dependent upon snowy days, which happen to be sparse this winter in Rochester.
"The College Activities Board has been hard at work to plan FreezeFest, and we hope students will get out of their igloos to engage in some fun activities with other RIT students," said Ben Ocamb, CAB's director and a fifth-year industrial engineering major from Quakertown, Pa. "It's a chance to celebrate the beginning of a new semester, meet new friends, and enjoy the winter weather together."
Cold weather is perfect for an ice sculpture, which will be carved along the Quarter Mile outside Clark Gym and Campus Center.
And while some events, such as a ski outing to Bristol Mountain, already have a waiting list, there are plenty of other activities scheduled, including snow tubing. In its second year, Ovation: RIT Performing Arts Showcase will feature 16 performances competing for cash prizes. The competition will be held from 6-8 p.m. Friday in Ingle Auditorium.
Several sporting events are also in the lineup, including men's and women's hockey and basketball and a track and field competition.
Students will also have a chance to snag free swag at FreezeFest events, including winter hats, mugs, and pajama bottoms.
Events kick off on Tuesday with Cozy Corner, sponsored by New Student Orientation. Students can relax with hot chocolate, crafts, and a massage in the Fireside Lounge from 11 a.m. to 3 p.m.
All events, unless otherwise mentioned, are free and open to RIT students. Advance registration is encouraged on the FreezeFest website.
Other scheduled events include:
Wednesday, Feb. 1
Thursday, Feb. 2
Friday, Feb. 3
Saturday, Feb. 4
Monday, Feb. 6
Tuesday, Feb. 7
Wednesday, Feb. 8
Thursday, Feb. 9
Friday, Feb. 10
Saturday, Feb. 11
 Sunday, Feb. 12
In addition to these events, Margaret's House will be collecting food for RIT FoodShare from Feb. 1-10 in conjunction with FreezeFest. Margaret's House will also be highlighting themes of kindness, caring, community, and hunger in their classrooms.
Topics