Ovation: RIT's Performing Arts Showcase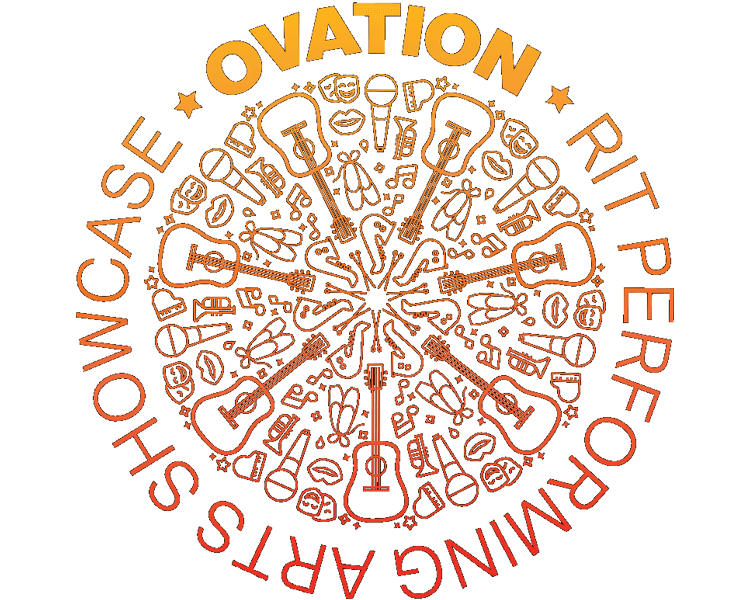 Performing Finalists
"Jealous" performed by Dewe
Pandemic step team
Andrew Plays The Piano Season 1 Episode 1
"Every time we say goodbye" performed by Ana Richi
"Bauklotze" performed by Meghan Wengert
"Freshh Invades The Tigers" performed by Desire Chiruza
"Vienna" performed by Riley Kranick
"Back to the Future Overture / The Magnificent Seven" performed by The Trumpet Quintet
"Big Shot" performed by RIT GSO Jazz Performance
"Desperado" performed by Taylor Greider
"Turning Page" performed by Alexandria Pross
A Short Hike for Piano (arr. Brian Phung)
"The Tiger of San Pedro" performed by Midnight Wave
"Beauty" performed by Kaitlyn Moy
"Need Somebody to Love" performed by Eight Beat Measure
Shiva Stuti, Bharatnatyam performed by Vaishnavi Solunke
Per the RIT Safety Plan, attendance at this event requires all attendees to be in compliance with the RIT Event Safety Guidelines. All attendees and participants must provide proof of vaccination and photo identification. Current RIT students, faculty, and staff that are in compliance with the vaccination policy and do not have access to a vaccination card, can present their RIT compliance pass along with their RIT ID. For more information, visit the RIT Safety Plan.
The showcase is open to all current RIT students (undergraduate or graduate level) who enjoy dance, music, theatre, comedy, juggling, and more. Students may participate as an individual, ensemble or group. There is no fee to register.
Prize money will be awarded to the top performance in each category, and to an overall winner of the showcase. The overall showcase winner will receive $500, and each category winner will receive $300. 
Registration forms must be submitted by the deadline of December 10, 2021, via the RIT Performing Arts Department CampusGroups page. Questions can be submitted to the Director of Imagine RIT, Ann Miller, at imagine@rit.edu.
Download the registration form.
Event organizers will review submissions using CampusGroups. An audio/video file of your performance (YouTube link preferred) must be included with your submission to be considered for the final show. Finalists will be chosen by January 10, 2022. Winners will be announced at the conclusion of the event on February 4, 2022.
* All awards, prizes, and/or gifts given by RIT are taxable to the recipient, students, and non-students alike.
For Non-resident aliens: Any awards, prizes, and/or gifts received by a non-resident alien are immediately taxable at 30%.
All non-resident alien prize recipients should contact RIT payroll/accounts payable as soon as possible to make arrangements to pay their tax due upon receipt of the award/prize/gift. A 1042-S document will be issued at year-end to summarize the amount of miscellaneous income that is being reported to the IRS.
For U.S. citizens and/or U.S. resident aliens: Any awards, prizes, and/or gifts received by a U.S. citizen and/or U.S. resident are taxable at TBD%.
All U.S. citizens and/or U.S. resident alien prize recipients will receive a 1099-MISC document from RIT's payroll/accounts payable, if applicable, at year-end to summarize the amount of miscellaneous income that is being reported to the IRS.
All categories of the Performing Arts will be judged together to determine a final winner. Approximately fifteen finalists will be chosen from the applications to compete during the Ovation event. No more than three performing groups or individuals from any category will be selected to perform in the final showcase.
Submissions containing copyrighted material (e.g., music, dramatic works, etc.) may require permission from the copyright owner(s). In some cases, RIT may already have the appropriate permissions. However, submissions will be reviewed to determine whether additional or separate permissions are required prior to the event. In the event permission is not obtained for a submission prior to February 4, 2022, the submission may not be included in the event.
Each type of performance must adhere to the category-specific criteria below.
We ask that all performing arts entries are sensitive to a diverse audience which includes families and children (people of all ages).
All materials to be performed are subject to review and approval by event organizers. Materials which include foul language, racial or religious overtones, or other topics/subjects deemed inappropriate by event organizers will not be allowed.
Be considerate of other participants.
If special introductions are desired, please send with entry.
No Props, costumes, set pieces will be provided.
A sound system, microphones and lighting will be provided.
No explosive devices or smoke bombs will be allowed.
For ensembles and groups, a majority of participants should be current RIT students. Remaining participants may be faculty, staff, alumni, or non-RIT students/individuals.
Individuals may participate in more than one performance.
At the judges' discretion, points may be deducted for performances that go over the allotted time.
Material used may be original or obtained from any source and/or any suitable subject.
Final Judging
A panel of judges will use a scoring rubric that addresses the following categories: execution, artistic expression, presentation, creativity, and audience reaction.
Please direct all questions related to the competition to the Director of Imagine RIT, Ann Miller, at imagine@rit.edu or call 585-475-4329. Thank you.
We also encourage you to perform at Imagine RIT! Submit your performance to the proposal system. An announcement will be made via Imagine RIT social media and RIT Message Center when the proposal system opens.