RIT students gather to celebrate Thanksgiving, new friends and traditions
Many international students experienced the holiday – and the fixings – for the first time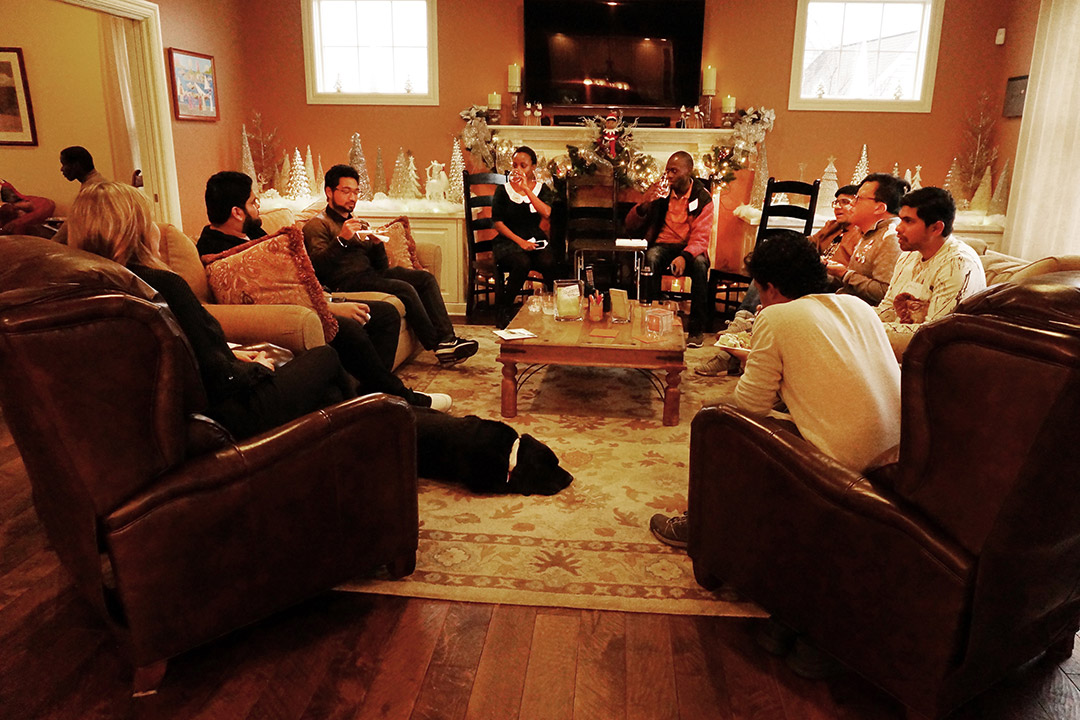 Peggy Tirrell
As millions of American families gathered for the Thanksgiving holiday, a group of students – many of them international students from Rochester Institute of Technology – came together at a university administrator's home to eat, socialize, make new friends and give thanks as well.
"We opened our doors for Thanksgiving dinner," said Sandra Johnson, RIT's senior vice president for Student Affairs. "It's just a wonderful way for us to share a holiday that is unique in the U.S. And people walk away knowing someone they wouldn't otherwise know."
Johnson and her husband, Andy, expected 35 students at their home in Pittsford. Co-hosts were Peggy Tirrell, senior associate director for graduate programs and admissions at RIT's Saunders College of Business, and her husband, Ian.
"This is a caring environment and we're thankful for what we have," Johnson said. "This is an opportunity for them to meet other students, and more of an opportunity to make new friends."
More than 2,400 international students from 106 countries attend RIT this year. Many didn't have an opportunity to go home during the Thanksgiving break, so this is the fifth year the Johnsons have opened their home to RIT students.
The menu, featuring traditional Thanksgiving entrées, included gluten-free and vegetarian options. In past years, some students had never seen gravy or cranberry sauce, so Johnson was happy to explain what was on the table and the reason the holiday exists: to be thankful for what we have.
"A lot of them may only know about Thanksgiving from what they've seen from a Norman Rockwell magazine cover," she said. "It's a lot of fun for us. The best part is listening to the students' conversations and for them to experience the true meaning of the holiday."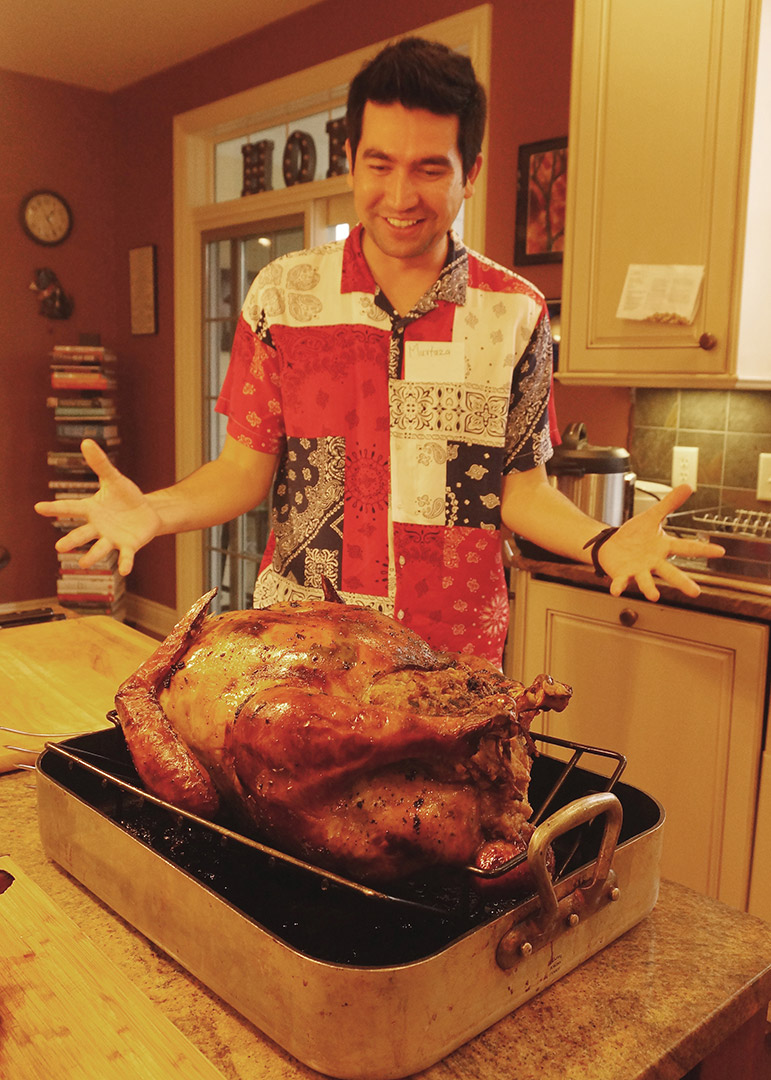 Peggy Tirrell
Murtaza Tamjeed, a software engineering master's student from Afghanistan, was impressed with the 23-pound turkey Andy Johnson took out of the oven. "It's the first time I saw a whole cooked turkey. It's amazing," he said.
The food was placed on a large table in the living room. Plates were stacked and the Johnsons' two black labs, Brittany and Charlotte, were close by, wagging their tails, hoping for an errant morsel.
"OK, we're going to eat. Come on in!" Johnson said. "Thank you for coming today."
She told the group what was being served: turkey, ham, herb dressing, wild rice stuffing, macaroni and cheese, mashed potatoes, gravy, cornbread, asparagus and beet salad with feta cheese, cranberry sauce, cheese tortellini salad with asparagus, corn cakes, butternut squash with spinach, and green beans with truffle sauce.
"Save room for dessert," she said, pointing to a nearby array of pies, cakes and chocolate brownies. "And I have a lot of to-go containers."
The students applauded, took pictures of the table, and then sampled the offerings. They sat in two rooms to eat, and the conversations weren't just about the food. The guests talked about Niagara Falls, Indian culture, football and their families at home.
Everyone was also asked to write down what they were grateful for. The answers would be emailed to the group. Among the responses: their family, warmth, having a good boss, good health, and life.
Tamjeed said he was grateful for "making new friends and plenty of food."
Ajeeta Khatri, a master's student from India studying computer science, was enjoying her second Thanksgiving, especially the turkey, cranberry sauce and pumpkin pie. She was thankful that the holiday allowed her to sleep in.
After dessert, the conversations continued, as Johnson answered questions from the students about the eclectic artwork hung on the walls.
Destin Boukoro, a first-year industrial engineering major from the Republic of Congo, said he enjoyed his first Thanksgiving.
"I learned many things about Thanksgiving," he said. "It is a good tradition. I liked being with all the people, and how it is hosted. Everything was new to me. I enjoyed the turkey and smashed potatoes."
Andrea Gonzalez, a fine arts and industrial design graduate student from Paraguay, was one of several Fulbright Scholars who accepted the Johnsons' invitation.
"It's amazing how they celebrate Thanksgiving. It's bigger than Christmas," Gonzalez said. "I'm thankful that the scholarship has given me the opportunity to meet people from all around the world."
Opening her home to so many people is a lot of work, but Johnson said she's thankful she's able to do it.
"It's about being grateful for what we have and sharing with others," she said. "We're always happy to do it."