Women's Basketball Coach Amy Reed receives 2021 Edwina Award
Pandemic allowed time for greater focus on diversity and inclusion efforts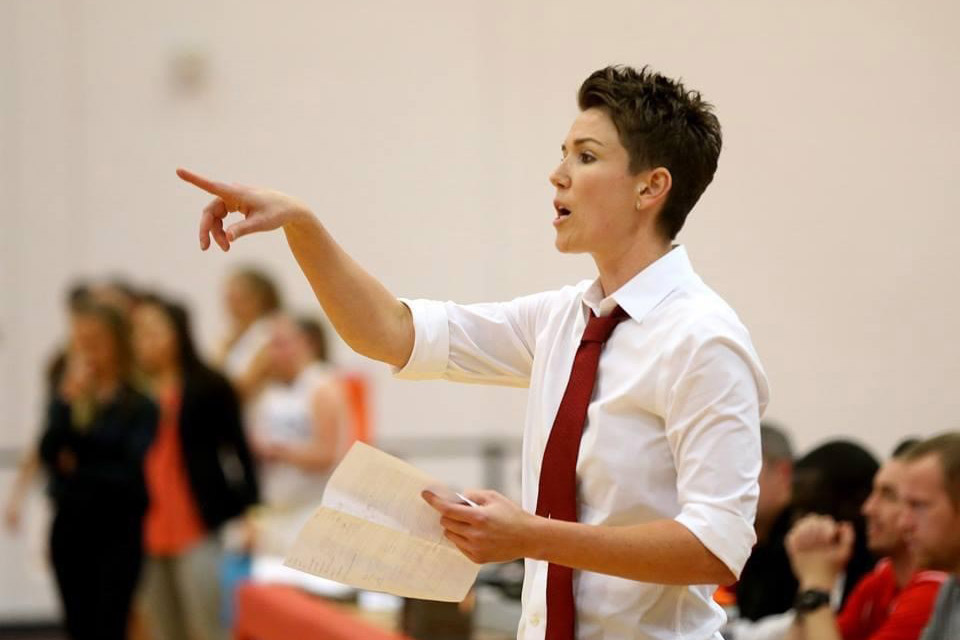 Riley Joslin
Almost everyone looks up to Rochester Institute of Technology's Head Women's Basketball Coach Amy Reed, not just because she is 6' 3'', but because of her work promoting greater awareness about gender diversity and inclusion.
The absence of basketball in 2020 due to the pandemic enabled her to increase those efforts to more than 650 RIT athletes, other students, faculty, coaches and staff on campus and beyond.
As a result, Reed has been named recipient of the 2021 Edwina Award. The award, from the Center for Women and Gender in conjunction with Student Affairs, is given to a faculty or staff member for significant contributions to enhance gender diversity and inclusiveness at RIT.
"Although the pandemic has taken a lot from us, it has also been an opportunity for reflection and re-prioritization, particularly in the realm of social justice, equity, and inclusion," she said.
Among the most visible advances in the effort was Reed's selection to become her department's NCAA Athletics Diversity and Inclusion Designee, and director of the first-ever athletics diversity and inclusion team focusing on three areas on campus: an athletics antiracism plan, inclusion for individuals who are LGBTQ+, and inclusion and accessibility for individuals who are deaf or hard of hearing.
"I feel my role has grown in a lot of positive ways," she said.
A native of Schuylkill Haven, Pa., Reed earned a bachelor's degree in health and physical education from Marshall University in Huntington, W.Va., where her athletic ability enabled her to be the starting center on its basketball team for four years. She later earned a master's degree in athletic administration from Marshall.                                                                                                        
"I've always known I've wanted to be involved in athletics," she said. "I always had great coaches and really good mentors. I remember driving home from my first practice as an assistant coach, and it was so emotional because I realized this is what I want to do, what I want to be. I know the game really well and have been successful, but I really wanted to develop relationships with players and be the best mentor I can be and have a positive impact on young people."
Reed credits Lou Spiotti, RIT's retiring executive director of intercollegiate athletics, for taking a chance by hiring her in 2008.
"When I took this job, the team had one winning season since 1987. I had my work cut out for me," she said. "In time, I was able to recruit some really good student athletes." Since then the women's basketball team has finished as a Top 25 team in the past three years, won a Liberty League title and even made it to the Sweet 16.
A senior woman administrator in the athletic department, Reed was named athletics inclusion designee with the NCAA and developed a diversity inclusion team at RIT to better address equality, diversity, and accessibility in RIT athletics.
"We have coaches, student athletes, and administrators and leaders in Student Affairs to make sure we had not only folks in athletics, but good campus partners who have been very involved," she said.
Reed also created RIT's first student-athlete LGBTQ+ climate survey to help understand the attitudes about and among those campus community members.
"As an openly gay woman who has worked at RIT for 13 years, I've always felt as though I could be out," she said. "However, it was puzzling to me why so many student athletes didn't seem to be out. We decided to take a deeper dive into the climate for LGBTQ+ student athletes and created an anonymous survey."
Of the 243 respondents, 23 percent identified as members of the LGBTQ+ community.
"It was really eye-opening," she said. "We determined that although our climate is pretty good and very accepting, there are some opportunities for improvement. Some people felt we have the 'don't ask, don't tell' vibe. Some felt the dialogue they heard in locker rooms showed it was not ideal for people to come out. So we are addressing that and having that educational piece where coaches can be the leaders of their teams and encouraging captains on the teams to be more inclusive."
Reed said additional surveys, bystander training sessions, focus groups, and Gray Matters-style discussions about patriarchal viewpoints, misogyny, sexism, homophobia, racism, and how to be a better ally, will be planned.
"Just because you are in compliance with Title IX doesn't mean we're equitable," she said. "Assessments are always a good first step and we have to make sure we have action items to follow up on and make sure it's part of what we do on a daily basis. There is a lot of really great work going on in our department, and I am inspired daily by the allyship and activism of our student athletes. Their leadership, passion, and inclusive lens is going to change the world."
Topics