New Imagine RIT competition rewards efforts at the intersection of technology, the arts, and design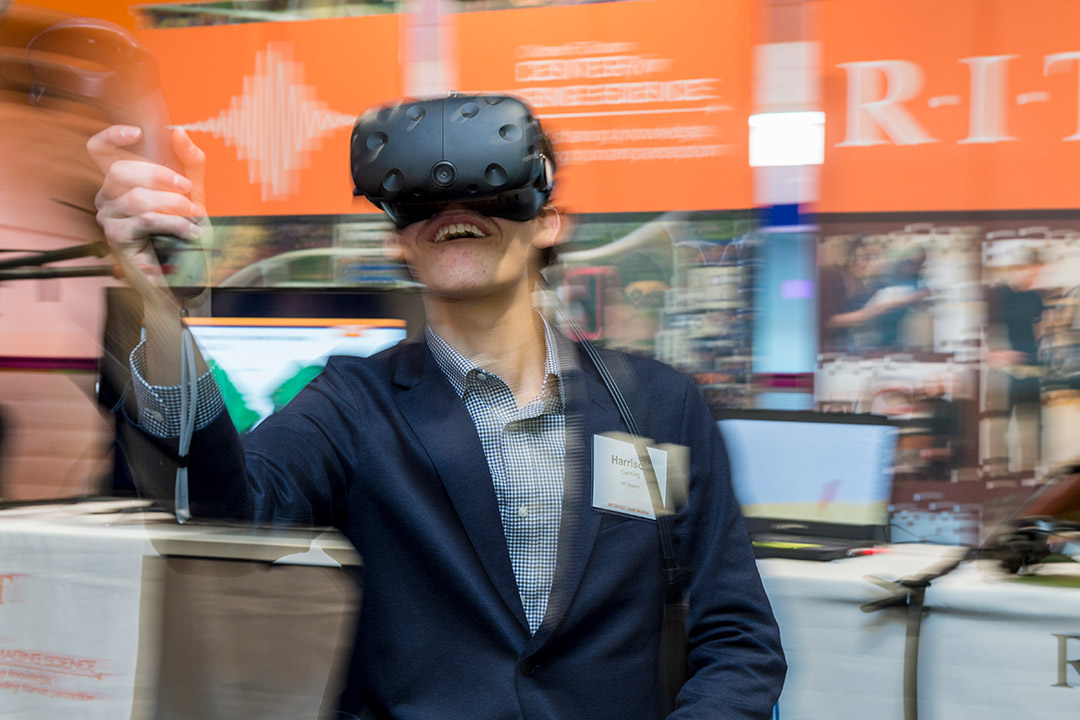 Elizabeth Lamark
A new competition held during the Imagine RIT: Creativity and Innovation Festival will reward outstanding efforts at the intersection of technology, the arts, and design (TAD).
The TAD Competition, which will be held in the Gene Polisseni Center on campus from 10 a.m. to 5 p.m., features 22 projects developed by current RIT students that have the potential to enrich many disciplines, involve innovative or creative outcomes that could not have been achieved by traditional disciplinary approaches, and expand the boundaries of technology, the arts, and design.
A panel of judges will base their evaluations on three categories:
Solving humanity's complex problems, which includes uniting diverse perspectives and expertise to identify challenging problems, understand the underlying complexity, and develop creative, collaborative solutions to themes such as health and well-being, sustainability and the environment, and equity and access.
Storytelling through enhanced realities, which involves leveraging technology to help spin imaginative tales, put on shows, and create compelling experiences.
Pushing the boundaries of visual communication and imaging, which includes uniting expertise with technology to explore the boundaries of visual media and media technologies.
Featured projects include a digital theater production that provides accessibility access and a captivating storyline about four college students who journey to different parts of the world and overcome adversity; an interactive experience that allows users to post drawings on walls using augmented reality; an app that enables remote real-time captioning and American Sign Language interpreting to be displayed on smart glasses allowing greater access for those with limited mobility; and a traditional Rubik's Cube that can solve itself after being scrambled using an electrical "brain" and an internal sliding sphere.
"We are always looking for new ways to highlight the remarkable talent of our students at Imagine RIT, and the upcoming Technology, the Arts, and Design Competition is doing just that," said Ann Miller, director, RIT Imagine and Special Events. "Our students have conceptualized, tested, and developed truly unique, truly 'RIT' projects that not only intersect these areas, but also expand the boundary of possibilities. And this competition will place a spotlight on that."
Winners in each of the three TAD categories will be announced at 2 p.m. and will receive $5,000.
Imagine RIT: Creativity and Innovation Festival will be held April 23.
Topics