Cerruti Baleri: Clipt Chair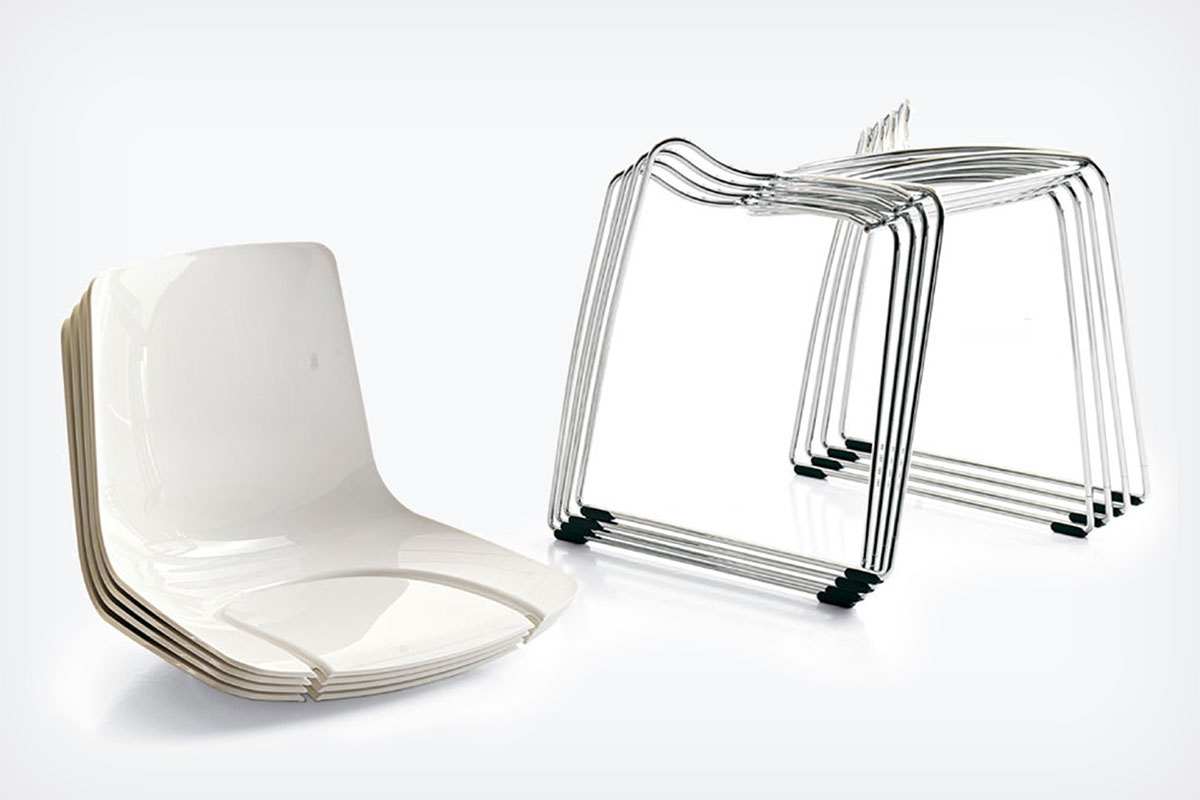 In 1984, Enrico Baleri founded Baleri Italia, a company manufacturing quality furniture with high design content that develops products with strong formal and functional qualities and a commitment toward research, development, and talent-scouting. While collaborating with successful designers such as Alessandro Mendini, Angelo Mangiarotti, and Denis Santachiara, among others, Baleri Italia has launched many new talents such as the young Philippe Starck, Hannes Wettstein, and Luigi Baroli.
In 2004, Nino Cerruti became a majority shareholder of Baleri Italia with the objective of developing a new industrial project that could also benefit from his long and successful experience in the textile and fashion businesses. In a short time, Cerruti completely acquisitioned the company and created a new managing group completed with a new art director and a renewed internal team. Formal and functional research, as well as talent-scouting, continued to be the core activities of the company.
In 2010, Baleri Italia officially became Cerruti Baleri – a natural evolution of the brand that states the consistent and yet evolving character of its history. Cerruti Baleri is an editor and as such it chooses an editorial guideline that expresses itself through the products of the collection and of the edizioni line. For Cerruti Baleri, the formal gesture is no longer a sufficient distinguishing element. On the other hand, the use of materials such as solid wood, marble, hide leather, and fabrics becomes extremely significant as they express timeless and ecological values. Valuable materials combined with creative intelligence and quality manufacturing define the products and are the true protagonists of the collection.
About Jeff Miller
Jeff Miller is a leading American industrial designer who has received international acclaim for his innovative and distinctive style. Having established his own practice in 2002, Jeff blends his research-driven consulting background with a more personal elemental approach for a range of clients in the areas of product, furniture, and interior design, including Bosch, Cerruti Baleri, Herman Miller, Itoki, Panasonic, and Samsung.
In addition to his own projects, Jeff currently heads Product Design at Poppin and the Creative Direction of Itoki Design, a New York-based subsidiary of the Japanese parent company. Years prior, he was the long-time member and vice president of design at ECCO Design in New York, where for more than a decade he was involved in product development for global brands including Apple, Colgate, Corning, LG, Motorola, OXO, and Procter & Gamble.
Jeff regularly lectures about his work and has conducted design seminars for students from New York to Paris to Jerusalem. His work has received numerous awards; appeared in print, media, and television; and been exhibited in prestigious collections and museums worldwide.
A native New Yorker, Jeff Miller was born in the city in 1968. He studied industrial design at Carnegie Mellon University in Pittsburgh and graduated with University and Department Honors in 1990. He holds several design and utility patents and is a member of IDSA.
Additional Resources