Program Benefits
Early Registration
The Honors Program allows students to register for classes one day earlier than other students in their year-level. This allows students to take Honors courses and still be able to fit other required courses into their schedule, as well as get into their preferred sections.
Research and Professional Development
Capitalizing on RIT's assets as among the nation's foremost career-oriented universities, the Honors Program offers students opportunities to work directly with faculty on applied and interdisciplinary research projects and supports cooperative education experiences and internships for Honors students.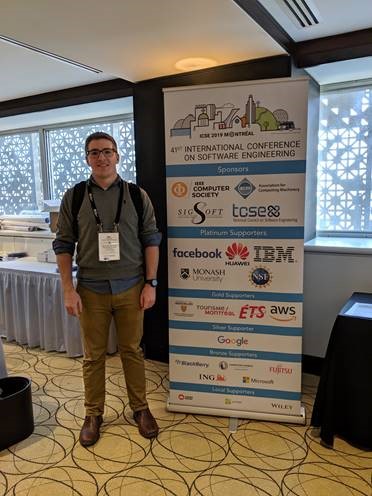 Honors Student Ben Christians presenting his research at ICSE Conference in Montreal
Free Course Overloads
The Honors Program allows students to register for up to 24 credits per semester without the additional charge per credit hour over 18 credits that is incurred for overloading your schedule. This benefit is valid for 8 semesters of your time at RIT, so BS/MS students may not be able to use it once they are a graduate student.
Grants
Honors students have the opportunity to apply for a one-time grant of up to $500 (in aggregate, not each) for study abroad, research, conference attendance and projects. Read more about Honors grants
here
.
Honors Advising
The Honors Office and each college have experienced staff and faculty members dedicated to serving as Honors advisors and advocates. They work with students one-on-one, advising them as they develop plans for courses and schedules as well as professional and experiential learning opportunities. Learn more about
Honors staff
and
advocates
respectively.
Housing
Honors students are guaranteed housing in the Honors dorm, Gibson hall, for their entire time at RIT. This benefit is guaranteed when current students communicate their interest in Gibson before housing appointments open. Incoming students will automatically be assigned to Gibson, but have the ability to move themselves into another space during their appointment. Living in Honors housing allows students to build a close-knit community and bond with other students in the Program. Additionally, many Honors events are held in Gibson making living here very convenient.

A dorm room in Gibson Hall
Saunders Graduate Program Scholarship
RIT Honors students applying to Saunders College of Business graduate programs can now qualify for a
55% scholarship
and apply for a
GMAT/GRE waiver
. This applies to all applicants who successfully complete the requirements of the RIT Honors Program upon certification and are accepted into Saunders College. If you are interested in learning more about the scholarship and GMAT/GRE waiver incentives for RIT Honors students,
set up an appointment
with Matt Cornwell, Assistant Director of Student Services and Outreach, or attend a
Graduate Information Session
.
Saunders Honors students travelling in London over Spring Break 2019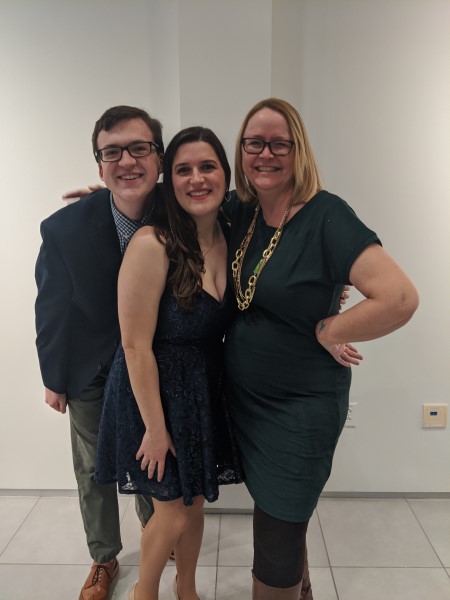 Honors Students Laura Discavage (KGCOE) and Xander Rohring (SCB) with Assistant Director Kerrie Bondi