Internal Admit
Current RIT students may be eligible to apply for admission to the Honors Program as Internal Admit students. Internal admission is a highly competitive process and minimal eligibility requirements are:
Cumulative GPA of 3.5 or higher.
Faculty recommendation.
A minimum of two years of academic coursework remaining at RIT to complete the undergraduate degree, beginning with the upcoming fall semester.
Evidence of extracurricular, service and leadership activities.
The requirements to continue with and graduate from the Honors Program can be found here.
On the application:
Students will describe their extra-curricular, service, and leadership activities.
Students will describe how membership in the Honors Program will contribute to their educational, professional, or research goals.
Students will ask a faculty member to submit a letter describing their academic strengths, extracurricular activities (where applicable), and potential to benefit from and contribute to the Honors Program.
Applications are opened in January with a deadline in mid-February. There are two ways current RIT students can apply for entry into the Honors Program. More information about each method can be found in the drop down menus below:
Regular Process
This process applies to all colleges on campus except COS and KCGOE, which must apply using the summer research process.
To apply using this method fill out the online application.
Summer Research Process
COS and KGCOE students must apply using this method, however students in other colleges may also submit proposals with the approval of their Honors Advocate.
COS Students: Please fill out the online application here and note that your deadline is February 9, 2020..
Non-COS Students: Please fill out the online application here.
Please note that students conducting paid summer research are responsible for their own housing arrangements and for their housing expenses.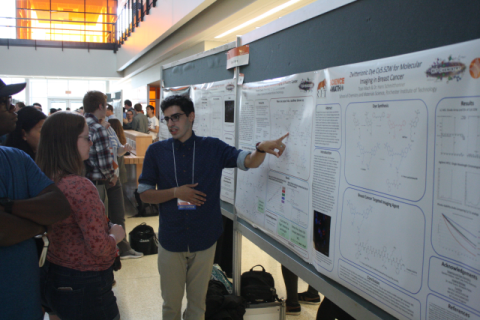 Honors Student Ricardo Carrion presenting his work at the 2019 Undergraduate Research Symposium
Honors Student Gabrielle Eisenberg presenting her work at the 2018 Undergraduate Research Symposium