University-wide career fair returns Sept. 21 with in-person interview day
Nearly 230 companies seek RIT students for co-ops and full-time jobs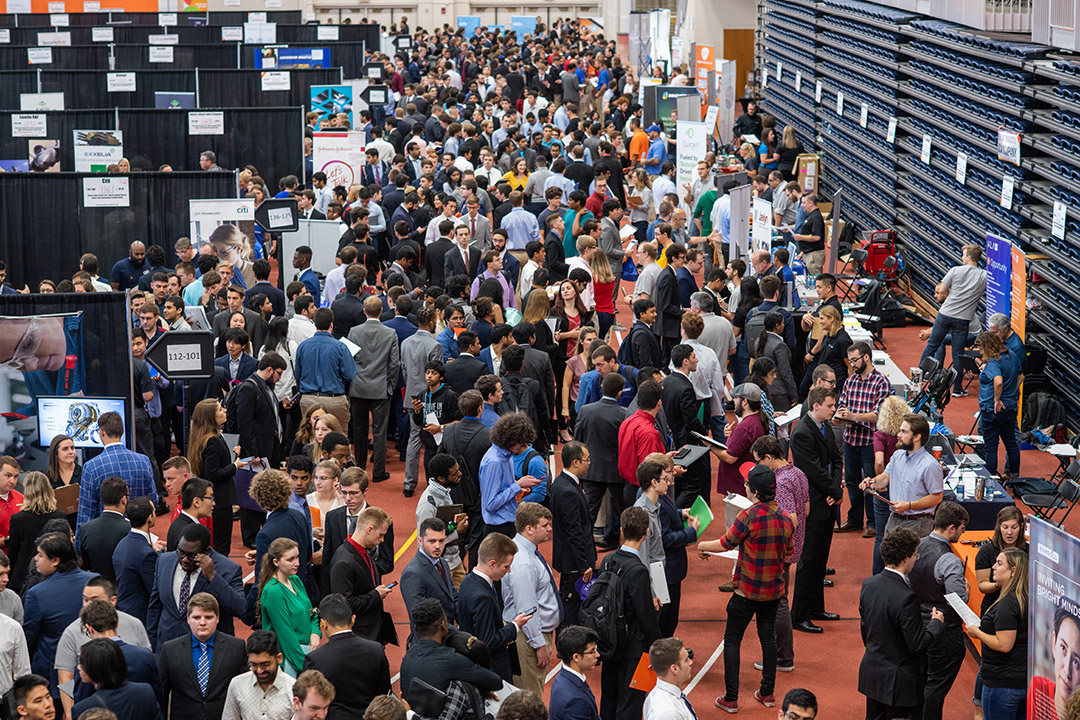 RIT graduate Johnathan Flores '18 (mechanical engineering technology) is excited to make his way back to RIT this fall in search of new talent for GE. Flores and nearly 230 companies will visit the campus on Sept. 21 for the university-wide career fair, and around 75 employers stay for the interview day on Sept. 22.
The career fair will return to its original two-day format for the first time since the COVID-19 pandemic. On Wednesday, companies will gather in the Gordon Field House from 10 a.m. to 4 p.m., seeking RIT students and alumni for co-ops, internships, and full-time jobs. Thursday will allow some of these employers to invite students and alumni back for interviews in the same location. 
"This is going to be the first time since 2020 that students are going to be able to be in this career fair without a mask and not be so worried or so constrained. They can shake hands with recruiters again," said Maria Richart, director of Career Services and Cooperative Education.
The fair will include employers from the Rochester area and from across the country. Some companies, like L3Harris, General Electric, and General Motors, will be returning while others, like Amtrak, will be visiting RIT for the first time. 
"We're excited about the fact that we have so many new employers and that this is their first time to RIT. They've never seen our field house. They don't know what the magic of an RIT student is," said Richart.
Many of the recruiters at the fair will be RIT alumni who have returned to represent their employers. Flores, a CMC Manufacturing Systems Engineer for GE Aviation, says "recruiting season is an exciting time for GE's internship and leadership programs as we strive to focus on the future of the company and the people who lead it. As an alumnus from RIT, heading back to campus is an opportunity to stay connected to RIT's potential. I am always left energized by the inspiring university education progress and a student body that wants to work for GE. Recruiting at RIT is an invaluable experience for the recruiting team, and we are excited to return this fall."
A list of employers and the link to register for the career fair can be found on Career Connect.
More information about the career fair is on the Career Services and Co-op website.
Topics