RIT's Fram Chair delivers presentation about COVID-19 to medical professionals
Dr. Jennifer Schneider covers topics such as new PPE innovations as well as tools and methods to understand the virus better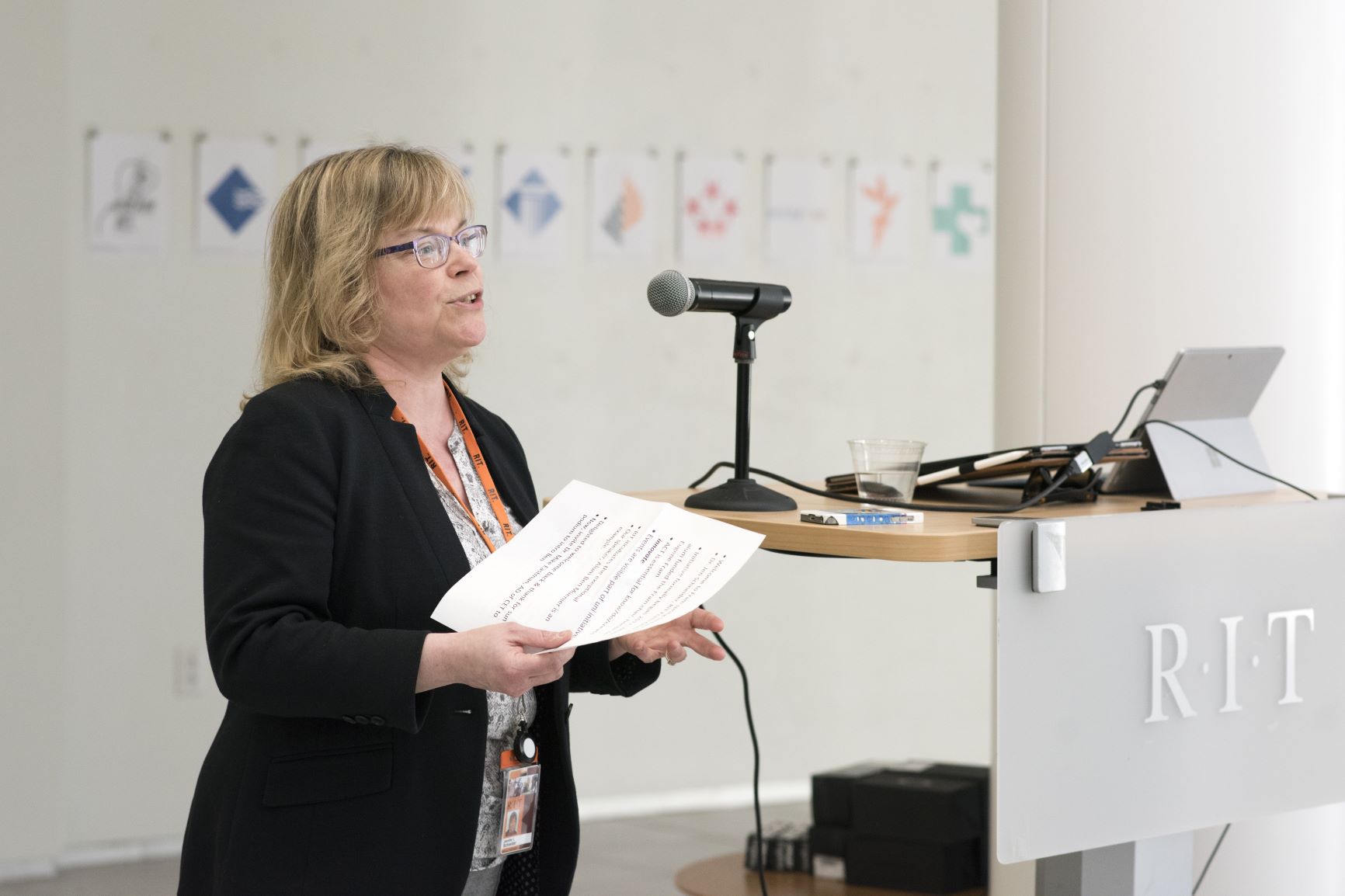 A. Sue Weisler
Since the beginning of the pandemic, many experts have been trying to determine how COVID-19 spreads, how to treat it, and how to prevent others from getting sick.
Dr. Jennifer Schneider, CIH, at Rochester Institute of Technology has used her expertise in emergency planning/disaster management and exposure control to analyze the ongoing health crisis and help the university come up with solutions. On Thursday, December 3, 2020, she was invited to present to Occupational and Environmental Medicine medical professionals during a virtual URMC Grand Rounds session called "Riding the Perfect Storm: COVID-19 at the Confluence of Community & Occupational Health."
During the meeting, Dr. Schneider reviewed some of the tools and methods that are used to respond to COVID-19, including new personal protective equipment (PPE) innovations, such as the badger shield, a strapless N95 face mask and a medical-grade silicone mask. She also reviewed considerations for engineering controls, such as adequate airflow and ventilation.
When Professor Schneider is teaching her students about this, she asks them to envision the spread of COVID-19 particles as something similar to the spread of smoke. "Some of the particulate size ranges of the smoke we get from wildfire or tobacco are in the same ranges that we are dealing with (when it comes to) COVID," said Schneider. "I tell them, 'If you can smell that smoke, you know that someone is smoking around you.' You certainly can't smell COVID, but think about how far away you can be from an individual who is smoking and still smell the smoke. That can give you an idea of how far you wish to be from someone who may be COVID positive. It also is a great way to get students to understand this concept of our shared air."
During her presentation, Dr. Schneider also discussed how feeding population and community models could help experts understand where we are and where we may be headed in the future, especially as everyone tries to navigate their way through this global health crisis.