Overview
Our global society now comes with expectations: simply knowing is not enough. Leaders must think critically to assess and strategize within complex interconnected systems and processes, continually adapt to rapidly evolving technological, aesthetic, and social environments, and manifest new ideas, both individually and collectively.
Application of critical thinking connects this performance chain of knowing-doing-creating.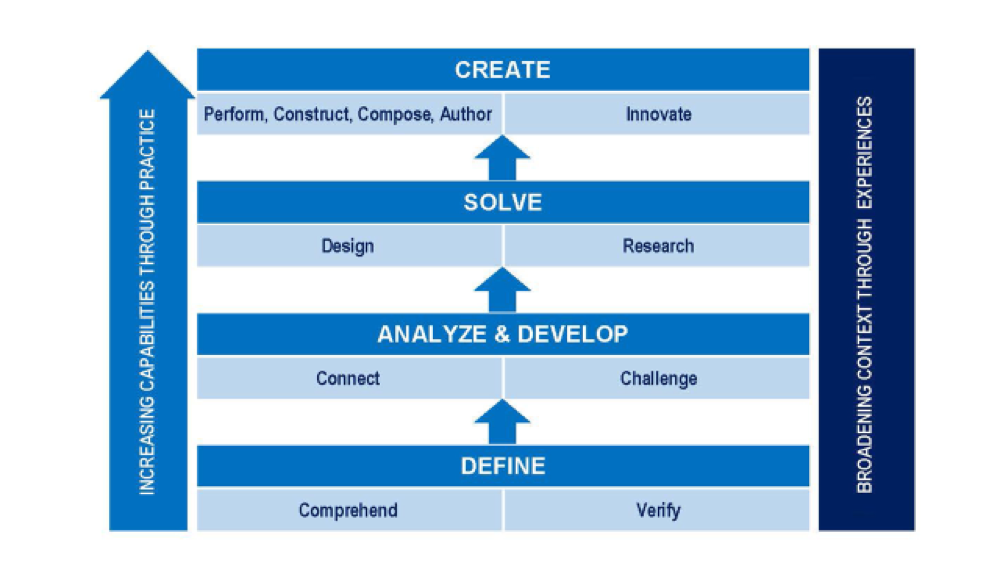 In response, RIT created the Applied Critical Thinking (ACT at RIT) initiative to foster the application of critical thinking – the exercising of effective thinking in any context. The initiative is guided by several working definitions, including:
RIT Essential Outcomes
Critical Thinking refers to those processes required to understand and evaluate complex claims of various sorts. It involves the evaluation of information, evidence, arguments, and theories, and the contexts in which these are encountered. It entails the questioning of different and competing perspectives, and challenging the (sometimes hidden) assumptions and inferences that determine what will count as evidence or argument. Critical thinking is learning to think in a disciplined and evaluative manner, to analyze and interpret the processes by which various claims are made and reliable conclusions are reached.
Critical Thinking Across the Curriculum
Critical thinking is "the ability to identify, analyze, construct, and evaluate evidence and arguments in a deliberate and rigorous way," or "the growth of educated thinking." (C. Sheffield, Critical Thinking Across the Curriculum Report, 2014)
Fram Advisory Board
At RIT, ACT is an active form of engagement, drawing from our diverse domains and deep expertise to address the questions and challenges that we face. As the uncertainties and the magnitude of impacts increase in our complex world, we must now consider a wider range of possible outcomes. To do this well, we need to employ thinking that draws from multiple, diverse domains to more fully inform our evaluation and resultant strategies.
We systematically integrate critical thinking across the student experience to develop critical thinking in diverse settings. ACT at RIT is cultivated through learning expectations of defining the quality of information, analyzing and developing a point of view, solving complex problems, and creation. These elements are embedded into our curriculum and practiced intentionally in ever-broadening and diverse environments of experiential learning such as RIT's renowned co-op employment, projects and teams, community service learning and international experiences, entrepreneurship, research, and participation in student groups in and out of the classroom. These skills transfer into every other area of life and are the impetus for growth, professionalism, and creative expression, empowering our alumni to realize their unique contribution to our world through whatever path they choose or aim to create.