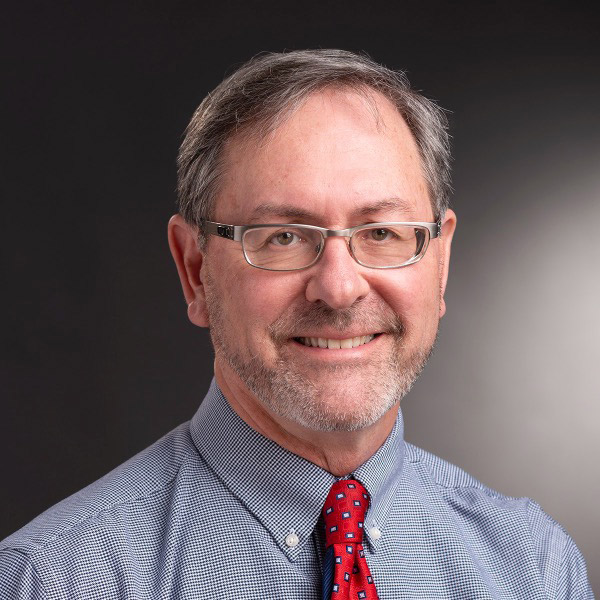 1. HOW DO YOU TEACH APPLIED CRITICAL THINKING? AND WHY DO YOU THINK APPLIED CRITICAL THINKING IS IMPORTANT IN YOUR DOMAIN?
Across nearly all disciplines within our healthcare training programs, including courses I've taught, students are challenged to integrate data, facts, and information with an outcome of patient well-being in mind.  Thinking with a critical mindset about normal structure and function helps students see the direct application to how things change when aspects of structure and function are upset or out of balance.  Making that leap from an altered biochemical pathway, genetic structure or expression, or physiological process to overt signs and symptoms of a patient in distress requires full integration and application of foundational knowledge.
2. HOW DO YOU ENCOURAGE COLLEAGUES TO TEACH APPLIED CRITICAL THINKING, REGARDLESS OF COURSE MODALITY?
This is particularly challenging given the comfort zone many faculty feel in their approach to their course(s).  So much of what we need to do as faculty is to be introspective and reflective in review of our teaching methodologies…….constantly adaptive to changing student learning styles.  We should always be probing deeper into how our students learn to think about course material and means to apply that knowledge to solve a perceived problem and/or arrive at a solution or synthesize an interpretation.  This can be more difficult in an online environment that may not allow for timely give-and-take discussions, critical feedback, and observations.  Irrespective of course modality, however, helping students think critically and apply what they have learned should always be the goal vs. simple regurgitation of fact.  The latter is a reflection of short-term memory circuits soon to be lost.  In contrast, establishment of reverberating neuronal circuitry, which, through repetitive firing that comes from thinking of multiple applications of fact, will reflect in effective long-term memory and understanding.
3. CAN YOU SHARE AN EXAMPLE WHERE CRITICAL THINKING HAS HELPED YOU OR YOUR COLLEAGUES DEVELOP TEACHING STRATEGIES, ESPECIALLY DURING COVID?
This is a tough question!  Last spring, there was very little time to think deeply about how best to move to remote teaching.  Actually, the teaching part wasn't the real issue, it was a question of how our students could engage effectively in a thoughtful learning experience with such a sudden change in modality.  The teaching methodology of approach could only come after careful consideration of how learning objectives could be met given the need to change.  In the spring, we had days (hours?) to make those decisions.  I was lucky to have had online experience in the past to know that it wouldn't be enough to just annotate PowerPoint slides.  We still needed to offer the students a means by which they could process and think about application of content and be given the opportunity to get timely feedback on their thoughts and ideas.  I had conversations with many about using MyCourses tools (surprisingly new to many!) and web applications to help with construct of the class, assignments, experiences, and evaluations of student understanding.  I feel this is still work in progress and will take a significant effort of retrospective study and reflection to assess the efficacy of approach(es).
4. HOW DO YOU USE CRITICAL THINKING AS A TOOL TO HELP STUDENTS PREPARE FOR LIFE?
Certainly, my concern is that students take these skills of critical thinking into their post-graduate training and on through the rest of their career, whatever that might be.  This is very much a daily practice across nearly all healthcare practices.  As importantly, I encourage them to apply these same principles to everyday life especially with regard to what they may see or hear from the media and the government.  Without too much focus on politics and personal convictions, I impress upon them the importance of being responsible citizens and to think of societal issues with a critical eye and mind.  Simply listening to and believing "facts" spewed by a politician is not good enough just as a neurosurgeon knowing the brain is inside the skull is all they need to know before removing a tumor.  It's the significance of those facts and being able to discern their place in understanding the bigger perspective that is most important.
5. ANY LAST CRITICAL THOUGHTS YOU WISH TO SHARE ABOUT ENGAGING THE ENTIRE RIT COMMUNITY IN CRITICAL THINKING?
I believe it's critically important to consider that those in administrative/leadership roles have the greatest responsibility with regard to changing the culture within the system.  The best way they can achieve that kind of cultural shift is by example and by modeling behavior and specifics of approach that others can observe and thereby come to realize the benefits of change that can be both gratifying and productive.  Although I consider myself to be an "old dog", I think I speak for others around the University who continue to be challenged and enthusiastic about learning "new tricks"!