August 5, 2021
by Luke Auburn
RIT scientists conduct coordinated remote sensing experiments with drones, planes, and satellites
The Chester F. Carlson Center for Imaging Science held experiments at the Tait Preserve of RIT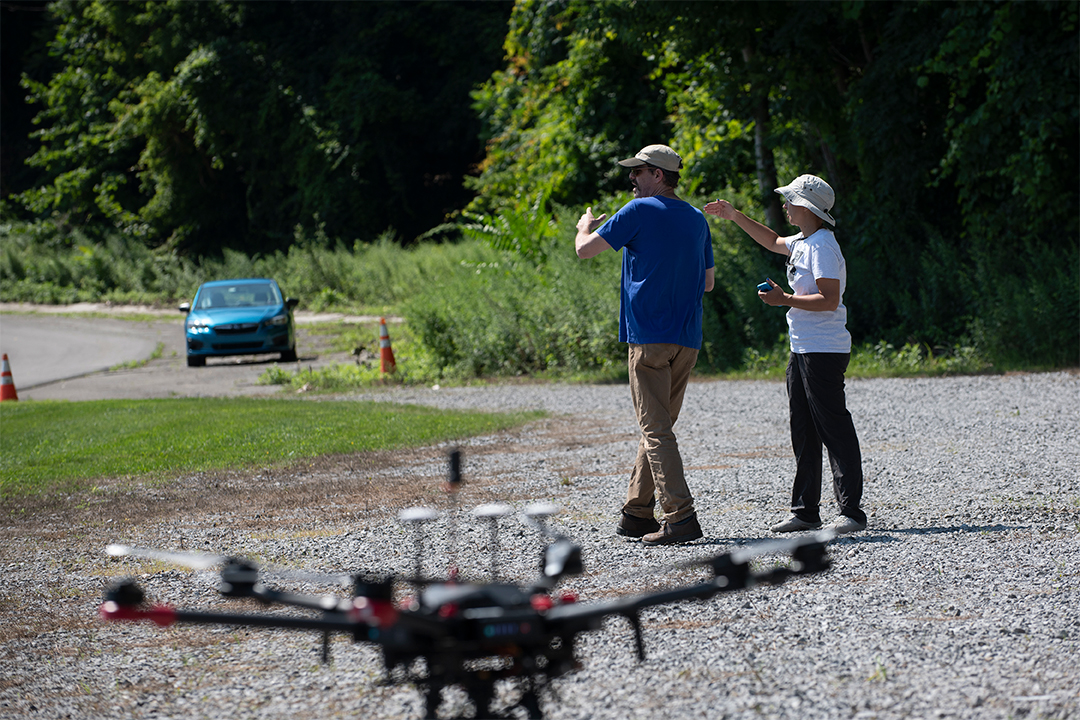 Rochester Institute of Technology scientists and a team of international collaborators recently completed an intricate set of experiments that will help improve remote sensing technology used by drones, airplanes, and satellites. By flying multiple imaging systems from a range of 400 feet to 400 miles above the ground simultaneously, the researchers tested the capabilities of state-of-the-art cameras and explored new calibration techniques.
A. Sue Weisler
The coordinated flyovers took place over the Tait Preserve of RIT in late July and was a group effort by RIT's faculty, staff, and students from Chester F. Carlson Center for Imaging Science, as well as the National Research Council of Canada, Labsphere, and Maxar. Assistant Professor Emmett Ientilucci, who led RIT's part in the field campaign, said an effort of this scale is uncharted territory.
"As far as I know, not many people, if any, have performed remote sensing from a space-based platform, aerial platform, and multiple drone imaging systems while measuring ground truth all at the same time," said Ientilucci. "That's because we haven't had drones capable of this until recently. Our drones are special with custom-built payloads and each one has specialized cameras and equipment for this kind of purpose. Some of our drone imaging systems fly in tandem and cover the full optical spectrum from 0.4 to 2.5 micrometers. That piece of the puzzle is what makes this particular collaboration possible."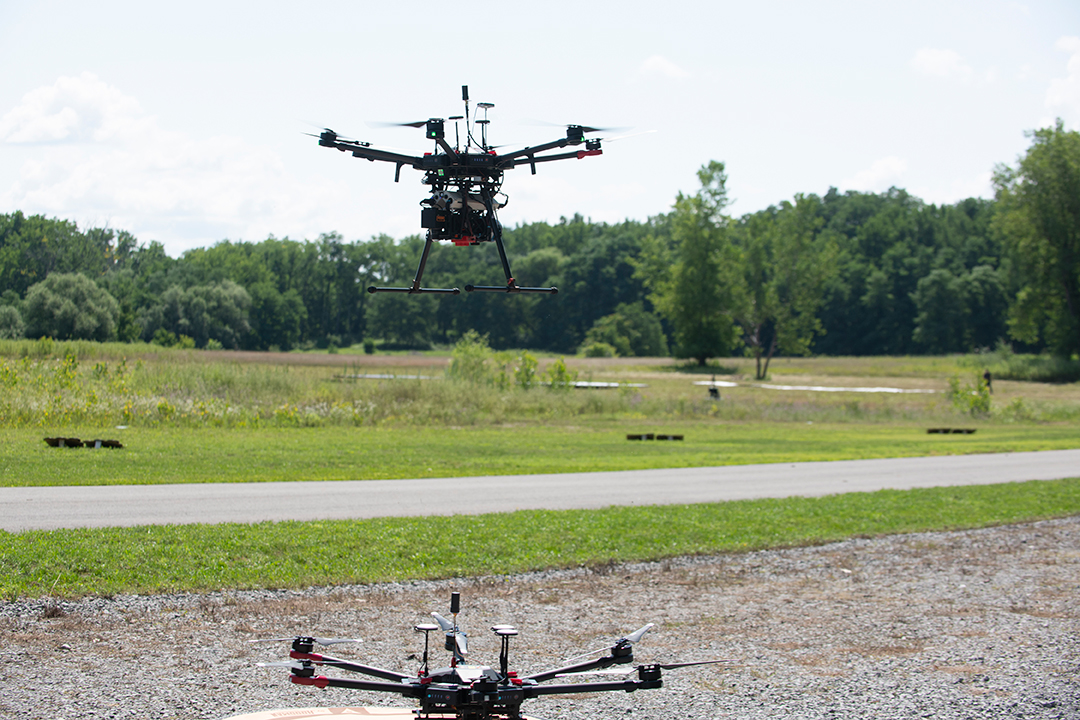 A. Sue Weisler
One of the experiments during the collaborative event involved using a new technology called FLARE, which uses a series of mirrors to create multiple points of light directed at the satellites, aircraft, and drones that could help characterize and calibrate the imaging systems while they are already deployed in space or on an aerial or drone imaging system.
Another experiment involved deploying a series of ground-based objects for the imaging systems on the drones, planes, and satellites to try to detect through a process called sub-pixel target detection. When an object is smaller than the area a pixel covers, scientists can use algorithms to analyze the data for signatures of the targets. Ientilucci said one example where this could be helpful is during search and rescue missions where aircraft search for small objects such as a life preserver or life raft in a large body of water. 
Ientilucci called the Tait Preserve of RIT an ideal location for the experiments because of its expansive location and mix of different natural terrains. RIT acquired the 177-acre property, which includes a 60-acre lake and a private mile of Irondequoit Creek adjacent, in 2019. RIT's Digital Imaging and Remote Sensing (DIRS) team has been conducting research at the Tait Preserve since last summer.
The gift from the Tait family is part of Transforming RIT: The Campaign for Greatness, which is RIT's $1 billion fundraising effort, the largest in university history. This blended campaign seeks support from a variety of investors, including alumni and friends, government and corporate partners, and research foundations and agencies. The campaign has raised $805 million to date.