2017 Class of MCAS Scholars Inducted | May 2017
Newsletter May 2017
2017 Class of MCAS Scholars Inducted
Nine new students went through an all-day retreat on April 29th, focused on developing their skills to enrich their RIT experience, which concluded with an MCAS Scholars induction ceremony. These RIT students invested their time to develop intellectual and ethical leadership skills, fostering their desire for educational excellence, and an increased commitment to the learning process. The MCAS staff is excited to see the positive impact these student leaders will have on the RIT community in the coming academic year. The 2017 MCAS Scholars are: Keshab Bhattari, Nicolai Dominguez, Ian Effendi, Patrice Golbourne, Fateemah Saleem, Thomas Le, Larry Williams III, Raquel Feliz and Paola D. Viera.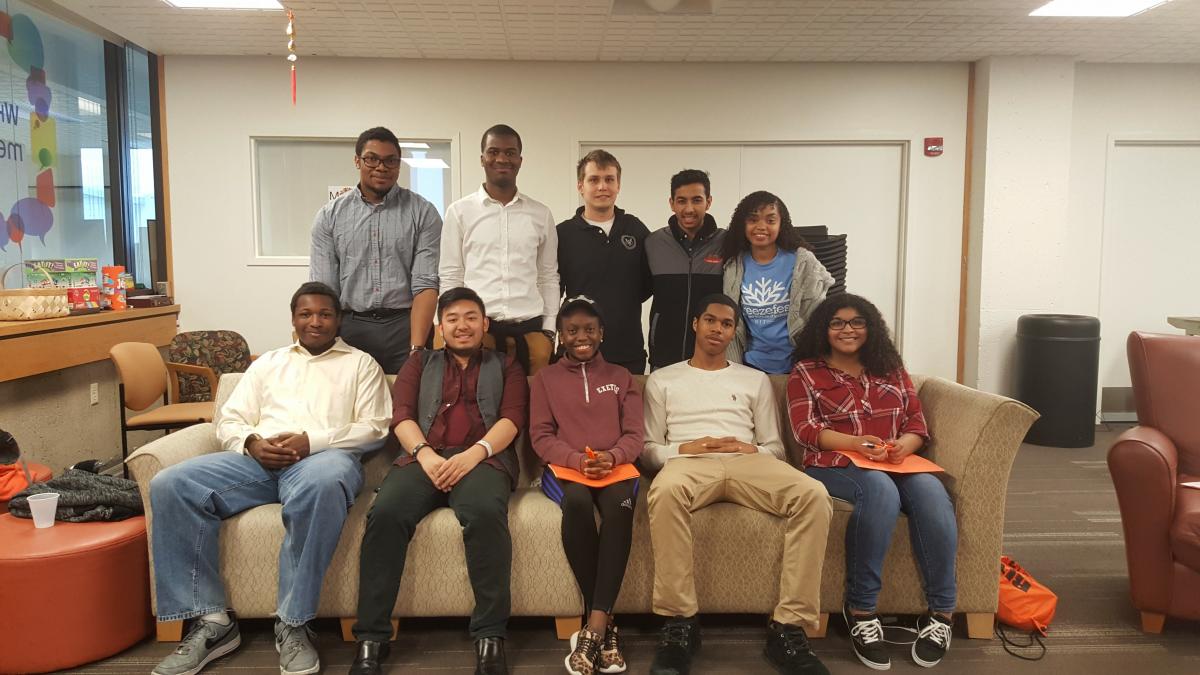 The MCAS Scholars program is designed for students, who possess a seriousness of academic purpose, a desire to become role models at RIT for their intellectual abilities, intrinsic and extrinsic motivation, along with leadership skills. "The application process begins during the spring term," explained Sharitta F. Gross-Smith, Assistant Director of Programmatic Initiatives and Student Development, MCAS. "Applicants must have a GPA of 3.00 or better, write an essay, and commit to at least 20 hours of community service."
At the retreat incoming scholars engaged in team building activities that not only educated them on the expectations of MCAS Scholars, but allowed them to connect with previous MCAS Scholars. The retreat was co-coordinated by existing MCAS Scholars, Maria Smith (Biotechnology & Molecular Bioscience), Justin Namba (Computing & Info Sciences), Herman McElveen (Game Design) and Michael Johnson (Mechanical Engineering). This program also builds on peer to peer support, creating strengthened relationships. Current MCAS Scholars, support incoming students and further cultivate their leadership abilities where their community service is actionable.
One of the student facilitators for the MCAS Scholars retreat, Maria Smith, continuously demonstrates leadership and outstanding academic achievement. On April 8th while attending the CSTEP conference Maria received first place in her research category for microbiology. Research is a passion of hers that she works to cultivate expertise in this area year around. During the academic year as well as the summers, she is involved in two research projects that target public health issues and cancer cell research.
On April 10th, Maria was awarded the Baldwin Memorial Scholarship! The David M. Baldwin Memorial Scholarships are supported financially from an endowment to RIT established by Professor Baldwin's estate following his untimely death in 1975. Teaching was his love and drive, and he spent many extra hours assisting students who were having difficulties in his courses. His dedication to teaching earned him one of the first Outstanding Teaching Awards ever awarded at RIT. Students who receive this scholarship must have a minimum GPA of 3.40 and be able to speak to their key scholarship and service contributions at RIT. Maria is actively involved in several programs such as Determined Individuals Victoriously Achieving Success (DIVAS), MCAS College Advocates, MCAS Scholars and LSAMP.